Posture Policies
This page introduces Sysdig posture policies and the requires and controls that comprise them, providing the conceptual background needed to create, edit, and apply compliance policies in your own environment. Posture Policies allow you to onfigure what is being evaluated by the
Compliance
feature in the context of compliance standards (CIS, NIST, etc.).
In addition:
Search for the policies that match your organizations' needs
Create your own custom policies, configure controls that are linked to each requirement
Review the policy structure and the controls connected to it
Enable/disable controls on all policies
Filter controls by enablement status, violation severity, name, and control type
Prerequisites
This feature requires the current Compliance component.
See also:
Because we add new policies regularly, check in the product itself to see the comprehensive list of included postures policies.
Navigate Policies List
Select Policies > Posture | Policies.

Review the Policy list. The included policies are listed alphabetically.

Policy Name/Description: The full policy name and description, in accordance with naming used by, e.g., the Center for Internet Security (CIS). Click the arrow to link directly to the relevant standards website.

Zones: Zones where this policy has been applied. Apply a policy to a zone to show compliance results against the policy in the compliance page.

Version: This column lists the version of the standard published. Not to be confused with the version, e.g., of Kubernetes, listed in the policy name.

Date Published: Date the policy was published. Until officially published, a policy under development is in Draft state.

Author: Sysdig for default policies; creator name for custom policies

Click a row to open the individual policy page.
Create a Custom Policy
Select New Policy on the top right, or

Select an existing policy to duplicate

To edit the controls to each leaf requirement: Select the Link Controls button, filter for the controls you want in the right-most Not Linked column, and select Link on them.

Changes are automatically saved.
Navigate a Policy Page
Select a policy from the Policies list to review requirements and controls, enable/disable controls, and filter/search.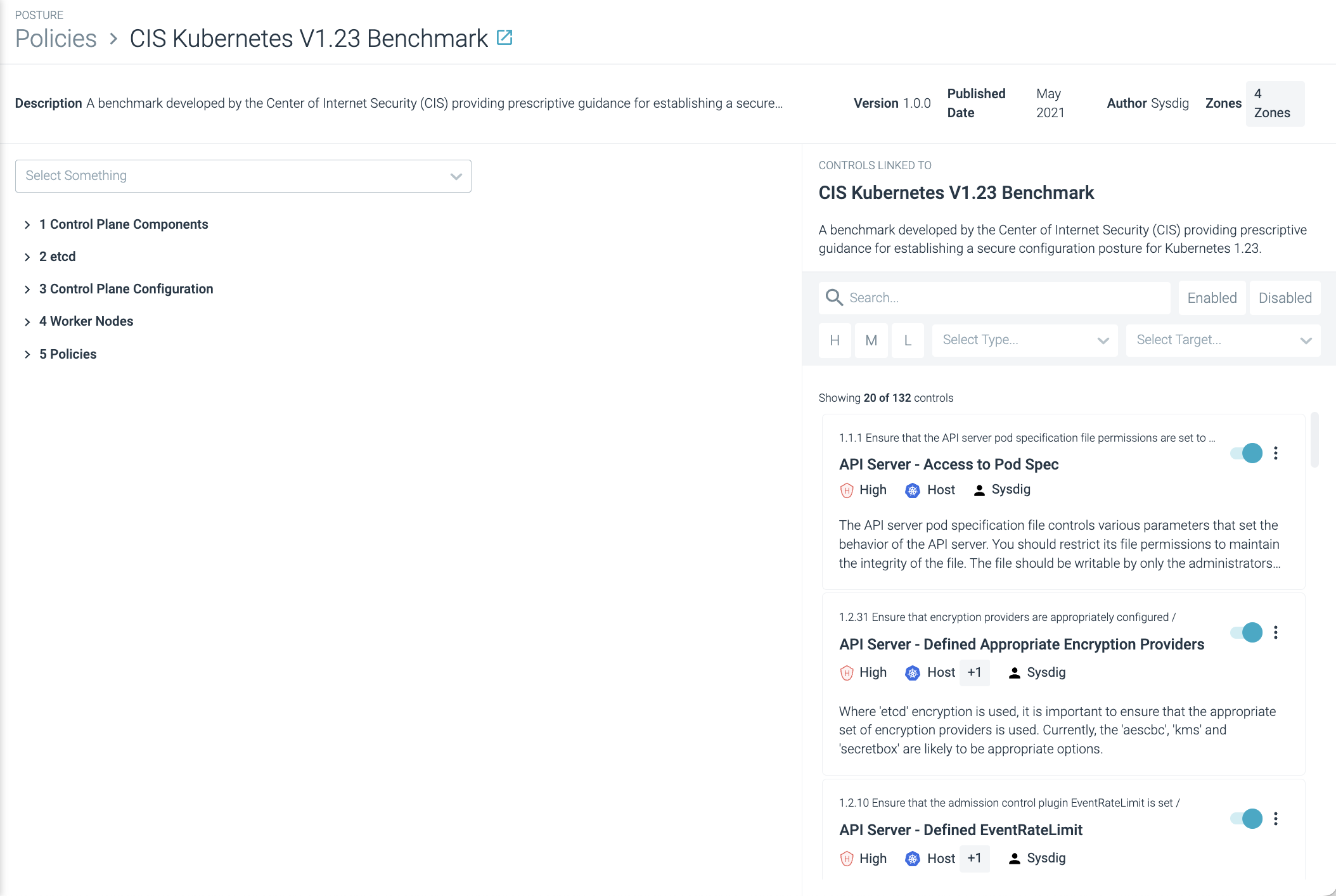 Requirement Groups and Requirements: Open the rows in the left pane to view requirement groups and the nested requirements to which the controls are linked.

Hover to get the full description text.

Enable/Disable: Toggle to enable/disable an individual control within a policy. The control will be enabled/disabled for ONLY the targeted policy.

Filter: See below.
Filter
Use the Filter features to perform actions such as:

Find a requirement group, requirement, or control by Name

Find all Enabled controls within a policy

Find controls in a policy by Control Type (Host/Identity/Resource)

Filter by control Severity
Filter Details
Note that any filters can be combined. For example, you could filter to find:
How many high-severity disabled controls are linked to the policies I care about?
Enabled/Disabled
Click in the Filter box and select Enabled = [True | False]

Optional: Add more filters, such as Severity = High.
Name
Click in the Filter box and select Name =

Type a keyword and select from the drop-down options.
Severity
Click in the Filter box and select Severity in [High | Medium | Low].
Type
Click in the Filter box and select Type in [Host | Identity | Resource]

Posture Control Types:

Host: Linux, Docker, Kubernetes Cluster
Resource: Kubernetes / Cloud Resource (i.e. bucket, compute, AWS resource…)
Identity: Kubernetes / Cloud Identity (e.g.,. IAM)