Integrations Menu
The Integrations menu option in Sysdig Secure provides quick-link access to both inbound data sources and outbound integrations such as notification channels and S3 captures.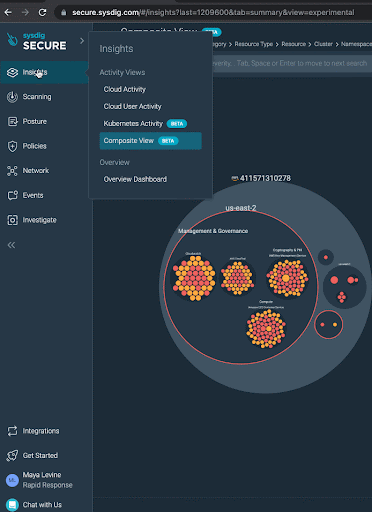 Inbound
Data Sources: Cloud Accounts and Kubernetes Clusters
Log in to Sysdig Secure and choose Integrations > Cloud Accounts or Integrations > Kubernetes Cluster to review the status of your cloud accounts.
Outbound
S3 Capture Storage Use Integrations > Outbound | S3 Capture Storage as a quick link to that page in Settings.
Notification Channels Integrations > Outbound | Notification Channels gives a quick link to configure the notification channels in Sysdig Secure. (Sysdig Monitor notification channels must be configured separately and are access from the Monitor UI.)
Extensions and Levels of Support
"Integrations" for Sysdig Secure can include a wide range of tools and software designed to connect Secure functionality (e.g., image scanning, event handling, audit logging, and risk analysis) with other systems. Some such tools are installed with the backend. Others are not, because they exist to accommodate specific use cases, infrastructure details, or additional customizations.
These added tools are called "extensions" and It is up to the user to decide which extensions to install on top of the core backend functionality.
There are two different categories of extensions depending on the support level and backward- compatibility guarantees:
Preview features - These are pre-release features for which Sysdig is seeking early feedback from users. If you're interested in trying these items, we will connect you directly with our product/engineering teams. Depending on the level of engagement with a preview Sysdig will decide to deprecate it or move it into an officially supported extension or feature.   

Fully supported) Extension features - These extensions are installed outside the core Sysdig product and leverage Sysdig APIs, but they are fully supported at the same level as any other core product feature.
Features that are delivered with the core product are designated as "built-in" and always receive full support.
Sysdig delivers many other code examples and integrations as blog content, webinars, whitepapers, etc. Any code snippet or integration that is not explicitly listed in the tables above is not officially supported and is merely illustrative of a particular feature or capability.
Types of Secure Integrations
Image scanning functionality can be integrated into the CI/CD pipeline and with container registries. Kubernetes logs can be integrated from a variety of platforms and distributions. Events can be forwarded to various external processing systems.
Fully supported Extensions are marked with E. Preview features are marked with P.
Additional Integration Tools
Developer Tools:
Admission ControllerPfor image scanning:
IBM Cloud Pak for Multicloud Management E full integration guide