Time Navigation
This topic describes how the Time Navigation works in Sysdig Monitor.
Sysdig Monitor is designed around time. By default, the UI displays information in Live mode. Sysdig Monitor polls the infrastructure data every 10 seconds for each executed query and refreshes the metrics on the UI. This means that dashboards, Advisor, and the Explore views will be automatically updated with new data as time passes, and will display the most recent data available for the configured time window.
You can select how to view this gathered data by choosing a Preset interval and a time Range.
The time window navigation bar provides you with quick links to common time windows, as well as the ability to configure a custom time period in order to review historical data.
In addition, the navigation bar provides:
Quick links for common time windows

A custom time window configuration option.

A pause/play button to exit Live mode and freeze the data to a time window, and to return to Live mode.

Step back/forward buttons to jump through a time window to review historical data.

Zoom in/out buttons to increase/decrease the time window.
Presets
Presets are a way of visualizing data that Sysdig Monitor gathers every 10 minutes. Select a preset to determine the data sample to be displayed. Overview supports the following presets:
5 Minutes
1 Hour
6 Hour
12 Hour
1 Day
4 Day
1 Week
2 Weeks
A preset that is 10 minutes or less is refreshed every 30 seconds. A preset that is greater than 10 minutes is refreshed at every 10 second intervals.
Presets work in conjunction with Range selections. Selecting a particular preset interval refreshes Range selection and reloads the data subsequently. For example:
10 Minutes: Resets the Range to December 9, 2.20 pm - December 9, 2.30 pm.
6 Hour: Resets the Range to December 9, 8.30 am - December 9, 2.30 pm.
1 Day: Resets the Range to December 8, 2.30 pm - December 9, 2.30 pm.
Range
Range shows both date and time interval as well as the selected Presets in parenthesis. The Range indicated on the UI is determined by Presets. The time given is the closest time interval and by default, it is the current date and time preset by 1 hour.
Click on the Range tab to open a calendar to select a range.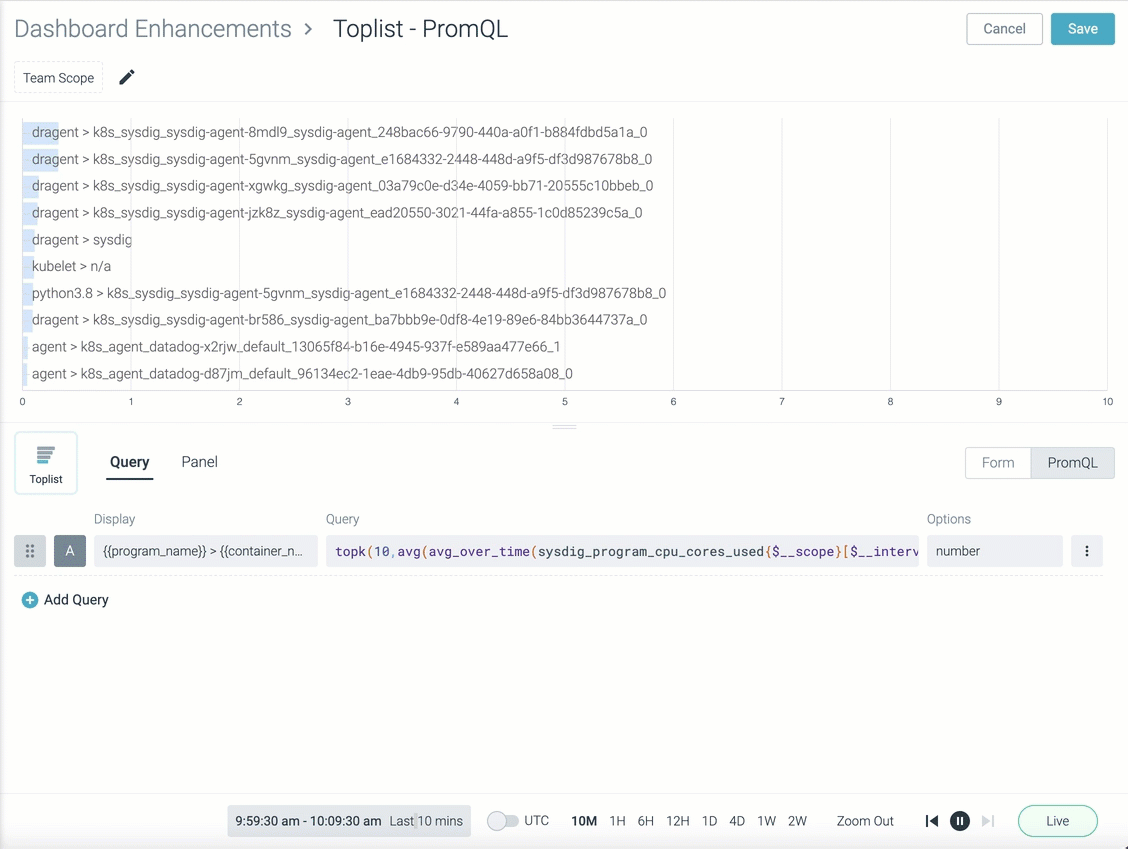 See Presets to understand how Range works with Presets.
Live
The Live badge shows if the data shown is Live or Paused.
Live: the data is continuously updated.
Paused: the data refresh pauses and live updates are stopped.
Time Format
Dashboards support UTC and PDT time formats. Use the toggle button next to Range to change the time format for the slot shown in Range. The default is PDT.
Configure a Custom Time Period
Use the Time Navigation drop-down panel to configure a specific time range.
Steps
Preview
Click the date and time indicator and configure the start and end date and time as desired.

Click Save to save the changes.