Alerts Library
To help you get started quickly, Sysdig provides a set of curated alert templates called Alerts Library.
Powered by Monitoring Integrations, Sysdig automatically detects the applications and services running in your environment and recommends alerts that you can enable.
Two types of alert templates are included in Alerts Library: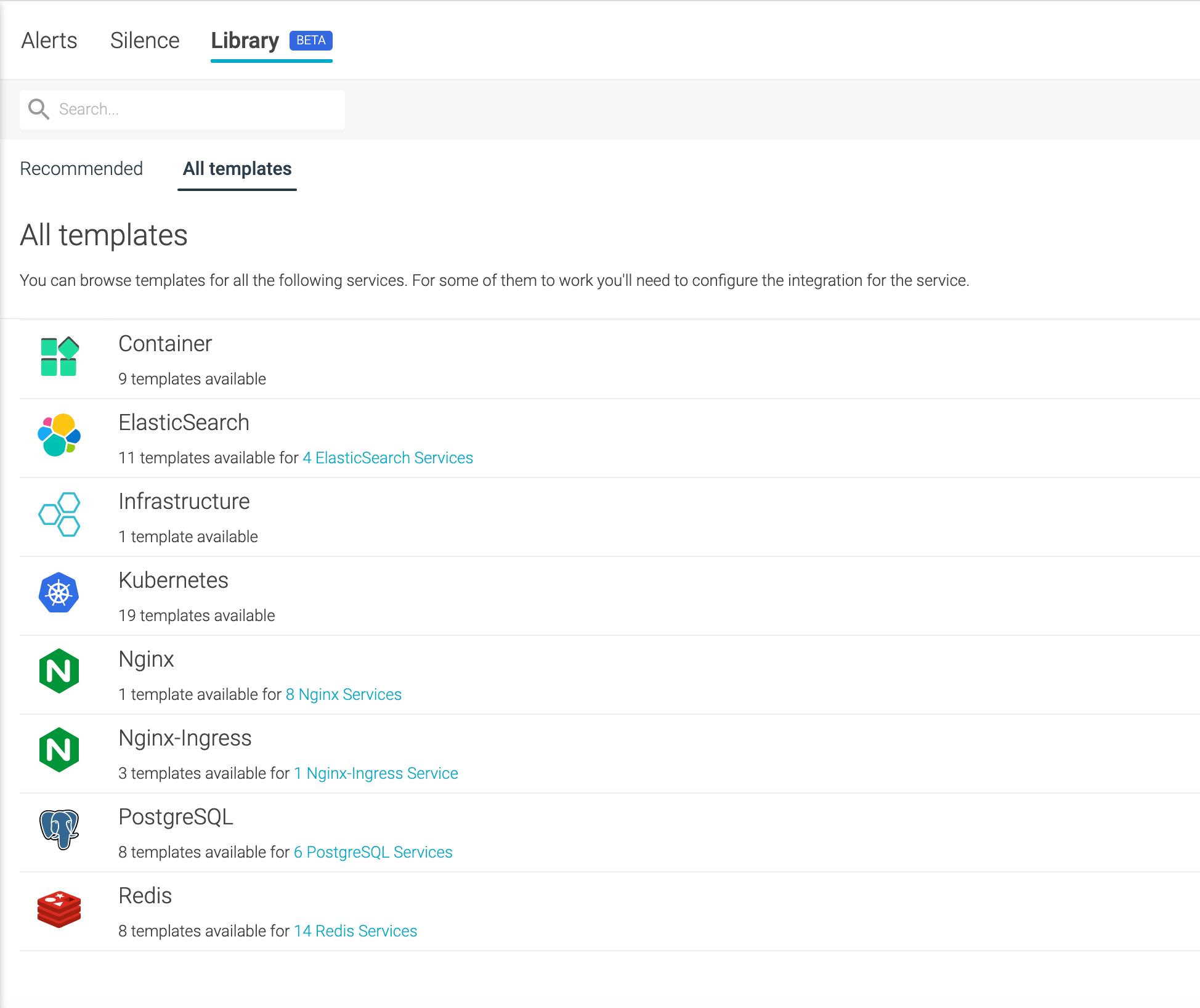 Recommended: Alert suggestions based on the services that are detected running in your infrastructure.

All templates: You can browse templates for all the services. For some templates, you might need to configure Monitor Integrations.
Access Alerts Library
Log in to Sysdig Monitor.

Click Alerts from the left navigation pane.
Import an Alert
Locate the service that you want to configure an alert for.

To do so, either use the text search or identify from a list of services.

For example, click Redis.

Eight template suggestions are displayed for 14 Redis services running on the environment.

From a list of template suggestions, choose the desired template.

The Redis page shows the alerts that are already in use and that you can enable.

Enable one or more alert templates. To do so, you can do one of the following:

Click Enable Alert.

Bulk enable templates. Select the check box corresponding to the alert templates and click Enable Alert on the top-right corner.

Click on the alert template to display the slider. Click the Enable Alert on the slider.

Click Enable Alert.

You will see a message stating that the Redis Alert has been successfully created.
Use Alerts Library
In addition to importing an alert, you can also do the following with the Alerts Library:
Bulk import Alert templates. See Import an Alert.

View alerts that are already configured.

Discover the workloads where a service is running. To do so, click on the Alert template to display the slider. On the slider, click Workloads.

View the alerts in use. To do so, click on an Alert template to display the slider. On the slider, click Alerts in use.

Configure an alert.

Additional alert configuration, such as changing the alert name, description, and severity can be done after the import.