SaaS: Sysdig Secure Release Notes
You may also want to review the update log for Falco rules used in the Policy Editor:
Falco Rules Changelog
.
Dates shown are for the initial release of a feature. The feature may not be be rolled out to all regions concurrently and availability of a feature in a particular region will depend on scheduling.
Supported Web Browsers
Sysdig supports, tests, and verifies the latest versions of Chrome and Firefox.
Other browsers may also work, but are not tested in the same way.
September 20, 2022
Disable a Rule within a Policy
Starting today, customers can disable (and re-enable) individual rules within threat detection policies. This allows:
Using a subset of rules within a managed policy or managed ruleset without giving up the ability to receive new rule updates.
Temporarily disabling a noisy rule until the cause is investigated or an appropriate exception is put in place.
September 19, 2022
Actionable Compliance - Control Library Preview Released
Sysdig is pleased to announce the Preview release of CSPM Control Library in Actionable Compliance.
This is a technical preview release and the feature is open for all customers.This feature includes:
Visibility of all available controls
Filter for specific controls by control attributes
Read more about the feature here.
August 29, 2022
Actionable Compliance - Custom Policies Preview Released
Sysdig is pleased to announce the Preview release of CSPM Custom Policies in Actionable Compliance.
This is a technical preview release and the feature is open for all customers.
This feature includes:
Clone an existing policy and edit its metadata
Create, Edit & Delete a custom policy
Create, Edit & Delete requirements in a custom policy
Link & Unlink available controls to policy requirements
You can read more about the feature in Sysdig's documentation.
Coming soon in Actionable Compliance:
Control Library
Creating your own custom control in a custom policy
August 17, 2022
New Permission for Changing Team Roles
Team management has been improved with the addition of the new permission, Team Membership Roles. This new permission will allow you to change the roles of team members separately while adding users to the teams.
For more information, see:
August 10, 2022
Machine Learning Policies
A new machine-learning-based detection capability is available in Sysdig Secure.
While we strongly believe in our Falco-based rule approach, and do not consider machine learning to be the best way to detect every threat, we understand that specific use cases such as Cryptominer detections require a different approach. This is the first detection capability available in our Machine Learning policies. Read more about how to configure them and how they work here.
Read more in our dedicated press release.
August 4, 2022
Agent Overview Page Released in Data Sources (Preview)
An Agents overview page in the Data Sources |Integrations interface has been made available in Technology Preview for all customers. This new page shows all of the Sysdig Agents that have reported into the Sysdig backend, and enables the user to quickly determine:
Which agents are up-to-date, out of date, or approaching being out of date
Which managed clusters have been detected in your cloud environment, but have not yet been instrumented with the Sysdig agent
The feature will remain in Technology Preview, as we add additional functionality and refine the workflows within the page.
See also: Data Sources | Sysdig Agents
Actionable Compliance - CSPM Policies Preview Released
Sysdig is pleased to announce the Preview release of CSPM Policies in Actionable Compliance. This is a technical preview release, and the feature is open for all customers.
This feature includes:
See what is being evaluated by the Actionable Compliance feature in the context of compliance standards (CIS, NIST, etc.)
Review the policy structure and the controls connected to it
Enable/disable controls
Filter controls by enablement status, violation severity, name, and control type
The features are under development and will soon include the ability to create custom CSPM policies as well.
Read more in CSMP Policies (Preview).
July 28, 2022
Managed Threat Detection Policies
Starting today all existing customers will see all existing policies labeld as Custom Policies and with a list of disabled Managed Policies. The existing custom policies work exactly as they have always worked, and do not require any action from the user to make changes. However to get the power of the Sysdig Threat Research team, we recommending moving over to the new managed policies. You can read more about the different types of managed policies here.
July 21, 2022
Actionable Compliance - Accept Risk Preview Released
Sysdig is pleased to announce the Preview release of Risk Acceptance in Actionable Compliance, This is a technical preview release, and the feature is open for all customers. This feature includes:
Improving compliance score by Accepting a risk on a failing resource in a control

Registering an Acceptance reason and expiration date

Editing and revoking acceptance

Compliance views - summary of accepted risks

Violation results mini-inventory - filtering by Accepted resources
You can read more about the feature in the documentation.
June 23, 2022
New Secure Event Forwarder Integrations: Elasticsearch & Microsoft Sentinel
Two new integrations have been released for Sysdig Secure's Event Forwarder functionality:
June 2, 2022
Actionable Compliance Preview Released
Sysdig is pleased to announce the first Preview release of Actionable Compliance, the next phase of the Sysdig Secure compliance offering and the first capability to support KSPM, and in the future also CSPM. This is a technical preview release, and the feature is open for all customers.This feature includes:
Compliance views - a redesigned summary view for each built-in policy
Violation results - the first-ever mini-inventory to show violated resources with filtering capabilities
Actionable Remediation - automatically open a Pull Request to remediate a resource violation in its git stored source file (Infrastructure as Code)
Technical highlights:
Inventory based collection - a paradigm shift in how we collect CSPM data - bring it raw!

New agent collector - gathers all Kubernetes objects (workloads, subjects, roles, etc.) from the customer for Inventory future use

New node-analyzer container - collects the node's Kubernetes, Linux & docker configurations

8 new micro-services

OPA based policies - built-in policies (previously benchmarks) with OPA controls (previously rules) for Kubernetes, docker & Linux
You can read more about the feature in Sysdig's documentation
May 23, 2022
Custom Roles
A custom role is an admin-defined role that allows Sysdig administrators to bundle a set of permissions and assign those permissions to individual users or teams. Custom roles allow for finer-grained definition beyond the standard out-of-the-box Sysdig Roles. Once defined, a custom role can be assigned to any user inside a particular team, and also be configured as the default role for new users in that team. For more information, see Custom Roles.
The addition of custom roles into the platform is transparent, meaning that standard roles and assignments that already exist will not experience any changes.
May 19, 2022
Menu Option to Display New and/or Old Scanning Interfaces
To facilitate a smooth transition from the Legacy Scanning Engine to the new Sysdig Secure Vulnerability Management, the Settings Menu now provides options for displaying the UI for the new, legacy, or both scanning engines.
Safe and transparent: This is a non-intrusive change; regardless of how you have the current New Vulnerabilities engine toggle set, the Sysdig Secure navigation menu will not be modified without explicit user intervention. And the toggles will only alter the user interface and not impact the function or running of the engine itself.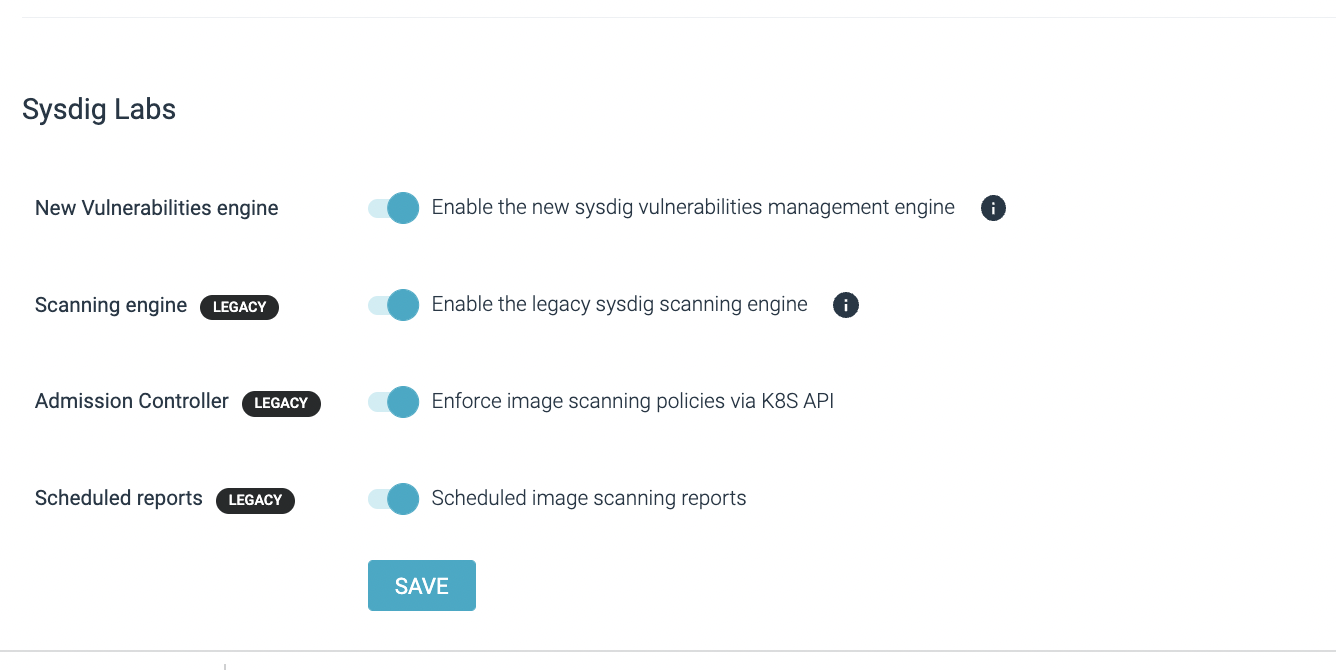 To enable/disable: See Which Scanning Engine to Use
If both are enabled: The two sets of features are clearly distinguished in the Navigation menu.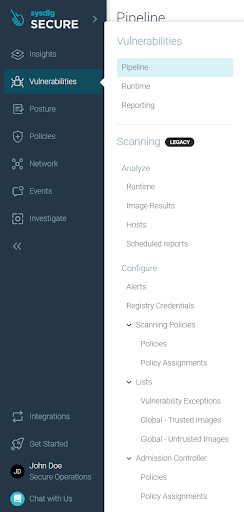 May 18, 2022
Policy Advisor Deprecation Notice
Sysdig Policy Advisor will be removed from all Sysdig accounts on June 17, 2022.
Policy Advisor was built during a time when PodSecurityPolicies (PSPs) were the only way to add Security Policies to a Kubernetes workload. PSPs have now been deprecated in Kubernetes 1.21, released more than a year ago.
May 17, 2022
Runtime Scanner 1.0.3 Released
Optimized requests performed on the Kubernetes API
See also: Vulnerabilities | Runtime
May 4, 2022
Sysdig Platform Audit
We are glad to announce that Sysdig Platform now supports the capability of tracking, logging and reporting on all changes in the system.
Track all activities on the API level
Retention period: 90 days
Simple API for retrieving audit information (no UI)
Events Forwarding support to be included in the near future (to be announced)
Enabled by default for all SaaS customers
See also: Sysdig Platform Audit
Sysdig Platform Login Banner
We would like to announce that Sysdig Monitor and Secure now allow you to define a Login Message that will be presented to all users. Added to boost Sysdig compliance/enterprise readiness, requested originally by the IRS.
Users are not allowed to access the system until they acknowledge the message
One login banner per customer
Only Admin users can enable/update the message
Single banner for both Monitor and Secure (for Platform customers)
Available on SaaS for all customers
See also: Configure Login Message
May 3, 2022
Insights Feature GA
This release marks the general availability (GA) of the Secure Insights feature. Some of the changes introduced include:
Better support for Azure events
AWS IAM permission integration
Bug fixes for policy tuner flow
Limit for displaying events in a time range removed
May 2, 2022
DriftControl Policies: Detect and Prevent Drift in Container Runtime
Sysdig agent can now detect when a new executable was added to a container after a container has started up. The agent collects when a file was downloaded and made executable. When using prevention mode, the agent can also deny the process from ever running. A policy can also be used to define binaries that should be denied/excluded from being denied if they have been added after the container has started.
See also: Drift Policy
April 28, 2022
Component Security Fixes
The following Sysdig Secure components were updated with the latest security patches (April 2022):
April 20, 2022
New Vulnerability Management Engine
Sysdig is pleased to announce the New Vulnerability Management engine, a major upgrade to the vulnerability and image scanning functionality for the Sysdig Secure product.
Major Highlights
Scanning times have been drastically reduced: 8x faster on average!

Additional data for vulnerabilities and remediation

CVSS scores and metrics: Network Attack Vector, Privileges required, etc.
Flagging of publicly available code Exploits
Suggested package fix version

Risk spotlight Focus on the vulnerabilities that Sysdig detects in active packages at runtime.

This is a new filter that only shows CVEs with active packages, to save time browsing infrastructure and to help focus on high-impact CVEs

New Vulnerability Reporting module

Up to 14 days retention of individual reports
"Generate now" immediate scheduling directly available from the UI

Flexible policies that can be attached to the different runtime and security contexts
How to Move to the New Scanning Engine
The new vulnerability management engine uses a different data storage, API, host components, and user interfaces than the legacy scanning.
Contact your Sysdig representative; she/he will guide you through the process of migrating your subscription and vulnerability management configuration to the new engine.
Full documentation available here.
March 8, 2022
Scanning Component Updates
The following components have been upgraded to the listed versions with bug fixes and security updates:
node-image-analyzer:0.1.16
secure-inline-scan:2.4.9
host-analyzer:0.1.6
The latest Helm chart includes these versions for Node Image Analyzer and Host Analyzer. Follow the usual process to upgrade the inline scanner.
March 3, 2022
New CIEM Features
User Risk Labels
Risk Labels are now surfaced to highlight insecure attributes for specific Users and Roles. They are listed within the Users & Roles page and within the User Details tab of a specific user.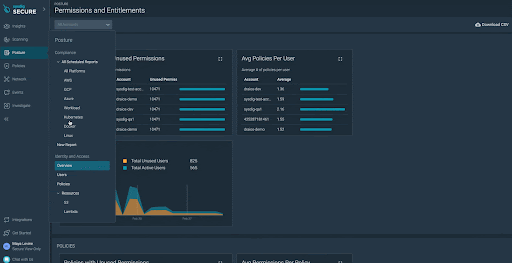 Trend Charts in Overview
Time charts are now available within the Overview tab of Identity and Access. These help to visualize your Permission trends over time for Users, Policies, and Resources.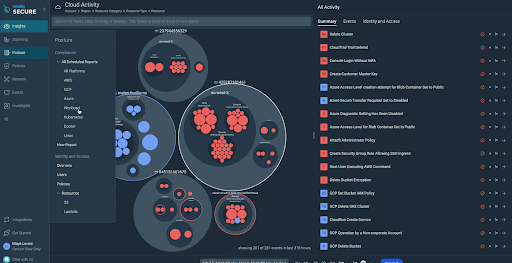 CSV Report Export
All of the pages within Identity and Access can now be exported as a CSV file. Select the Download CSV button found at the top right corner of all pages.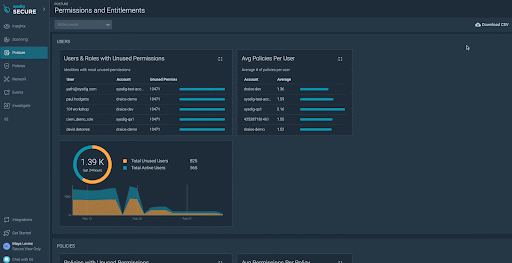 Effective Permission Calculation
AWS supports different types of policies to limit permissions on different scopes. Sysdig has added support for calculating effective permissions based on permission boundaries and organization level service control policy (SCP). This gives additional context when viewing permissions set on identities. For example, an identity that has been given administrator level identity policy will be limited in overall permissions if there is a permission boundary policy attached to it.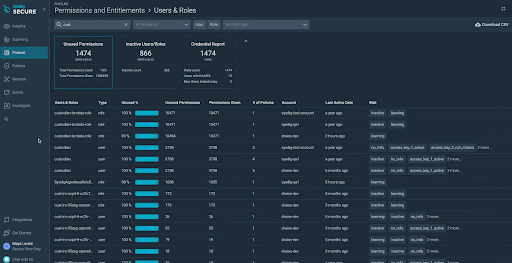 CIEM Data in Insights
Within the Cloud Activity and User Activity views in Insights, there is now an Identity and Access tab. This will help investigative flows to understand the context from an IAM perspective.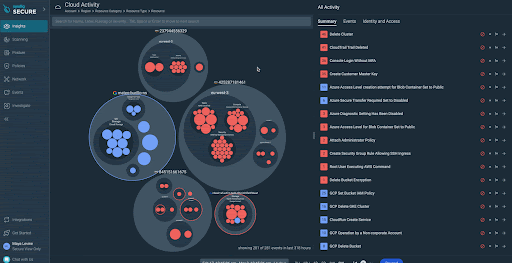 March 1, 2022
New: Data Sources Instrumentation
On the Data Sources > Managed Kubernetes page: For unconnected clusters, Sysdig has added quick instrumentation instructions using the known details about the cluster, such as the cloud account, region, and cluster name.
February 10, 2022
Improved Usability with New Navigation
Sysdig's new navigation improves the usability of the left-hand navigation for faster and easier navigation of where you're trying to go.
Check out a video walk-through of the new feature!
Improved Menu Handling
Hoverable Sub-Menu: With each module that has additional menu options, hover over the respective module to quickly navigate.

Collapsible Main Menu: Save space with the collapsible left-hand navigation.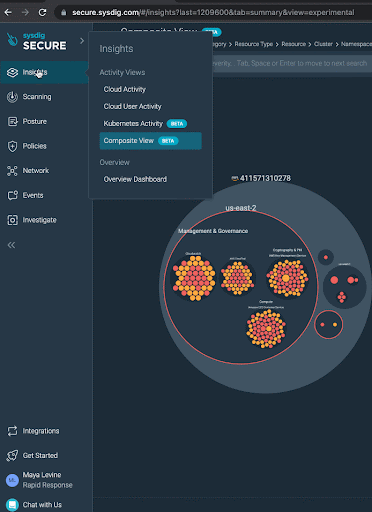 New Menu Option: Integrations
A dedicated Integrations menu option provides an easy way to access both inbound and outbound integrations.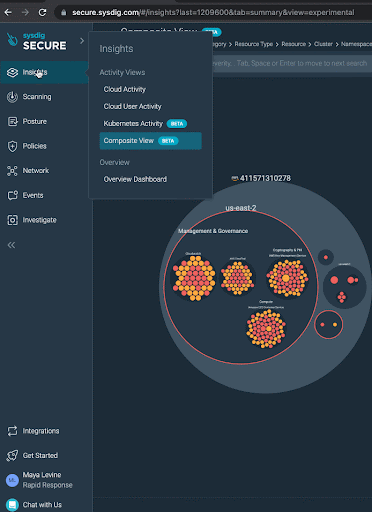 Inbound:
Access the Cloud Accounts page to quickly understand which applications and services are running, and where the Sysdig agent is installed.
Access Managed Kubernetes to get a catalog for all the managed Kubernetes clusters in your environment. The status shown is connected/unconnected based on whether the agent is installed or not.
3rd Party: Manage your Git Integrations
Outbound: Manage your Event Forwarding, Notification Channels, and S3 Capture Storage
3rd Party: Manage your Git Integrations
Revamped User Menu
Now all the settings options are collected and exposed in one mega menu. Find the right page before navigating away from where you are.
February 2, 2022
Enhanced Unified Filter for Event Feed
The Sysdig Secure Event Feed is getting a new unified filtering experience, available now for SaaS accounts.

Easily toggle from the original to the cleaner, simpler enhanced version, where you will find:
Unified scopes, free text and any other filterable/searchable attributes on a single lean bar

Autocomplete on keys and values
Autocomplete/suggest operands
One-click quick filtering directly from the list of displayed elements

Saved filters in various formats– no more retyping common filter expressions

Favorite filters, stored per user and feature
Default filters, per user and feature
Recent filters, per user and feature
See also: Secure Events
January 26, 2022
Unified Compliance Reporting
We are pleased to announce a rework of our Compliance and Benchmarking capabilities. This change brings a number of improvements:
Compliance and Benchmark tasks are now scheduled, managed, and generate reports in an updated and unified interface, including simpler pathways to remediation and easier-to-navigate reports.
The logic used to check individual controls now checks for events signalling control failures, as well as ensuring the correct Runtime rules are configured to detect these events. This leads to a more comprehensive audit that captures activity as well as configuration.
New compliance standards and platforms: added

For workload, AWS, GCP, and Azure:
For workload and AWS:

Fedramp (workload and AWS only)
HITRUST CSF 9.4.2 (workload and AWS only)

For GCP and Azure

GDPR
HIPAA
ISO 27001:2003
NIST 800-53 Rev4
NIST 800-53 Rev5
NIST 800-171
NIST 800-190
PCI / DSS v3.2.1
SOC 2
Prerequisites
NOTE: If you are upgrading from an earlier version of Sysdig Secure, your existing compliance and benchmark records will be migrated to the new version and retained on the same schedule as before.
See also: Compliance
New Feature: Review Applied Kubernetes Network Policies
Sysdig Secure has added the ability to view the KNPs that have been applied directly from the Network Security Policy UI.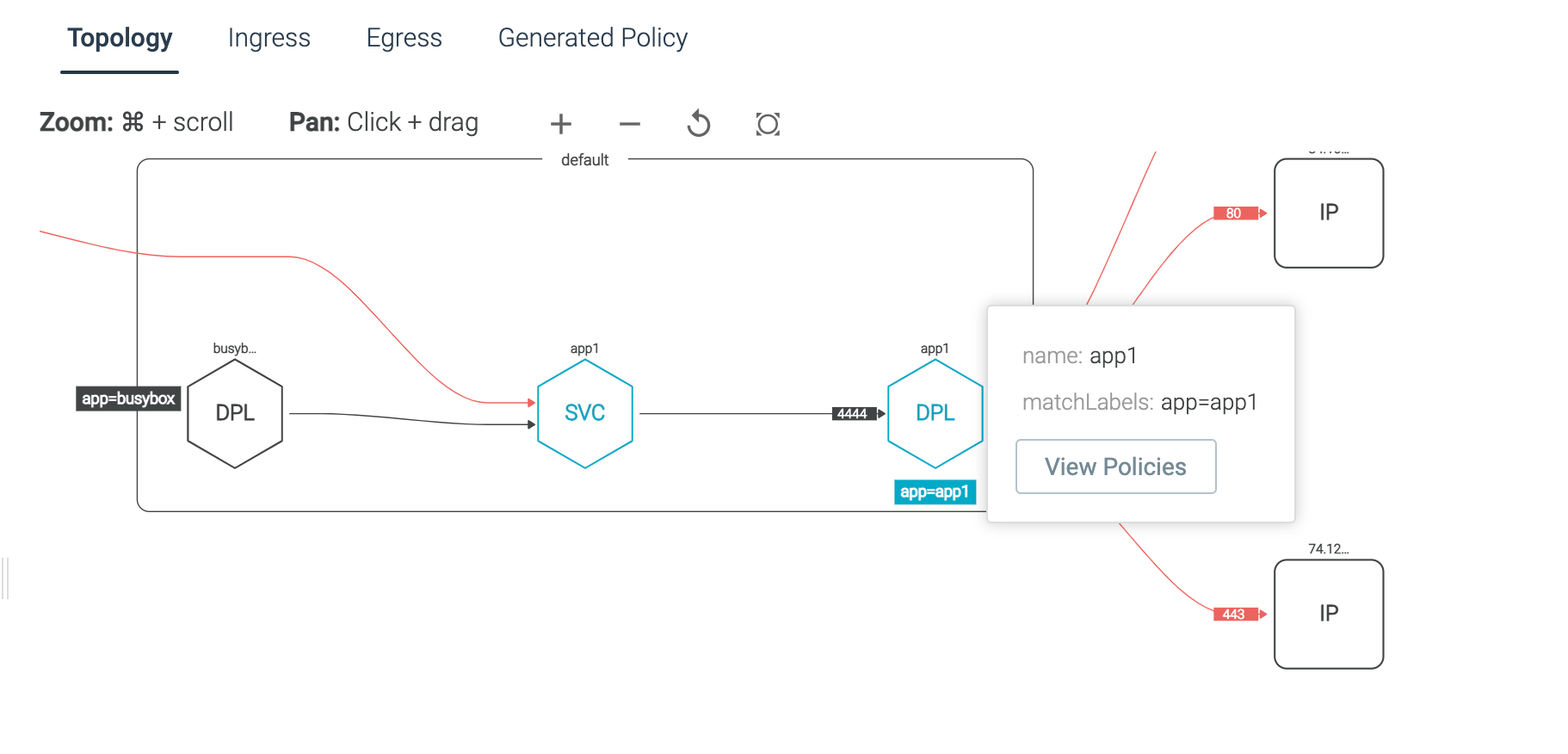 You can:
Review the relevant policies applied to the pod-to-pod communication for the current view

Click View Policy to see the raw yaml output of the network policy applied to that workload.
See also: Netsec Policy Generation
January 2, 2022
Welcome Infrastructure-as-Code!
Infrastructure-as-Code (IaC) is an important part of today's cloud-native infrastructure. We at Sysdig know that the earlier you identify possible posture issues, the better off you are.
The new feature allows you to integrate Kubernetes IaC checks into your Git pipeline. With just a few clicks, the standard compliance checks will be integrated into the Pull Request (PR) flow and alert developers when they create violations of the policy before they merge.
Supportability & Requirements
The new capability will use either an application or a webhook in your respective git provider.
Github - Github Application
Gitlab - Webhook
Azure DevOps - Webhook
Bitbucket - Webhook
For each provider you can define the repos and folders to protect, as well as branches on which to perform the evaluation.
See also: Git IaC Scanning
December 17, 2021
Update on Log4j Vulnerability (CVE-2021-44228)
Sysdig confirms that all services that compose Sysdig's Cloud Platform running Apache's vulnerable Log4j library have been patched to 2.16. We have not detected any successful attempts at exploitation of this attack vector during that time window.
December 15, 2021
Update on Log4j Vulnerability (CVE-2021-44228)
The sysdig agent does not include the Log4j library
Sysdig is using an alternative framework for logging called Logback. The logback framework isn't vulnerable to this issue.
Sysdig components include a log4j library in our standard distribution that was vulnerable. This library is included for compatibility reasons only, is not used for primary logging, and our security team has determined we are not vulnerable based on our application architecture and existing mitigating controls.
Sysdig can confirm that all services that compose Sysdig's Cloud Platform running Apache's vulnerable Log4j library have been patched to the latest version or adds additional mitigating controls suggested by vendors. We have not detected any successful attempts at exploitation of this attack vector during that time window.
Details regarding upgrades We:
explicitly set commonsLog4jVersion = 2.15.0
update all of log4j-to-slf4j, log4j-api, and log4j-core to version 2.15.0
December 15, 2021
Sysdig Secure for Azure
Sysdig is pleased to announce the general availability of the Sysdig Secure for cloud capabilities for Azure.
Cloud Security Posture Management (CSPM): Based on CIS benchmarks tailored for your assets
Cloud Threat Detection: Identify threats in your Azure environment using Falco rules for Azure
Event Hub: Fully managed, real-time data ingestion service that's simple, trusted, and scalable
Image Vulnerability Scanning: Automatic vulnerability scanning of images pushed to Azure Container Registry and images executed on Azure Container Instance Group.
For details, see Deploy Sysdig Secure for cloud on Azure.
December 12, 2021
A Statement on Log4j vulnerability (CVE-2021-44228)
Security researchers recently disclosed the vulnerability CVE-2021-44228 in Apache's log4j, which is a common Java-based library used for logging purposes
Sysdig is using an alternative framework for logging called Logback. The logback framework isn't vulnerable to this issue.
Sysdig components include a log4j library in our standard distribution that appears to be vulnerable. It has been confirmed that this library is included for compatibility reasons only and is not used for primary logging. As a result this should not pose any risks.
Patches will be provided to upgrade the log4j libraries that are included for compatibility reasons.
If you have any questions or concerns, please reach out to your Sysdig contact.
December 1, 2021
Image Analyzer 0.1.15 Inline Scanner 2.4.8 Released
Release 0.1.15 of the Node Image Analyzer
Release 2.4.8 of the Sysdig Inline Scanner
Updated to the latest security fixes
Fixed support for COPY, USER, and other instructions when the image is built using buildkit
November 5, 2021
Improved Handling of Forwarded Benchmark Events
Forwarded benchmark events now include AWS tags as key-value pairs (rather than a flattened string), making them easier to consume.
November 2, 2021
Inline Scanner 2.4.7 Update
Requirements
libseccomp >= 2.3.3 (on the Host/JenkinsWorker - where the docker command is executed)
docker version > v18.05.0-ce
Fixes
Fixed support for COPY, USER, and other instructions when image is built.
October 27, 2021
Cloud Infrastructure Entitlements Management (CIEM) for AWS
Sysdig Secure has added Permissions and Entitlements Management functionality. You can find it under Posture menu tab.
By combining the CIEM capabilities announced today with Sysdig's existing capabilities, Sysdig customers can proactively prevent cloud permissions risks, scan for vulnerabilities and misconfigurations, and detect and respond to attacks across container and cloud environments.
Gain visibility into all cloud identities and their privileges: get a comprehensive view into access permissions across all AWS users and services
Enforce least privilege: eliminate excessive permissions by applying least-privilege policies to users and services with automatically generated IAM policies. Sysdig proposes policies based on analyzing which entitlements are granted versus which are actually used.
Simplify audit of access controls to meet compliance requirements: use reports for regular access reviews to evaluate active and inactive user permissions and activity.
Additional Information:
October 26, 2021
New Secure Event Forwarder Integrations: Google Chronicle, Google Pub/Sub & Amazon SQS
An extended set of output data integrations has been added to Sysdig Secure's Event Forwarder functionality, in particular:
Integration with Google Chronicle. NOTE: Only Runtime policy events are available as data to send at this moment.
Integration with Google Pub/Sub and Amazon SQS, which can be used as temporary storage that will adapt the EFO push behaviour into a data pull endpoint.
See also:
October 25, 2021
Sysdig Secure for GCP
Sysdig is pleased to announce the general availability of the Sysdig Secure for cloud capabilities for GCP.
Cloud Security Posture Management (CSPM): Based on CIS benchmarks tailored for your assets
Cloud Threat Detection: Identify threats in your GCP environment using Falco rules for GCP
Audit Logs: Google Security Command Center integration to forward threats identified by Falco rules.
Image Vulnerability Scanning: Automatic vulnerability scanning of images pushed to Google Container Registry, Google Artifact Registry and images executed on Google Cloud Run.
Chronicle Integration: Events forwarding to Google Chronicle.
Installation via GCP Marketplace: You can install Sysdig from the GCP marketplace and pay using the payment method and credit of your GCP account.
See full details: Sysdig Secure for cloud and Deploy Sysdig Secure for cloud on GCP.
October 13, 2021
New Scanning Engine (Technology Preview)
Sysdig Secure is developing a new scanning engine that will deliver major improvements, additional capabilities, and scanning-centric workflows.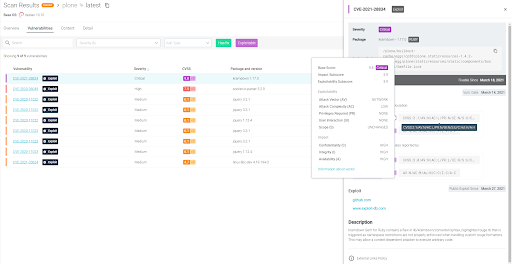 The first iteration is available to test and provides:
Much faster scan times: 4x to 10x faster initial image analysis
Extended vulnerability data, including CVSS scores, vectors containing the full exploitability data, availability of an associated public exploit, etc.
Inline scanner available as a stand-alone binary, no longer requires spawning a container
Better remediation advice, including 'Which packages are the worst offenders in my image? Considering all the possible fix versions, which one should I apply?'
Improved, more intuitive user experience, with faster response times
Important: The new engine is still on "Preview" phase.
This means:
Not suitable for production. There is no forward compatibility guarantee for the data or configuration (yet)
Testing the new scanning preview will NOT affect any existing scanning workflows that leverage the current scanning backend. It is safe to enable the preview on any account.
Additional fundamental components are still in development; they will be released in an upcoming version.
To test the new engine, simply enable the flag under Settings >User Profile>Sysdig Labs.

See New Scanning Engine to download the Inline Scanner binary and begin.
September 17, 2021
Date Columns Added for Scheduled Scanning Reports
In Sysdig Secure, the Scheduled Reports for Scanning now display additional vulnerability metadata for both runtime and registry reports.
Specifically:
Disclosure date: Time when the vulnerability information was registered in the feed
Solution date: Time when the fix version for this vulnerability (if any) was registered in the feed
To avoid breaking compatibility with existing reports and external instrumentation, these fields will only be available for newly created reports; existing Scheduled reports (even if they are modified and saved again) will not contain these columns.
September 8, 2021
New and Updated Compliance Standards
Sysdig Secure has added three new compliance standards and updated another. See also: Compliance
Updates to PCI DSS v3.2.1 Compliance for Workload
We have implemented some changes to the PCI DSS v3.2.1 for workload compliance checks. The control coverage for PCI is now: 1.1.2, 1.1.3, 1.1.5, 1.1.6.b, 2.2, 2.2.a, 2.2.1, 2.2.2, 2.4, 2.6, 4.1, 6.1, 6.2, 6.4.2, 6.5.1, 6.5.6, 6.5.8, 7.2.3, 10.1, 10.2, 10.2.1, 10.2.5, 10.2.7, 10.5.5, 11.5.1
Checks added:
Check for Network Security enabled added to controls 1.1.2, 1.1.3 and 1.1.5

Check for Kubernetes audit enabled added to controls 4.1, 6.4.2 and 6.5.8
Rules added:
Rule Outbound or Inbound Traffic not to Authorized Server Process and Port added to control 2.2.1

Rule Attach to cluster-admin Role added to controls 7.2.3 and 10.5.5

Rules EphemeralContainers Created and Terminal shell in container added to controls 10.1 and 10.2.1

Rules ClusterRole With Pod Exec Created , ClusterRole With Wildcard Created and ClusterRole With Write Privileges Created added to control 10.2

Rule Launch Privileged Container added to control 10.2.5

Rules Container Drift Detected (chmod) and Container Drift Detected (open+create) added to control 11.5.1
Rules removed:
Rule All K8s Audit Events rule removed from controls 10.1, 10.2, 10.2.1, 10.2.7
New PCI DSS v3.2.1 Compliance for AWS
The PCI Quick Reference describes the full range of controls required to pass a PCI 3.2 audit. In this release, Sysdig Secure will add the following controls.
For AWS protection: 2.2, 2.2.2, 10.1, 10.2.1, 10.2.2, 10.2.5, 10.2.6, 10.2.7, 10.5.5, 11.4
New AWS Well Architected Framework Compliance
The AWS Well Architected Framework whitepaper defines best practices to build secure, high-performing, resilient, and efficient infrastructure for applications and workloads.
For workload protection, Sysdig Secure will check the following sections: OPS 4, OPS 5, OPS 6, OPS 7, OPS 8, SEC 1, SEC 5, SEC 6, SEC 7, REL 2, REL 4, REL 5, REL 6, REL 10, PERF 5, PERF 6, PERF 7
For AWS protection, Sysdig Secure will check the following sectionsOPS 6, SEC 1, SEC 2, SEC 3, SEC 8, SEC 9, REL 2, REL 9, REL 10
New AWS Foundational Security Best Practices v1 (FSBP) Compliance
AWS Foundational Security Best Practices v1 (FSBP) describes the full range of controls to detect when your deployed accounts and resources deviate from security best practices.
For AWS protection, Sysdig Secure will check the following sections: AutoScaling.1, CloudTrail.1, Config.1, EC2.6, CloudTrail.2, DMS.1, EC2.1, EC2.2, EC2.3, ES.1, IAM.1, IAM.2, IAM.4, IAM.5, IAM.6, IAM.7, Lambda.2, GuardDuty.1
New NIST 800-171 rev2 Compliance
The National Institute of Standards and Technology (NIST) Special Publication 800-171 rev2  describes the full range of controls required to pass a NIST 800-171 audit. It provides agencies with recommended security requirements for protecting the confidentiality of Controlled Unclassified Information (CUI) when the information is resident in nonfederal systems and organizations.
For workload protection, Sysdig Secure will check the following sections:3.1.1, 3.1.2, 3.1.3, 3.1.5, 3.1.6, 3.1.7, 3.1.12, 3.1.13, 3.1.14, 3.1.15, 3.1.16, 3.1.17, 3.1.20, 3.3.1, 3.3.2, 3.3.5, 3.3.8, 3.3.9, 3.4.3, 3.4.5, 3.4.6, 3.4.7, 3.4.9, 3.5.1, 3.5.2, 3.11.2, 3.12.1, 3.13.1, 3.13.2, 3.13.3, 3.13.4, 3.13.5, 3.13.6, 3.13.8, 3.14.1, 3.14.2, 3.14.3, 3.14.4, 3.14.5, 3.14.6, 3.14.7
For AWS protection, Sysdig Secure will check the following sections:3.1.1, 3.1.2, 3.1.3, 3.3.1, 3.3.2, 3.3.7, 3.5.7, 3.5.8, 3.14.6, 3.14.7
September 2, 2021
New Terraform Onboarding Options for Secure for cloud
Users can now onboard Sysdig Secure for cloud with their AWS accounts (single or organizational) using Terraform. See the feature description and the deployment/onboarding instructions.
August 12, 2021
Inline Scanner 2.4.6 Released
Version 2.4.6 of the inline scanner container has been released. See also: Integrate with CI/CD Tools.
Feature:
Added support for images with the (deprecated) manifest schema V1
July 30, 2021
Inline Scanner 2.4.5 released
Version 2.4.5 of the inline scanner container has been released. See also: Integrate with CI/CD Tools.
Fix:
Fixed an edge case in which using the --verbose flag with --format json caused a corrupted JSON output
July 28, 2021
Inline Scanner v2.4.4 Released
Version 2.4.4 of the inline scanner container has been released. See also: Integrate with CI/CD Tools.
Fixes:
Bumped ClamAV version to latest (0.103.3).

Updated base image to get updated security fixes (July 2021)

Added retry mechanism when pulling images from registries

Added --write-json PATH option to permit storing json log to file

Fixed Malware scan fails when image has not read the permissions on files

Fixed failure in getting images for registries that do not support tag listing
July 27, 2021
Admission Controller with Kubernetes Audit (k8s_audit Falco rules)
Today we announce the general availability of the Kubernetes Audit functionality as part of the Sysdig Secure Admission Controller.
Background:
Kubernetes admission controllers provide operators the ability to validate and/or mutate incoming API requests. Admission controllers are a core functionality of Kubernetes, and many are enabled by default.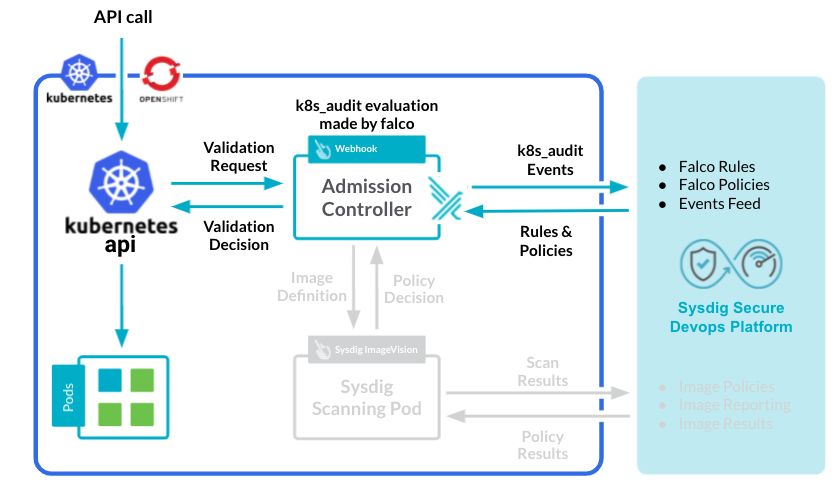 Sysdig Secure has long provided Kubernetes API security using k8s_audit Falco rules to create policies against Kubernetes audit logs. However, there have been some complications:
Many Kubernetes distros are opinionated in the way to collect and access logs, some using dynamic backends (deprecated in Kubernetes 1.19, but still available in OCP up to 4.3), while more vanilla approaches use webhooks, and cloud providers require a bridge to collect logs via their own logging streams.

Distros diverging from Falco:

With OCP 4.4+, we had no clear way to collect and validate audit logs against our Falco rules.
The Solution?
Tap directly in the Kubernetes API request via Admission Controllers and use the existing k8s_audit rules our customers have relied on for so long. See the installation instructions.
July 2, 2021
Inline Scanner 2.4.3 Released
Change:
Updated base image to get updated security fixes (June 2021).
Fixed:
Fixed incorrect version detection for Apache Struts 2 packages which was leading to false positives.
July 1, 2021
Node Image Analyzer v0.1.13 Released
Version 0.1.13 of the Node Image Analyzer has been released.
This release comes with the following improvements:
Fixed:
Fixed a GKE- and ContainerID-specific bug where the node image analyzer couldn't scan the image due to missing blobs

Implemented a few-second pause at startup to allow for Istio sidecars to complete the initialization before creating connections
New
We use the Universal Base Image (UBI) Sysdig-approved image as the base, in order to ensure the highest patch level approved by our security team.
June 23, 2021
Enhancements to Compliance Module
Terminology note: Compliance standards are scoped to different platforms depending on the specific security rules they include, Broadly, these are divided into:
Workload types: Including any Falco rules for kernel system calls, Falco rules for Kubernetes audit logs, host benchmarks, and security features that affect hosts, containers, and kubernetes clusters

AWS/cloud type: Falco rules for CloudTrail and Cloud Custodian rules on Amazon Web Services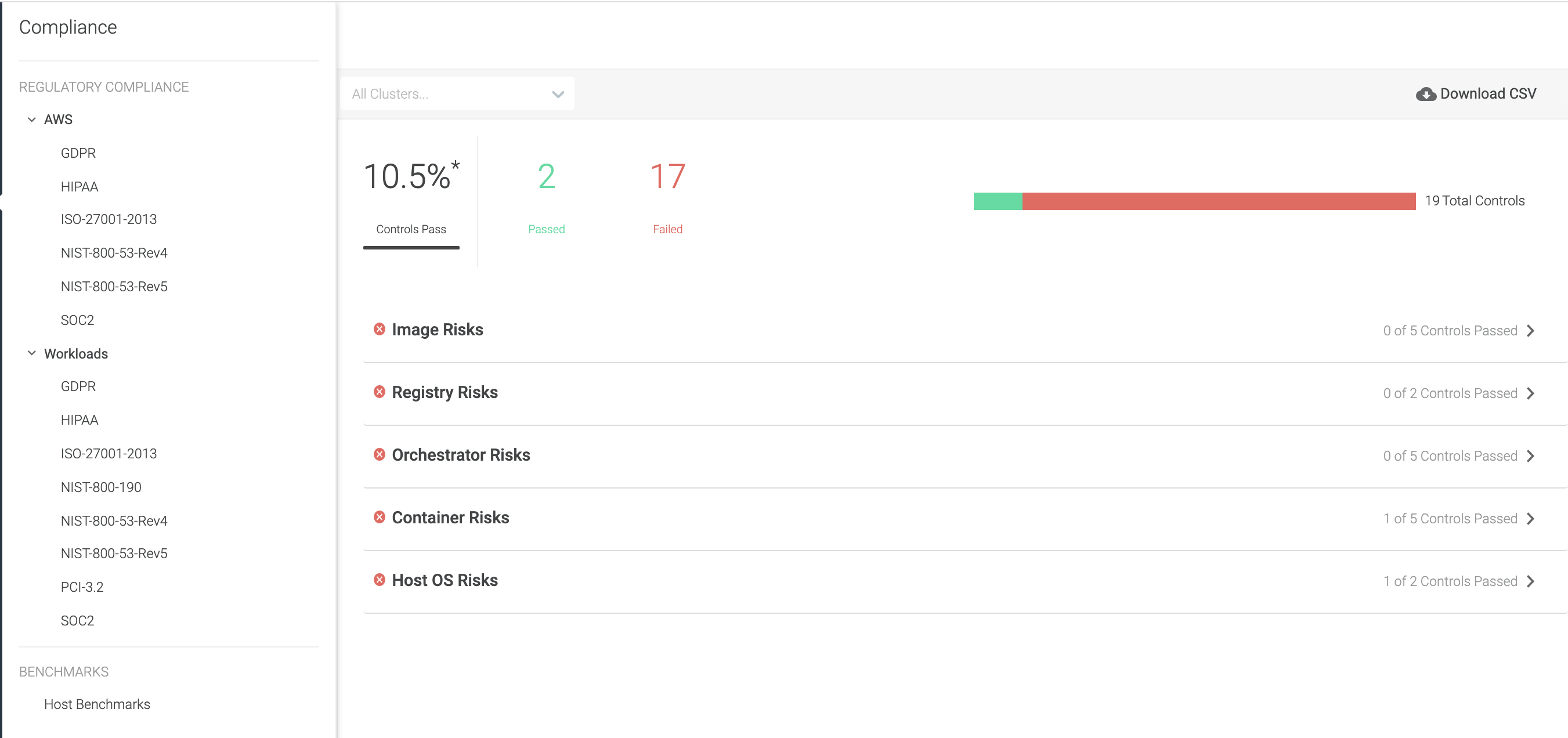 See also: Compliance.
Extended Existing Compliance Standards to AWS
For the following existing compliance standards, we have added rules for AWS cloud provider:
NIST 800-53 rev4 for AWS

NIST 800-53 rev5 for AWS

ISO 27001:2013 for AWS

SOC2 for AWS

HIPAA for AWS
Added New Compliance Standards
We have also added the following new compliance standards to Sysdig Secure's offerings:
GDPR for AWS 

GDPR for workload

NIST 800-190 for workload
Trimmed Excess Rules from Some Standards
Certain rules have been re-evaluated and were removed because they did not significantly contribute to the security posture:
Logged in without Using MFA (merged with Console Login Without MFA)

Interpreted procs outbound network activity

Launch Suspicious Network Tool in Container

All K8s Audit Events
June 14, 2021
CIS RedHat OpenShift Container Platform v4 Benchmark
Support for CIS RedHat OpenShift Container Platform v4 Benchmark has been added to Sysdig Secure.
As part of this release Sysdig is allowing you to scan and validate compliance with 112 controls included in the CIS Bencmark requirements.
See also: Benchmarks
June 9, 2021
Sysdig Secure UX Improvements: "Investigate" Navigation & Activity Audit
Menu Navigation
Sysdig navigation just got a facelift. To help our Sysdig Secure users navigate easily, we:
Added the new menu item Network (previously found under the Policies menu), and

Grouped Activity Audit + Captures into Investigation to better describe the use-case it helps users resolve.
Activity Audit
The Activity Audit module also got several interface and user experience improvements:
Runtime scope moved to the top to align with other Secure interfaces and allow more space for activity data

Activity types (network, file, kubectl, command) can now be filtered directly from the graph using the legend

Attributes of the displayed elements can be filtered directly from the list, without displaying the side detail panel
June 4, 2021
Kubernetes Network Security: New Configuration and Improved User Experience
Sysdig's Kubernetes Network Policy tool has been updated to include additional fine-tuning configurations and an improved user experience.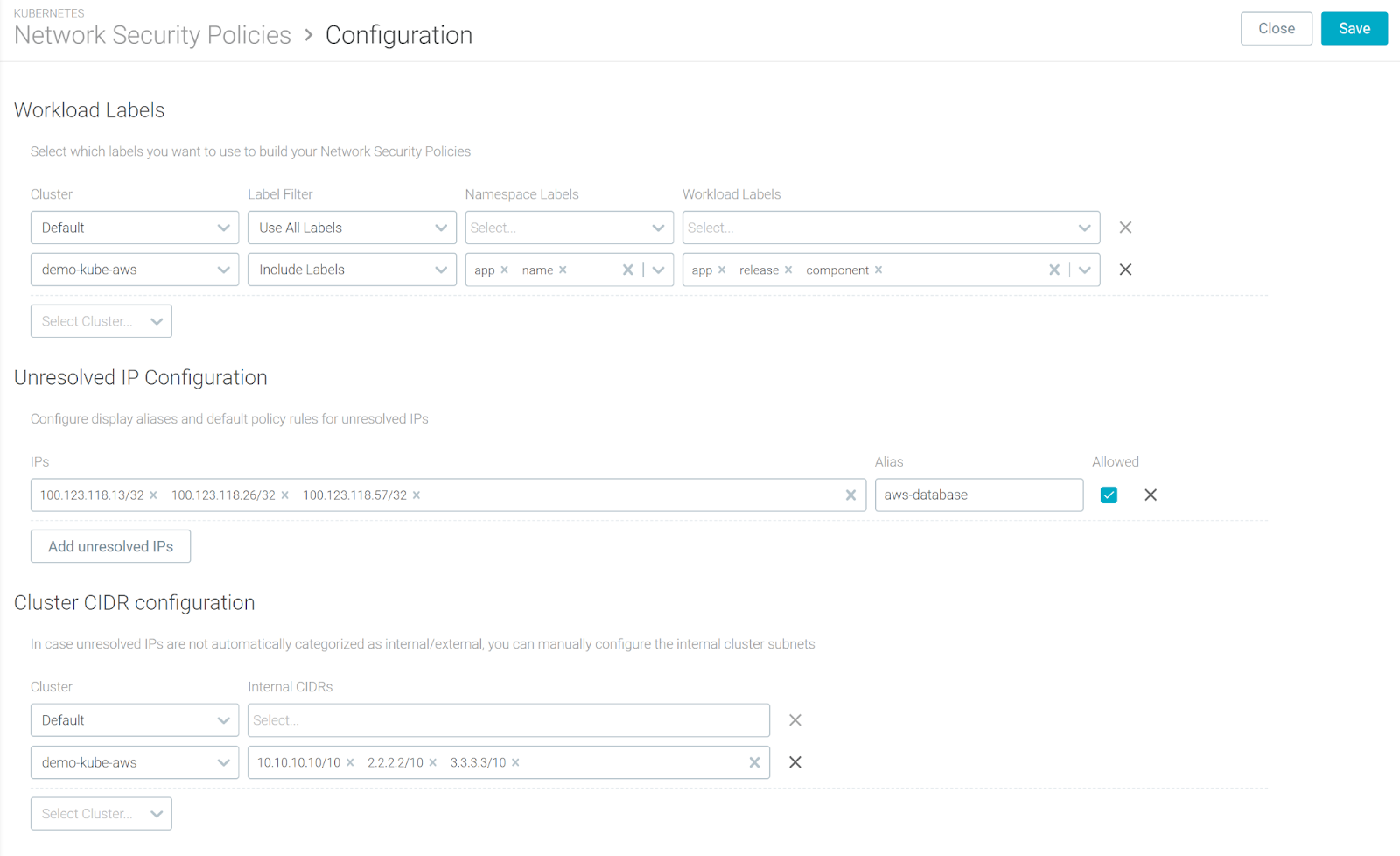 Additional Configuration Panel
Workload Labels: Depending on your workload labelling policy, some labels may not be relevant for generating a KNP policy. Use the additional config to include/exclude a particular set of labels per cluster/namespace to declutter your UI and the resulting policy.

Unresolved IP Configuration: Now it is possible to label raw IPs that are not mapping to your Kubernetes/OpenShift entities, i.e. external cloud provider services, so these labels will be automatically applied to the topology and ingress / egress tables.

Cluster CIDR configuration: If the CIDR configuration is not automatically detected by the agent, you can now directly configure internal subnets per cluster using the Sysdig interface.
Improved UX
Topology map: Additional information pop-up when hovering over a network connection or a network node, such as server process, source, destination, and more.

Unresolved IP filtering: In the ingress and egress tables, by type or using free text search.
Additionally, Network is now presented as a top-level item in the Sysdig Secure navigation.
May 27, 2021
Falco Policy Tuner - Beta
Sysdig is now releasing a managed version of the standalone Falco Tuner.
Previously, you had to run the tuner in your local environment, print suggestions, and manually update a rule with those suggestions. The new feature runs in the background and automatically tunes noisy rules and false positives. To streamline the creation of these exceptions, we've created a new object within Falco called exceptions.
Note: To enable the tuner, Admin access rights to Sysdig Secure are required.
Feature Enhancement: Falco Exceptions
Previously, exceptions were created using and not conditions inside a Falco rule, e.g.
- rule: Write below binary dir
  ...
  condition: >
    bin_dir and evt.dir = < and open_write
    and not package_mgmt_procs
    and not exe_running_docker_save
    and not python_running_get_pip
    and not python_running_ms_oms
    and not user_known_write_below_binary_dir_activities
  ....

However, this process can be unwieldy and can result in unintended behavior. The new format, using exceptions, looks like this:
- rule: Write below binary dir
  ...
  condition: bin_dir and evt.dir = < and open_write
  ....
  exceptions:
    - name: package_mgmt_procs
      fields: proc.name
      comps: in
      values: package_mgmt_binaries # list of known binaries
  ...

See the full documentation here.
May 19, 2021
Regulatory Compliance for ISO27001:2013 and HIPAA Now Available
Two new compliance standards have been added to Sysdig Secure's compliance feature:
HIPAA (Health Insurance Portability and Accountability Act)
See also:Compliance for information about the specific controls Sysdig covers for each security standard.
Inline Scanner v2.4.1 Released
Version 2.4.1 of the inline scanner container has been released. See also: Integrate with CI/CD Tools.
Fixes:
Updated ClamAV version to 0.103.2 to avoid end-of-life problems present in the former version, such as failure in updating the antivirus database
Additional type Descriptor Forwarding Activity Audit through Event Forwarder
The JSON payload when sending Activity Audit elements through the Event Forwarder will now contain an additional field name: type. This describes the type of the entry, respectively: command, connection, fileaccess, or kubernetes.
See also: Event Forwarding.
May 18, 2021
New and Improved Host OS and Container Scanning Tools
We at Sysdig are working hard to improve your security posture and compliance experience. As part of this commitment we are implementing a new framework to generate host benchmark results, introducing host scanning, and making backend improvements to the image scanning mechanism.
Installation Steps
The new features require a new component to be installed called the Node Analyzer. We've provided an installation script to automate the installation or to upgrade an existing Node Image Analyzer daemonset, if applicable.
Once you've installed or updated the components, the UI will automatically show Host Scanning and new Benchmarks functionality (Legacy Benchmarks can still be accessed.)
In addition to Sysdig Secure's rich array of tools for scanning container images, you can now scan the hosts as well.
Scan hosts for vulnerabilities, and detailed Software Bill of Materials (SBoM)

Support for OS (e.g. rpm) and non-OS (e.g. Java, Ruby, Python) packages

Compare and diff scan results
More checks

Better results

Clustered aggregations - understand the posture of your environments, not just a single entity
Automatically scan images if they have not been scanned
April 29, 2021
New Scan Results Page Layout
We have reorganized the visual layout of the Scan Results summaries to clearly distinguish policy evaluation from vulnerability matching and to better summarize the information.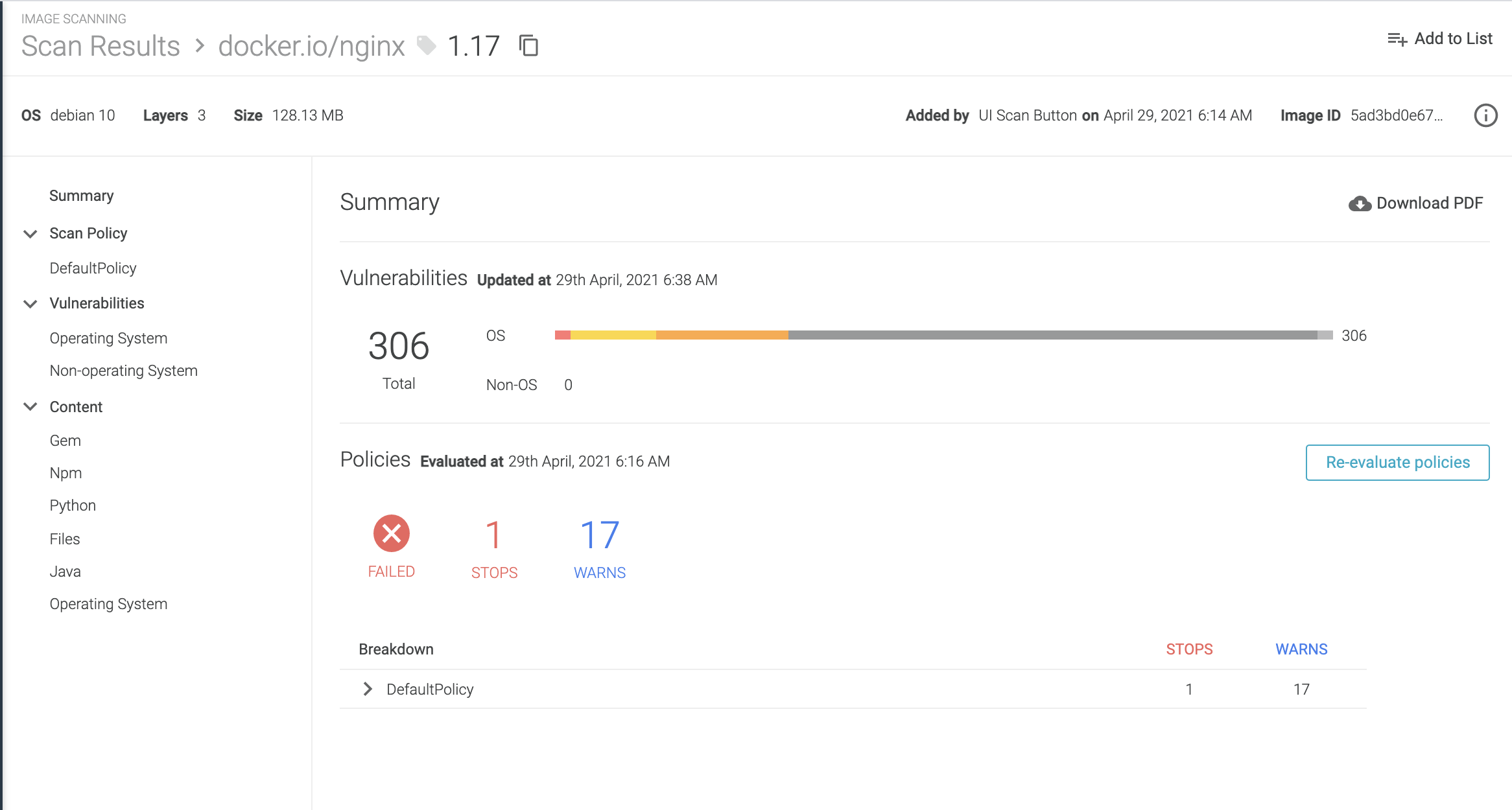 Improvements include:
Vulnerabilities and Policies are now two different sections in the UI

Vulnerability match update time is displayed to further distinguish from the Policy Evaluation time

Policy breakdown is collapsed by default to reduce cognitive load

Re-evaluate policies button is now located in the impacted section only, as opposed to whole page

Apart from the vulnerability update time, the data remains unchanged from previous versions
See also: Review Scan Results.
April 26, 2021
Inline Scanner v2.4.0 Released
Version 2.4.0 of the inline scanner container has been released. See also: Integrate with CI/CD Tools.
Changes:
Updated base image to get updated security fixes.
New
Added HTTP_PROXY and HTTPS_PROXY environment variables support for malware scanning mode. This is required if you want to retrieve the malware database inline behind a proxy.

Added support for.dockercfgrepository auth method, accessible via the--registry-auth-dockercfgCLI flag.
Fixes:
Now using HTTP1.1 by default to bypass a cURL bug.

Provided fix for an error when using the docker-daemon storage type with a docker UID different than 1000.
March 30, 2021
Sysdig Secure for cloud
Sysdig Secure for cloud is available with Cloud Risk Insights for AWS, Cloud Security Posture Management based on Cloud Custodian for AWS and multi-cloud threat detection for AWS using Falco.
What's Included in this release:
Free-Forever Cloud Security Tier
Sysdig is launching a new Free-forever cloud security tier for one single account.
https://sysdig.com/company/start-free/
Easy onboarding in minutes

Manage cloud posture with a daily run of CIS Benchmarks

Detect threats with out-of-the-box CloudTrail detection rules based on Falco

Scan containers (ECR/Fargate scanning) automatically and within your cloud environment for upto 250 images a month
March 24, 2021
Image Scanning Reports v3 [BETA]
The Image Scanning Reports feature has been thoroughly updated and has moved from a synchronous model to an asynchronous mode, in which you schedule the reports you need and then receive them through your normal notification channels (email, Slack, webhook.). The new version also includes:
A preview function to check report structure in the UI

A more advanced query builder

Extended set of data columns (i.e. CVSS base score and vector) and extended set of available filters (i.e. package type)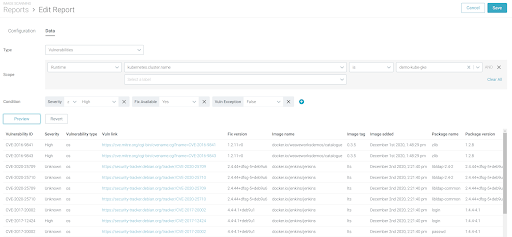 Reporting v3 supports two different types or reports:
Vulnerability report: Containing vulnerability, package and image data

I.e. Vulnerabilities in my runtime with Severity ≥ High, a Fix available and not included in a vuln exception list.

Policy report: Containing scanning policies and evaluated images data

I.e. Images in my internal registry failing the "NIST" scanning policy.
You need to enable this feature from the
Sysdig Labs
setting on the
User Profile
page.
See Scheduled Reports for more detail.
March 22, 2021
Feature Enhancement: Falco Policy Types
Sysdig Secure has introduced Policy Types– a separation of policies into logical groups, based on the sources used in the policy engine. When creating a policy, you choose a type and then only the relevant scopes and container actions will be presented. 
We have also introduced a new policy type to support threat detection with AWS CloudTrail rules.
For full details, see Manage Policies.
March 17, 2021
Scan Results: UX Enhancements & Added Functionality
Summarized views based on image count, image fail / pass distribution and image origin distribution.

Registry filter dropdown, multi-select

Visible image counters: Images shown in the page vs total number of images available after applying filters

Visual charts: Pass/fail and origin distribution (also respecting filters)
New table design to offer additional visual feedback and reduce data redundancy, plus additional vulnerability data.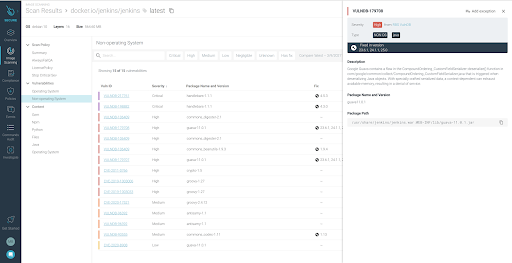 New functionality:
Individual vulnerabilities can now be clicked to display additional information in a side panel:

The vulnerability feed source that was used for the matching

A description of the vulnerability
March 15, 2021
Sysdig Serverless Agent 1.0.0 for Fargate ECS
The "container-as-a-service" serverless environment calls for new agent models, and Sysdig provides them. Whereas in ECS, users still manage the underlying instances, with AWS Fargate the host is never visible and users simply run their workloads. And while this model is convenient, it can introduce risk as many people leave the containers unattended, without monitoring security events within that can exfiltrate secrets, compromise business data, impact performance, and increase their AWS costs. In addition, it is not possible to install a standard agent in an environment where you do not have access to a host.
For these reasons, Sysdig has introduced a new "serverless agent" model that can be deployed in these container-based cloud environments. The first implementation is for Fargate (ECS).
Sysdig will be rolling out security features on the serverless agent over time. In v1.0.0, users will see:
Runtime Policies and Rules

Secure Events
To obtain secure event information and the associated Falco policies and rules in the Sysdig Secure UI from a Fargate environment, users install the serverless agent using a CloudFormation Template. Then log in to Sysdig Secure and review the events in the UI.
See also: AWS Fargate Serverless Agents and Serverless Agent Release Notes (for future updates).
March 12, 2021
Deprecation Notice: Legacy Commands Audit & Legacy Policy events
The "Commands Audit" feature was deprecated in favor of Activity Audit in November 2019. This feature will be completely removed from the SaaS product April 2021 (next month).

Sysdig agent version 0.93+, released in November 2019, is required by the Activity Audit feature.
UI Improvement on Rules Library and Rule Details
Usability improvements that display the policies in which a rule is used, from both the Rules Library list and the Rule Detail view. See Manage Rules for details.
March 2, 2021
Regulatory Compliance for SOC 2, NIST 800-53 rev4 and rev5
Three new compliance standards have been added to Sysdig compliance feature: SOC 2, NIST 800-53 rev4 and NIST 800-53 rev5.
The compliance validator now also includes new checks for the following features: Admission Controller, Network Security Policies and Node Analyzer.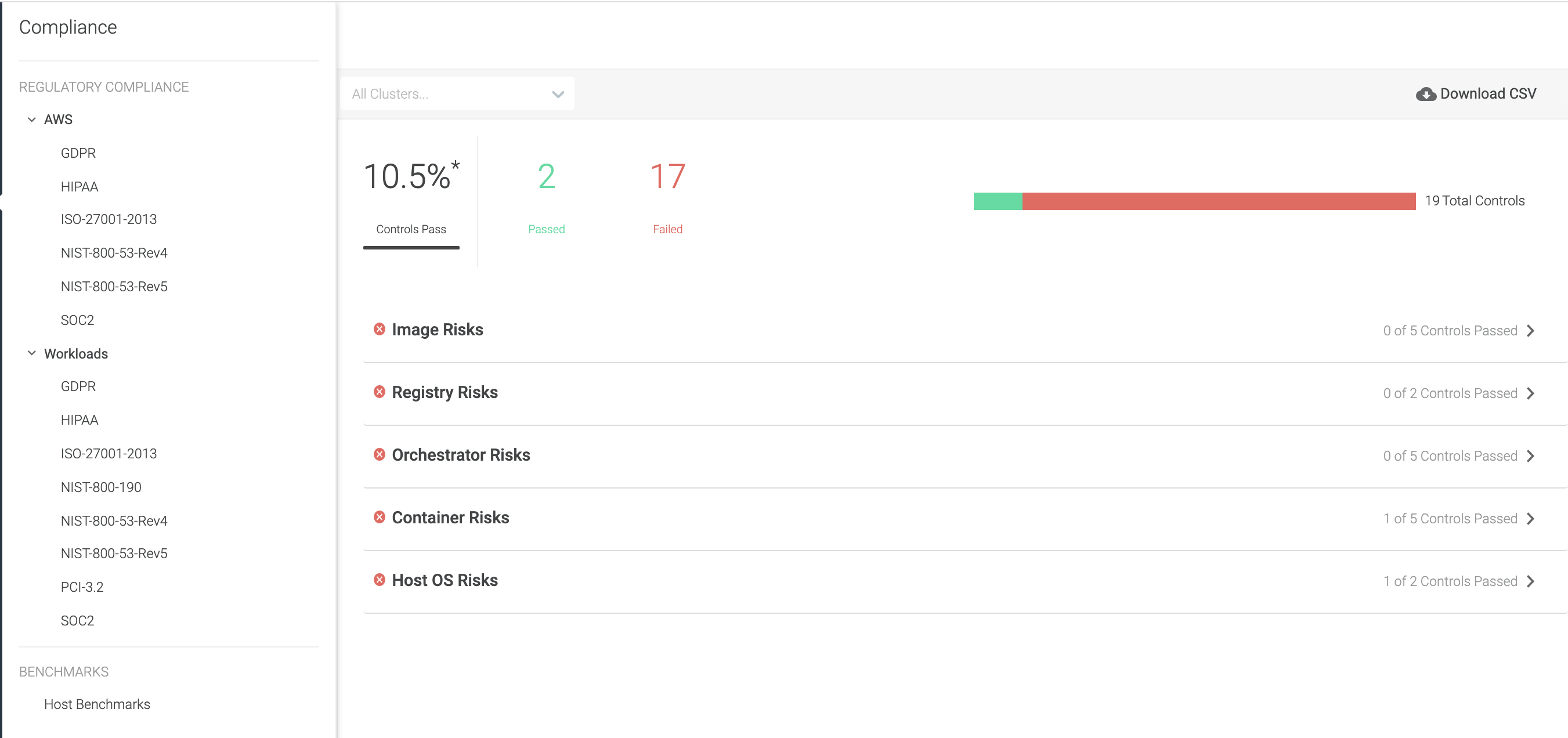 See the Compliance documentation for usage details and the controls implemented.
February 23, 2021
Windows Scanning Released
A beta version of the Windows Scanning Inspector has been released. This is a new feature from Sysdig for scanning Windows containers.
This is a standalone scanning engine. There is no centralized UI, management, or historical data. These features are planned for a future release.
See also: Windows Container Image Scanning [BETA].
Features
Identify Windows container image vulnerabilities from:

Windows or Linux hosts

Reports in JSON and PDF

Policy support

Severity

Fix available

Days since fixed
UI-Based Admission Controller Released
Kubernetes' admission controllers help you define and customize which requests are allowed on your cluster. An admission controller intercepts and processes requests to the Kubernetes API prior to persistence of the object, but after the request is authenticated and authorized.
Sysdig's Admission Controller (UI-based) builds upon Kubernetes and enhances the capacity of the image scanner to check images for Common Vulnerabilities and Exposures (CVEs), misconfigurations, outdated images, etc., elevating the scan policies from detection to actual prevention. Container images that do not fulfill the configured admission policies will be rejected from the cluster before being assigned to a node and allowed to run.
See also: Admission Controller.
Main Features
Granular admission policies: Defining a global policy per cluster, but also at the level of particular namespaces or image paths (i.e. registries) Registry and repository whitelist

Only allow images that pass the scanning evaluation criteria

Only allow images that have been evaluated recently

Only allow images that have been scanned before creation is requested to Kubernetes

Registry and repository whitelist

Scan unscanned requested images immediately (optional)
February 20, 2021
Network Micro-Segmentation: Support for CronJobs, Weave, & Cilium CNIs
The Sysdig Network Security Policy Tool has been upgraded to add support for CronJob pod Owners.

With the addition of CronJob support, communication is aggregated to the CronJob (scheduler) level, rather than the Job. Therefore, when administrators review the activity in the Network Security Policy menu, they will see the higher-level CronJobs listed, and not an excess number of individual Job entries.
This update also adds support for Weave and Cilium CNIs on top of Calico support.
Malware Detection during Inline Image Analysis
As part of the inline scanner version 2.3.1 release, malware scanning was added as a configurable detection that can be performed during inline analysis.
The default behavior if this feature is enabled and malware is found is to consider the scanning failed, report malware details, and abort analysis:

See Perform Inline Malware Scanning for recommended parameters and output options.
February 16, 2021
Registry Credentials: Support for Multiple Credentials
Sysdig Secure now supports assigning multiple credentials to the same registry depending on the relative internal registry path that is used to pull the image.

A wildcard can be added to the end of the path, indicating that any image located under the partial path inside the registry (/rg-2-1er in the example) will use the registry credentials configured here. This additional flexibility is useful, for example, for IBM registries which can have a different set of permissions depending on the namespace.
See also: Manage Registry Credentials.
February 10, 2021
Inline Scanner v2.3 Released
Version 2.3 of the Inline Scanner has been released.
Fixes:
Avoid prefixing the image names with localbuild when not strictly necessary
New:
Improved version detection for specific software packages: logback, SpringFramework and Tomcat Java

Allow setting of openssl security level via OPENSSL_SECLEVEL env var to support old certificates

More robust image ID identifier, avoiding unnecessary image re-scans along the container lifecycle

Added malware detection feature
February 4, 2021
Enhanced Activity Audit Filters
We have improved the noise-reduction filter for the Activity Audit feature in Sysdig Secure. The feed will now automatically filter out duplicate entries with a high number of occurrences. No information is lost, as the filtered noise is only duplications of entries in the feed.
A sudden reduction in the number of Activity Audit entries per time slot is expected as a result of this filter.
January 28, 2021
Node Image Analyzer v0.1.9 Released
Version 0.1.9 of the Node Image Analyzer has been released.
This release comes with the following improvements:
Fixes:
Fixed an issue that prevented some images from being processed on GKE clusters using Docker and Containerd

Fixed an issue that prevented some images that don't have full tags from being processed on OpenShift

Improved version detection for Logback, SpringFramework and Tomcat Java packages

Fixed an issue that resulted in the image analyzer crashing without a proper error message when an incorrect Docker socket path was provided
New:
December 23, 2020
Sysdig Secure Jenkins Plugin v 2.1 Released
Version 2.1 of the Sysdig Secure Jenkins Plugin has been released!
New
Sysdig Jenkins Plugin 2.1 leverages the inline scanner v2 under the hood, which improves the scanning performance and execution times.

This version also introduces proxy support for both master and worker nodes.
See also: Integrate with CI/CD Tools and Integrate with Jenkins.
December 16, 2020
Node Image Analyzer v 0.1.7 Released
Version 0.1.7 of the Node Image Analyzer has been released.
This release fixes image analysis errors for OpenShift clusters configured in FIPS mode.
See also: Scan Running Images
Statement RE: Solarwinds and Sysdig's Security
We have seen requests for statements regarding tooling in the wake of the Solarwinds and related compromises. Sysdig does not use these tools internally. To maintain a secure SDLC process for own product we use Sysdig Secure as well as source code analysis tools. We also maintain our own branch of key OSS components to ensure software is fully vetted before it's delivered to customers.
December 14, 2020
Perform Image Scanning as a GitHub Action
A new version of the Sysdig Secure inline scanning action has been released. This Github action allows you to perform image analysis on locally built container images.
The action uses the new secure-inline-scan 2.x, which provides better performance and more input options. See Inline Scan 2.2 Release Note.
The action provides the following benefits:
Image evaluation results can be consumed using the Sysdig Secure UI or locally as check-run annotations.

Support for SARIF report output.

This provides native integration with Github's code scanning, for example: executing the codeql-action/upload-sarif action.
See also: Inline Scanning.
December 11, 2020
New Runtime Policy Events JSON Format
The JSON format for the runtime policy events has been upgraded to include full scope information, rule labels, and a single-line representation for the event field's keys and values.
To preserve backwards compatibility with existing integrations, the former JSON format is still available (and used by default on migration).
From the Event Forwarder page, under "Data to Send," the old JSON format is labeled "Policy Events (Legacy)" and the new one as "Runtime Policy Events."
See also: Event Forwarding.
December 7, 2020
Node Image Analyzer v 0.1.6 Released
Version 0.1.6 of the Node Image Analyzer has been released.
New
Proxy configuration supportRunning Node Image Analyzer Behind a Proxy

Added support to scan images that lack a Repo tag, such as OpenShift 4.x distribution images.
Fixes
Updated dependencies and base images to keep up with latest fixes
December 2, 2020
Inline Scanner v2.2
Version 2.2 of the Inline Scanner has been released.
New:
The vulnerability report information has been added to the container output, together with the image details and policy evaluation

When scanning an image using the digest pullstring, it will be stored using the truncated digest as a tag. For example:

postgres@sha256:839d6212e7aadb9612fd216374279b72f494c9c4ec517b8e98d768ac9dd74a15 will show up in the interface as postgres:839d6212e7aa

Fixed:
Fixed a permissions issue when running the container with a user other than root.
See also: Integrate with CI/CD Tools.
November 23, 2020
Inline Scanner v2.1
V2.1 of the inline scanner container has been released.
New: Ability to analyze scratch-based images
Fixes:
Fixed a bug retrieving the PDF output for previously scanned images

Addressed several vulnerabilities found in the inline scanner container
See also: Integrate with CI/CD Tools.
November 19, 2020
Kubernetes-Native Network Security with Sysdig Secure (Beta)
A new feature has been added to Sysdig Secure for authoring and refining Kubernetes network policies (KNPs) that:
Automatically extracts the connection information, by observing the cluster networks and microservices communications

Offers a visual flow to fine-tune the Kubernetes network policies, incorporating the user's adjustments

Automatically generates the KNP YAML to be applied, without requiring previous Kubernetes policy knowledge from the user.
As soon as the feature is enabled, the Sysdig agent starts collecting and processing application communications, which are then enriched using Kubernetes metadata and presented in two different ways:
Topology maps: a visual representation of the network flow between the Kubernetes entities (Services, Deployments, StatefulSets, DaemonSets, Jobs)

Ingress / Egress tables: for additional detail on each inbound/outbound communication and policy tuning.
Once the user has finished editing the desired policy, Sysdig will automatically compute the associated KNP YAML:
Enforcement is delegated to the Kubernetes control plane, favoring policy-as-code and avoiding direct tampering with cluster communications

Allow-only approach ensures that any communication which is not explicitly allowed by the policy will be forbidden
Prerequisites
Sysdig agent version 10.7+
Supported Orchestrator Distributions and CNI Plugins:
Vanilla Kubernetes (kops, kube-admin) using Calico

OpenShift 4.x using OVS

Google GKE using Calico

Amazon EKS using Calico

Rancher Kubernetes using Calico
Please contact us to enable this feature for your Sysdig Secure accounts.
See also: Network Security Policy Tool .
November 13, 2020
Terraform Provider Update (v0.5.4)
Terraform v0.5.4 update is available in Sysdig Labs.
The following minor bug fixes are included:
sysdig_secure_policy resource can configure the response action Kill Container

Fixed severity field in sysdig_secure_policy resource, to accept all possible values
October 29,2020
Scan Results List Updated
The UI for the list of scanned images has been updated to include several functionality and design improvements:
Status column (Passed or Failed) is now filterable

Image Origin (Inline Scanner, Node image analyzer, etc.) is now visible, filterable, and has multi-select option

Image registry is now visible on the table

Ability to sort by date-added (default) or image name

Flexible free-text search: filter by registry/repo:tag, repo:tag, repo, etc.
See also: Review Scan Results.
October 26, 2020
Inline Scanner 2.0
A new version of the Sysdig inline scanner script has been released.
Major improvements:
The inline analysis container doesn't need to spawn any additional containers

This removes the requirement for the Docker client, docker-in-docker, etc.

This enables usage in environments where docker-in-docker is not feasible or hard to instrument (e.g., Tekton).

Additional analysis workflows and formats:

Added support to analyze a docker archive

A .tar.gz file containing the image, i.e. the output from a "docker save"

Added support to analyze OCI images (both and directory and archive)

Uncompressed or compressed OCI image format

Added support to retrieve an image from the container storage (CRI-O and others)
Additional improvements:
Faster image ingestion

More verbose logs available for troubleshooting and diagnosis

Machine-readable JSON output via --format JSON command
To upgrade an earlier Sysdig Inline Scanning version to 2.0, you need to take into account the new invocation parameters, which are not backward compatible.
Sysdig Inline scanner can be used stand-alone or as a step inside a CI/CD pipeline (Jenkins, Tekton, CircleCI, etc). In the upcoming weeks, we will update the different integrations to provide out-of-the-box support for the 2.0 version.
October 22, 2020
Forwarding the Activity Audit Information
The Sysdig Secure Event Forwarder has added support to forward Activity Audit data to external platforms.

Benchmarks support for Kubernetes Benchmark 1.6
Kubernetes Bench upgraded to version 1.6

Using the Kubernetes benchmark, we now provide customer-selected benchmark checks for GKE and EKS (rather than just the Kubernetes default).
October 9, 2020
Regulatory Compliance Control Validation & PCI Checks
A new feature has been added to Sysdig Secure for checking controls from various compliance standards. For the first release, we provide checks against specific controls in PCI 3.2. Future releases will include SOC2, NIST-800-53, and more. See also: Compliance in Sysdig documentation.
Compliance Validator and Reports
The validator checks many Sysdig Secure features, including: image scanning policies, Falco runtime policies and rules, scheduled benchmark testing, Admission Controller, Network Security Policies, Node Image Analyzer, and more. Over time we will add new compliance coverage.
Disclaimer: Sysdig cannot check all controls within a framework, such as those related to physical security.

This feature is a beta release. A Sysdig Secure admin must enable it from the Sysdig Labs interface under Settings.

PCI Control Details
The PCI Quick Reference describes the full range of controls required to pass a PCI 3.2 audit. In this release, Sysdig Secure will check the following subset:
Controls 1.1.2, 1.1.3, 1.1.6.b, 2.2, 2.2.1, 2.2.2, 2.2.a, 2.4, 2.6, 4.1, 6.1, 6.2, 6.4.2, 6.5.1, 6.5.6, 6.5.8, 7.1.2, 7.2.3, 10.1, 10.2, 10.2.1, 10.2.2, 10.2.3, 10.2.6, 10.2.7, 10.3, 10.5.5, 10.6.1, 11.4, 11.5.a, 11.5.b.
October 2, 2020
Event Forwarding: Kafka and Webhook Added
Two new supported integrations have been added to the Sysdig Secure Event Forwarder: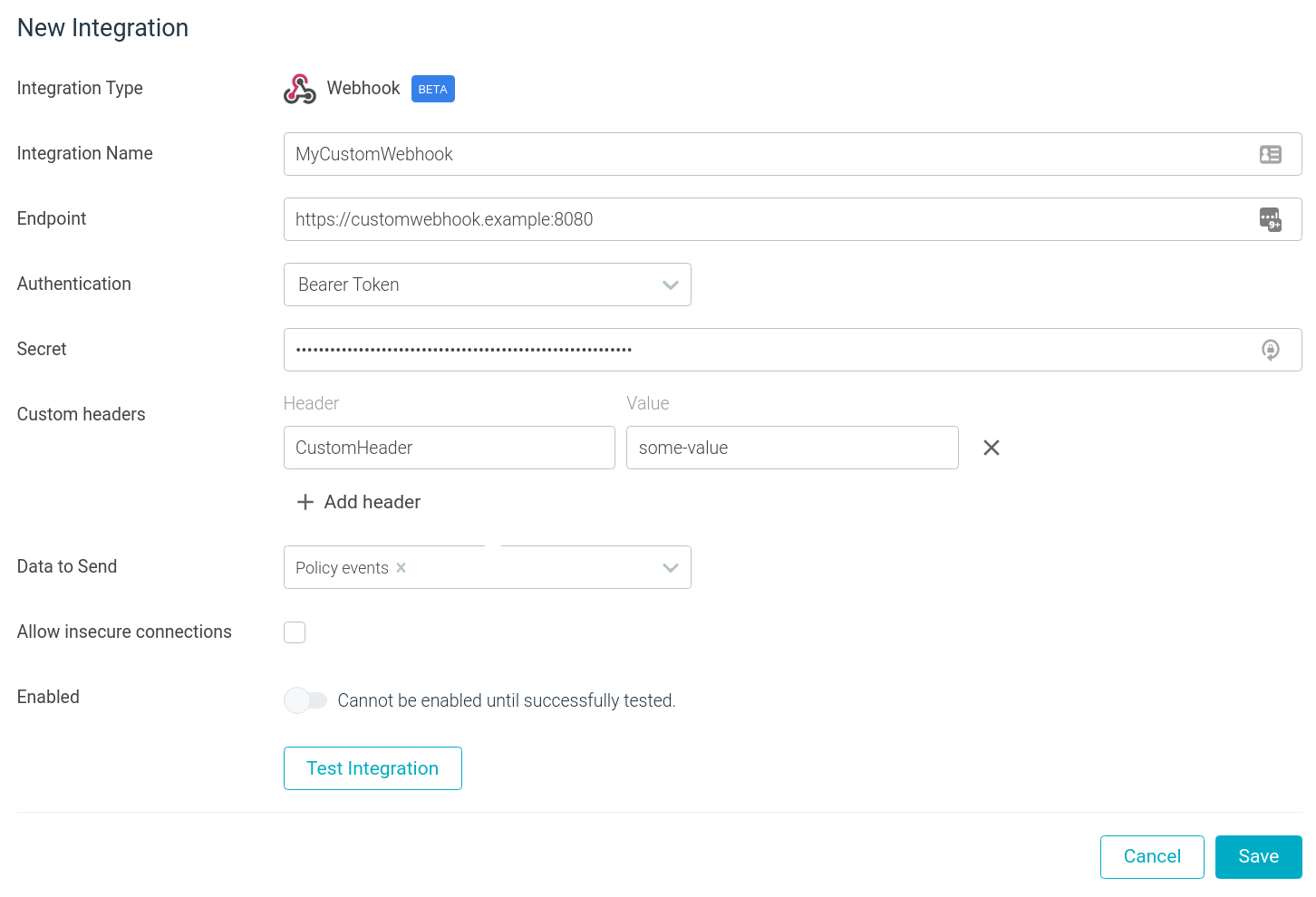 The Kafka topic integration includes support for:
Multiple Kafka brokers

Partitioner/Balancer algorithms: Murmur2, Round robin, Least bytes, Hash, CRC32

Compression algorithms: LZ4, Snappy, Gzip, Zstandard
The Webhook integration includes support for:
Authentication methods: Basic authentication, Bearer Token, and Signature Header

Custom headers defined by the user to accommodate any additional parameter required on the receiving end
September 29, 2020
Vulnerability Exceptions Handling Enhanced
The Vulnerability Exceptions feature in Sysdig Secure has been redesigned and enhanced.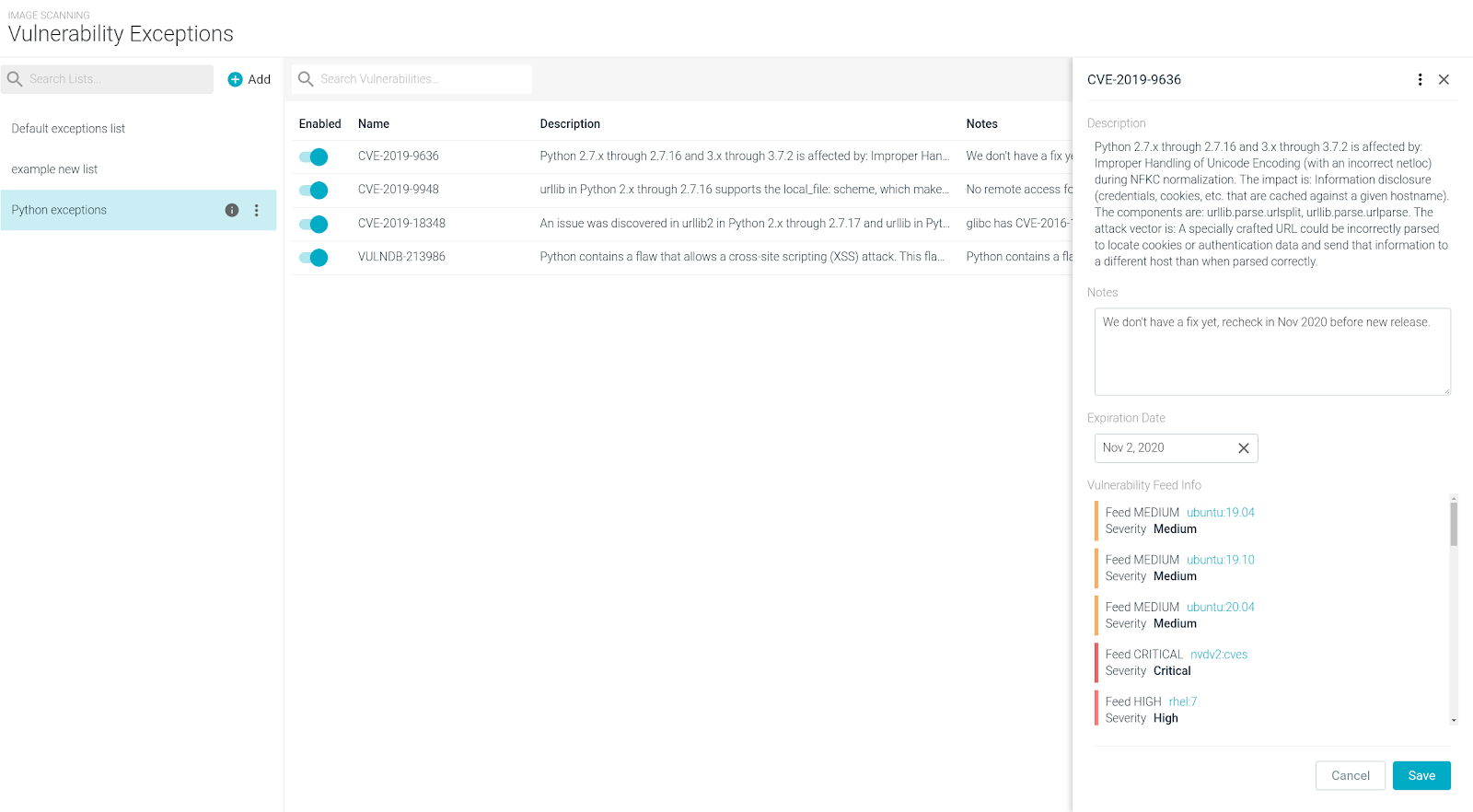 It now offers:
Additional vulnerability and feed context

Precise mapping between images and their associated exceptions

A better exception management lifecycle

Multiple vulnerability lists, which can be flexibly assigned to different image sets (or just a particular image), using the scanning policy assignments

Additional information displayed to improve team awareness and security context

Vulnerability description

User-defined notes

Vulnerability feed info, with severities and links as provided per feed

Configurable expiration dates:

An exception is automatically disabled when the expiration date is met

Day resolution, all times relative to 0:00 UTC

Enhanced workflow integration with the "Scan results" page for an individual image, with the ability to quickly append a flagged vulnerability to a list.
Migration: The exception and evaluation behavior in the current environment will be maintained after the feature upgrade. In particular:
Pre-existing vulnerability exceptions will be migrated to the "Default exceptions list"

The "Default exceptions list" will be assigned to every pre-existing policy assignment

All the pre-existing vulnerability exceptions expiration date will be set to "Never."
See also: Manage Vulnerability Exceptions and Global Lists.
AWS Threat Detection using CloudTrail and Sysdig Secure
Sysdig is happy to announce the general availability of a CloudFormation Template that will deploy a cloud-native operational security engine. By leveraging AWS CloudTrail and the Falco language, you can detect any unexpected or unwanted behavior in your AWS accounts.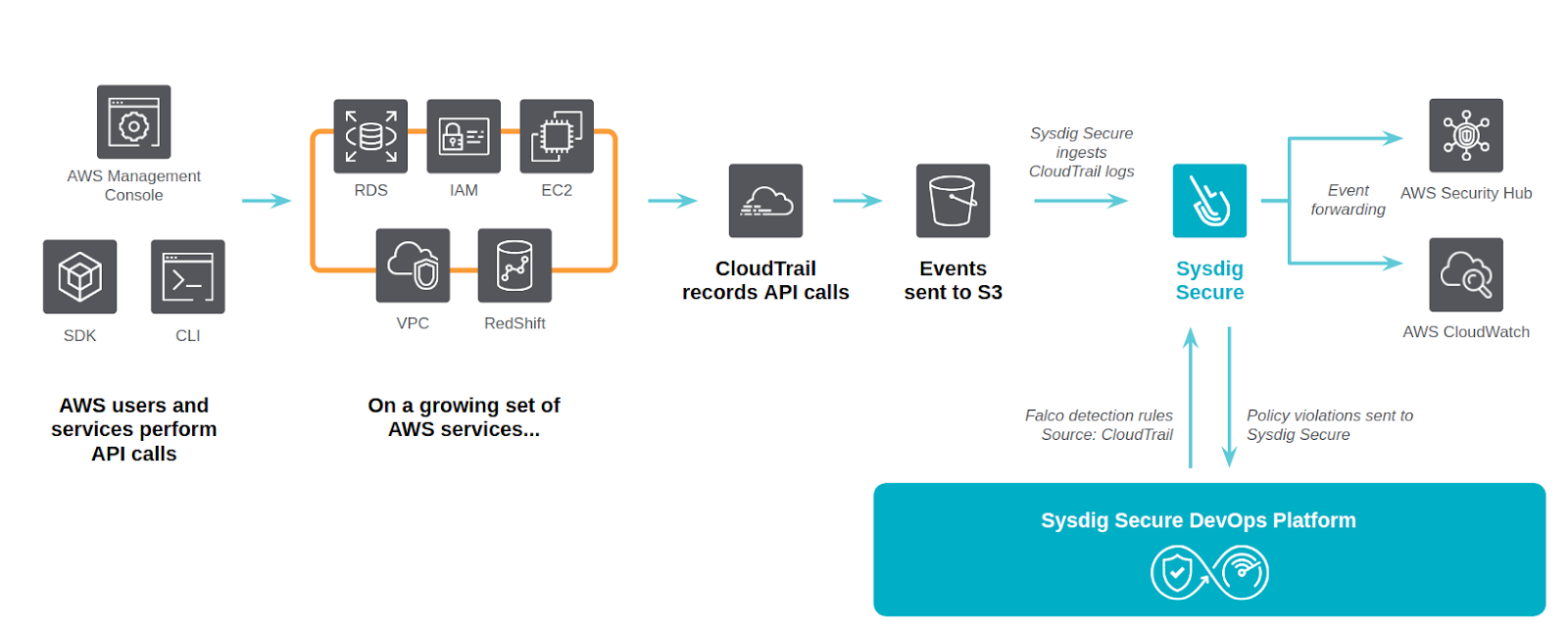 Sysdig Cloud Connector leverages AWS CloudTrail as the source of truth for enabling governance, compliance, operational auditing, and risk auditing for your AWS account.
Every API action over your infrastructure resources is recorded as a set of CloudTrail entries. Once the integration is deployed in your infrastructure, the Sysdig Cloud Connector can analyze these entries in real-time and provide AWS threat detection by filtering them against a flexible set of security rules.
Example detection rules included in this release:
Attach a user to an Administrator Policy

Create an HTTP Target Group without SSL

Deactivate MFA for user access

Delete S3 bucket encryption
Sysdig Cloud Connector provides several notification options, including sending security findings to AWS CloudWatch and AWS Security Hub. When configured, you can consume the security events without leaving your cloud console.
See also: https://sysdiglabs.github.io/cloud-connector/.
September 28, 2020
Automated Fargate Image Scanning
Sysdig is pleased to announce the general availability of a new integration leveraging the Sysdig Inline Scanning capabilities to automatically analyze the base images used for any task created using AWS Elastic Container Service (ECS or Fargate).

Straightforward deployment using a CloudFormation template

The only mandatory parameter is the Sysdig API token.

Inline scanning living inside your AWS account means improved security:

No need to expose or configure private AWS registries

Only image metadata is sent to Sysdig Secure, not the actual image contents

No sensitive information ever leaves your AWS account

An ephemeral task will be spawned to analyze each discovered images, in parallel

Each time you deploy a new task in AWS ECS/Fargate, an EventBridge event will be triggered and a lambda function will parse which images need to be analyzed by the CodeBuild pipeline job.

Fully automated

Scan results and scanning policies are still controlled from a single security governance point using Sysdig Secure
Node Image Analyzer Version 0.1.3
This version adds support for running the node image analyzer in Kubernetes environments with containerd, such as Google Kubernetes Engine configured with cos_containerd. See also: Scan Running Images.
July 29, 2020
Replacing RHSA Advisories with CVE Advisories
In new images scanned, RHSA advisories will be replaced with CVE advisories. The results for existing images will be updated in the background over the next week.
This change provides better matches for CVEs that are not yet fixed or will not be fixed since those do not yet have RHSAs. It also makes the CVE the match key rather than RHSA for more consistent whitelisting and policy handling compared to other distros.
Scanning Adapter Available for Harbor
The Sysdig Secure Harbor Scanner Adapter enables Harbor to use Sysdig Secure scanning engine to analyze the container images managed by the platform.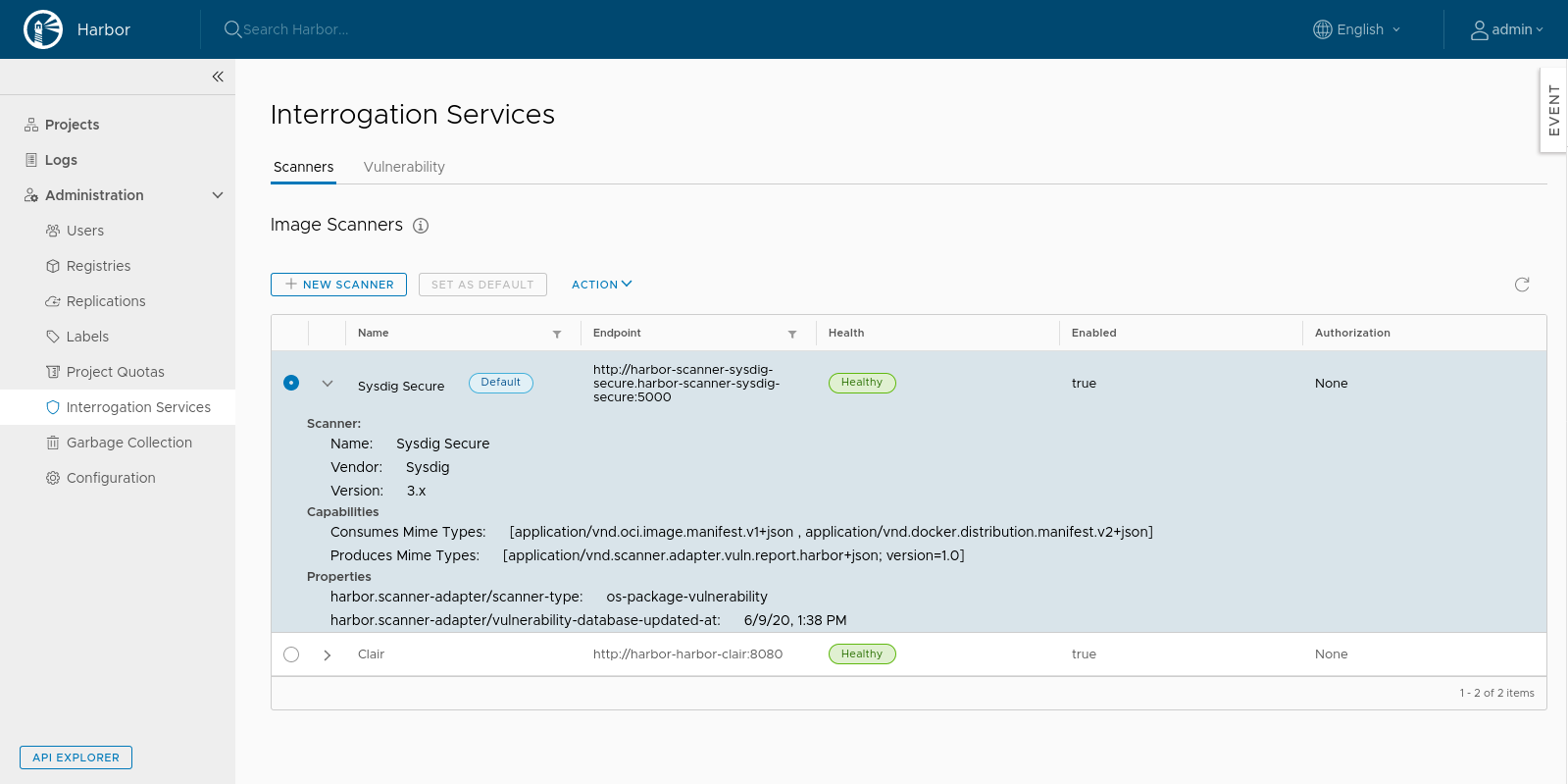 This adapter also provides a service that translates the Harbor scanning API requests into Sysdig Secure API calls, allowing Harbor to retrieve vulnerability reports and additional information from the scanning adapter. This will be presented transparently in the Harbor UI to the user.
The scanning adapter supports two operation modes:
Backend Scanning: Image scanning happens in the Sysdig Secure backend

Inline Scanning: Image scanning happens in the infrastructure where Harbor is hosted
To learn more about this integration, read the documentation.
July 28, 2020
Captures Filter on the Policies Page
Policies can now be filtered to display if a capture is associated with an active or inactive policy.

Image Exclusion on Policy Events
Users often want to tune policy events. We've added a button on the event detail that will add an exclusion to a specific container.image.repo for the policy that triggered the event. Once that exclusion is applied to the scope, policies will no longer fire for that container.image.repo.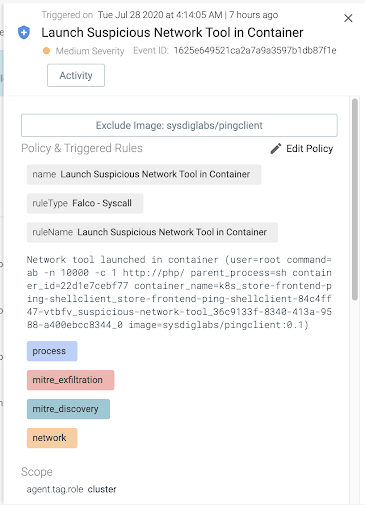 July 26, 2020
Sysdig Essentials
We have introduced a new product tier, Sysdig Essentials. This tier includes everything required to achieve the five essential requirements for practicing Secure DevOps:
Image Scanning

Runtime Security

Compliance

Kubernetes and container monitoring

Application and cloud service monitoring
To learn more about Essentials, register for our webinar, Deploy Faster by Automating Container Security, Monitoring and Compliance.
With the introduction of Essentials, It's also easier to get started with a trial program and manage your Sysdig subscription.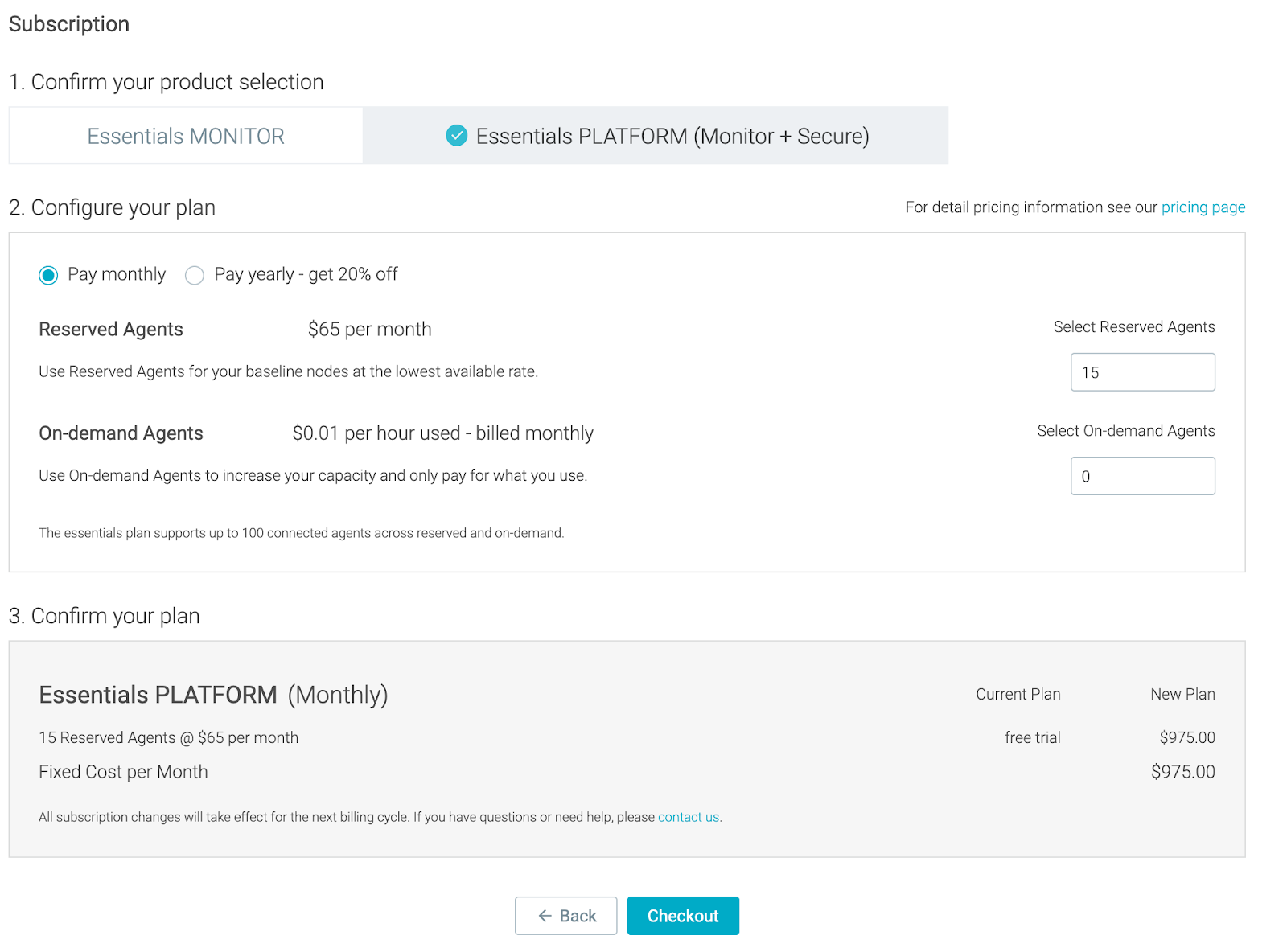 Learn the difference between Essentials and Enterprise, including pricing and features, at Pricing.
Sysdig Platform Enhancements
SAML Single Sign-On
The initial email to the following types of users will take them directly to the Single-Sign-On URL, and not the registration page.
SAML SSO Users

The users that are invited to the platform (as opposed to having them automatically created via Sysdig on-demand provisioning for SSO)
Earlier, landing on the registration page was confusing to users because they had to set up their initial password.
Rebranded Login Page
The login page has been updated with the Sysdig Kraken and the new logo.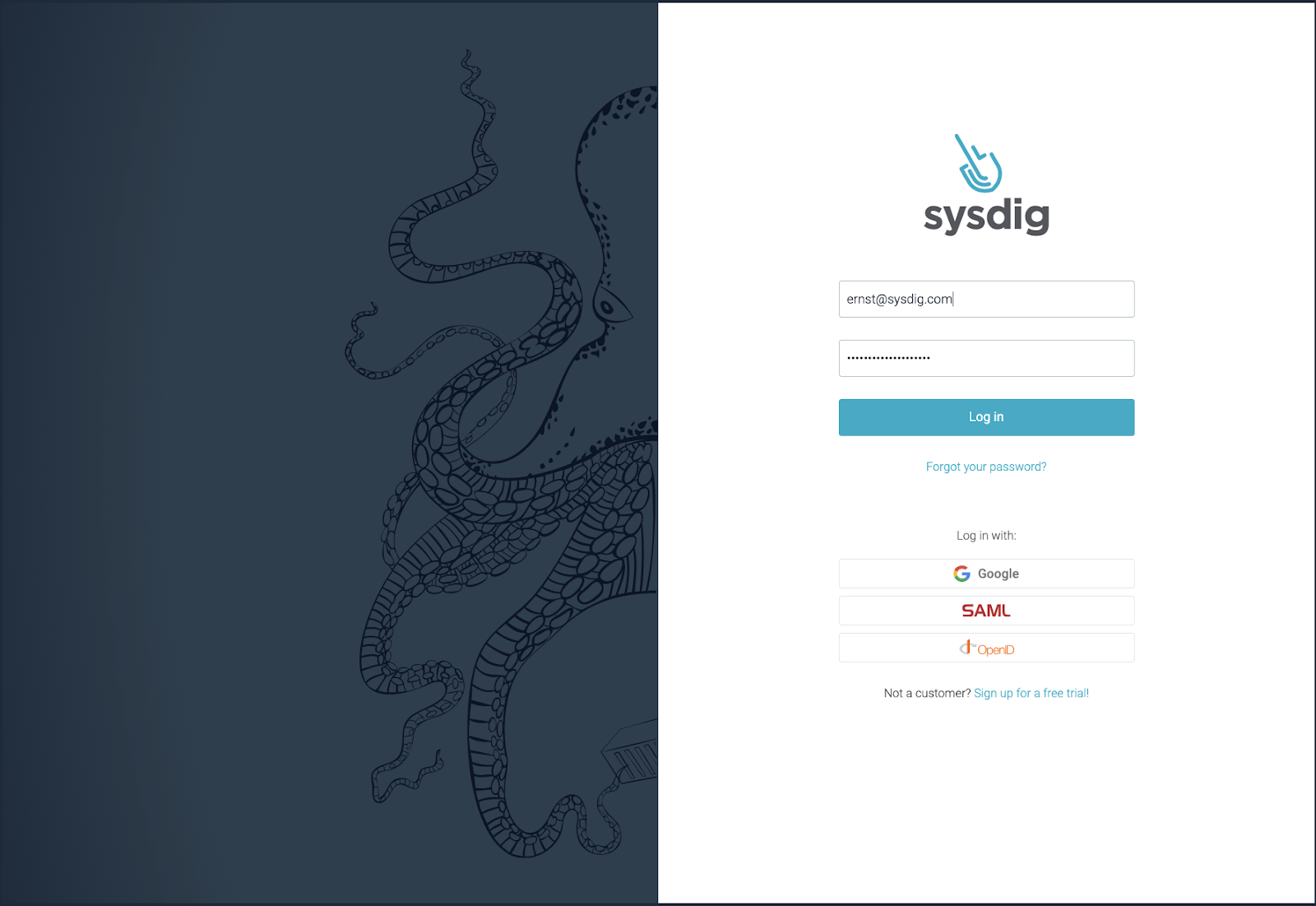 June 29, 2020
New Sysdig Secure Overview Page
The Sysdig Secure Overview provides an at-a-glance view of the critical areas of your security posture.
Scoping
Panels can be scoped by Cluster or Namespace. The scope will update all panels that are displaying run-time data and the corresponding drill-down views.
Panels
Build Time - Images Scanned: Image scan results for all static image scans

Drill-down - To Image Scanning Reports page.

Build Time - CVEs Found by Severity: The total number of CVEs present in each image scanned.

Drill-down - Available in a future release

Run-time - Images Scanned: The pass/fail status of images running now and their trend over time.

Drill-down - To Runtime Scanning Image page.

Run-time - CVEs by Severity: The total number of CVEs present in each running image

Drill-down - Available in a future release

Run-time - Policy Events by Severity: The total number of policy events by severity.

Drill-down - Secure Events page.

Benchmarks Tests Failing: The total number of benchmark tests that have failed.

Drill-down - Benchmarks Results page.
See also: Secure Overview .
June 26, 2020
Sysdig Secure's Event Forwarder Now Supports IBM Cloud Pak for Multicloud Management and IBM QRadar
IBM Cloud Pak for Multicloud Management centralizes visibility, governance, and automation for containerized workloads across clusters and clouds into a single dashboard.
You can now forward security events to an IBM MCM instance by accessing the Settings > Event Forwarding menu and selecting IBM MCM from the dropdown: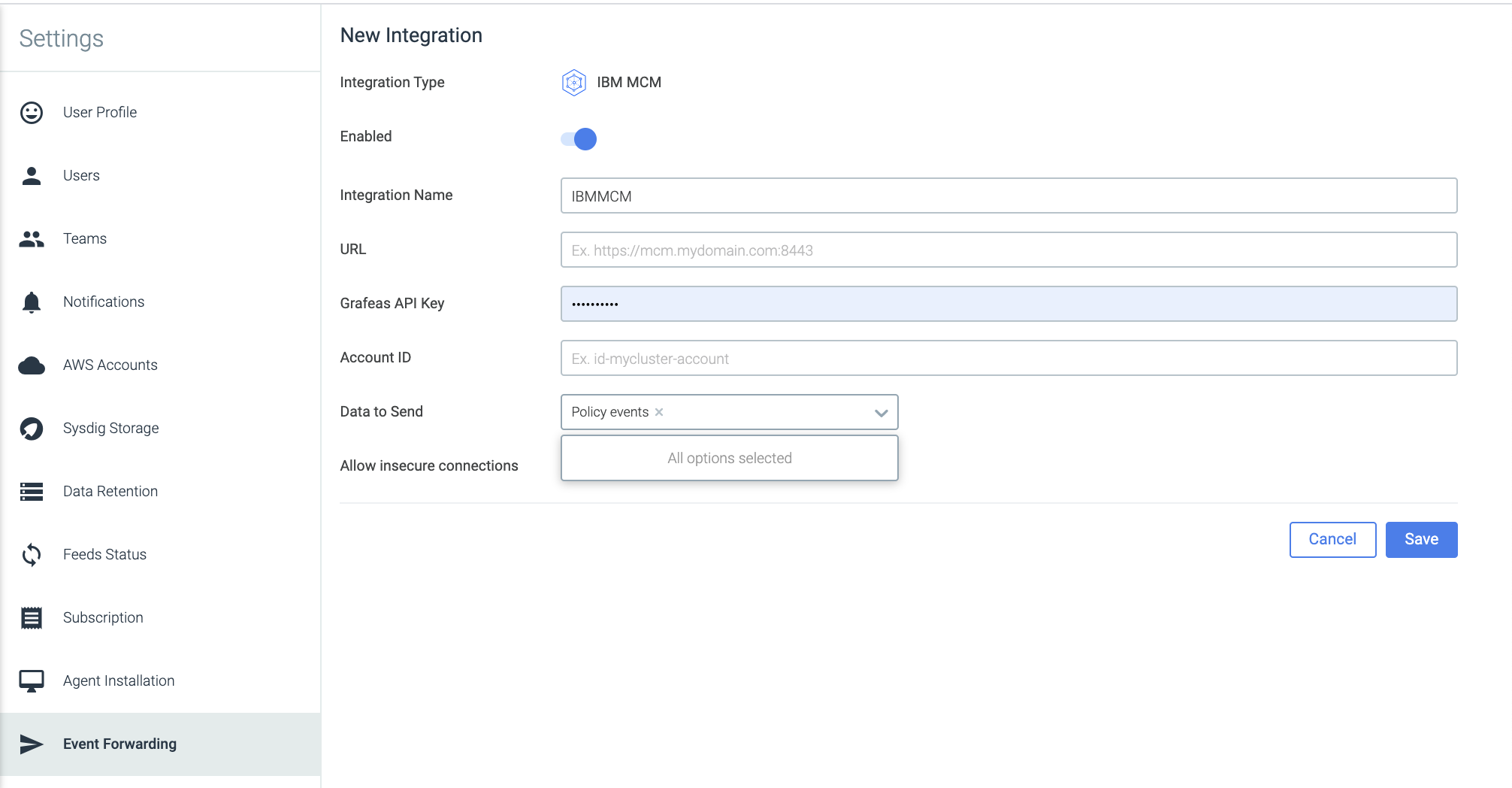 IBM QRadar Security Information and Event Management (SIEM) helps security teams accurately detect and prioritize threats across the enterprise and provides intelligent insights that enable teams to respond quickly to reduce the impact of incidents.
You can now forward security events to an IBM QRadar instance by accessing the Settings > Event Forwarding menu and selecting IBM QRadar from the dropdown.
See also: Event Forwarding.
June 23, 2020
Secure Events Feed Overhaul
The Events feed in Sysdig Secure (formerly called Policy Events) has been redesigned, both visually and functionally.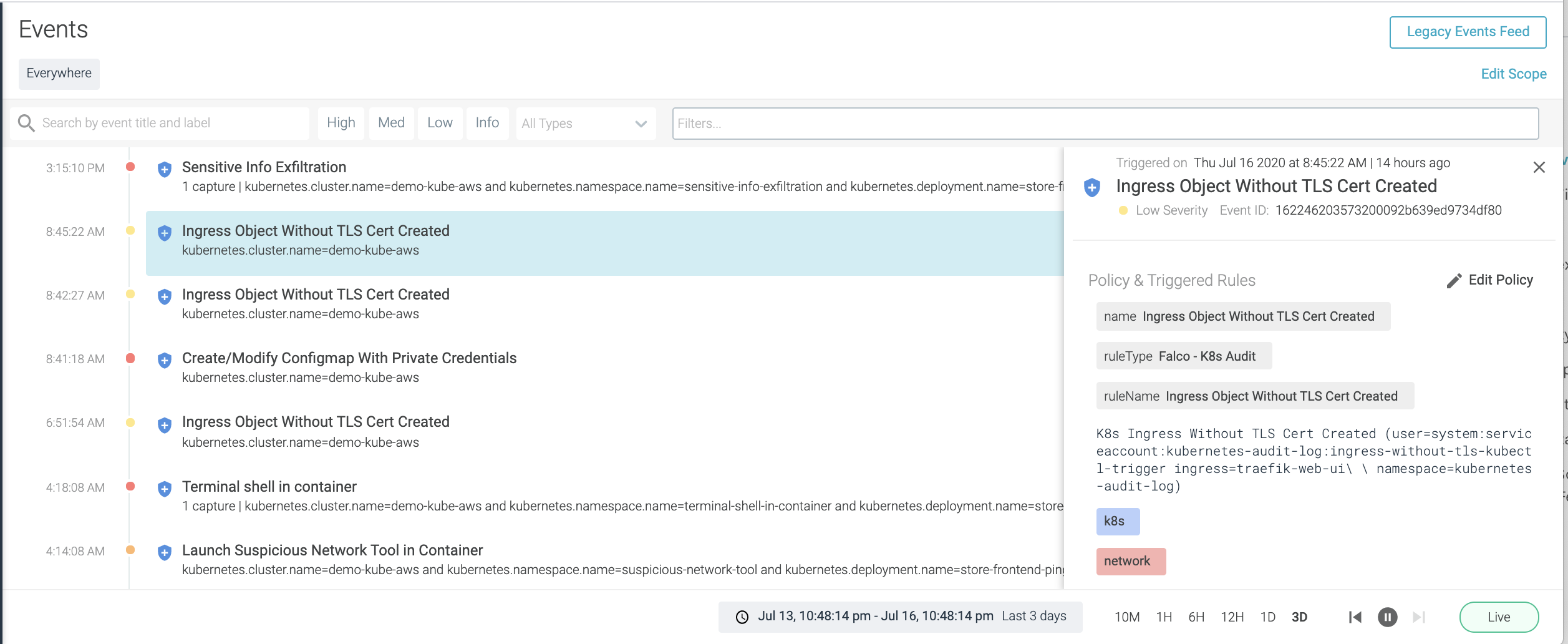 Apart from the styling and user experience improvements, these are the major new features and use cases
Advanced Filtering
We are deprecating the grouping/clustering of events present in the old version in favor of a much more powerful set of filtering capabilities:
Severity filters: Presented as quick buttons at the top, supporting multi-select

Attribute filters: Provide a simplified syntax to filter events by the attributes they contain. For example ruleType="Falco - Syscall" or image.repo!="sysdig/agent"

Open the event details side panel to find quick filtering widgets to include or exclude the attribute values associated with the displayed event

Event type selector: Supports runtime scanning alerts on top of policy runtime events (see section below), with an easy multi-selector in the UI.

Free text search: Allows you to search the event titles and scope label values. I.e. Terminal shell in or my-k8s-cluster.

New scope selector: Allows for additional selector logic (in, not in, contains, startswith, etc), improving the scoping flexibility over earlier versions. This scope selector also provides scope variables, allowing you to quickly switch between, for example, Kubernetes namespaces without having to edit the panel scope.
All these filters can be combined additively to further refine your search.
Multiple Event Types
The new event feed displays not only the policy runtime events, but also runtime image scanning alerts.
The backend architecture, filtering, and UX have been designed to accommodate additional types of security events that will be pushed to the Event Feed in the future, upgrading the interface from a policy-runtime-centric experience to a full security center control panel.
Additional Event Details
Policy runtime events: These now display the rule that was fired together with the rule labels. You can use the quick filters mentioned above to further refine the search.
Richer scope: Every security event now displays all the scope labels retrieved for the event, not just those configured in the scope selector.
See also: Secure Events.
Additional Considerations/Limitations
Events in the old and new format will be stored separately:
No event or event data will be lost during the transition

Events that were registered before the new feed is deployed can be browsed using the old feed interface, which is available from the burger menu in the top-right corner

Events that happen after the new feed is deployed will appear in the new event feed

Eventually, all events within the retention period will be present in the new interface, at which point the version switcher will disappear
June 17, 2020
Menu Update
The ordering of the side menu has been changed.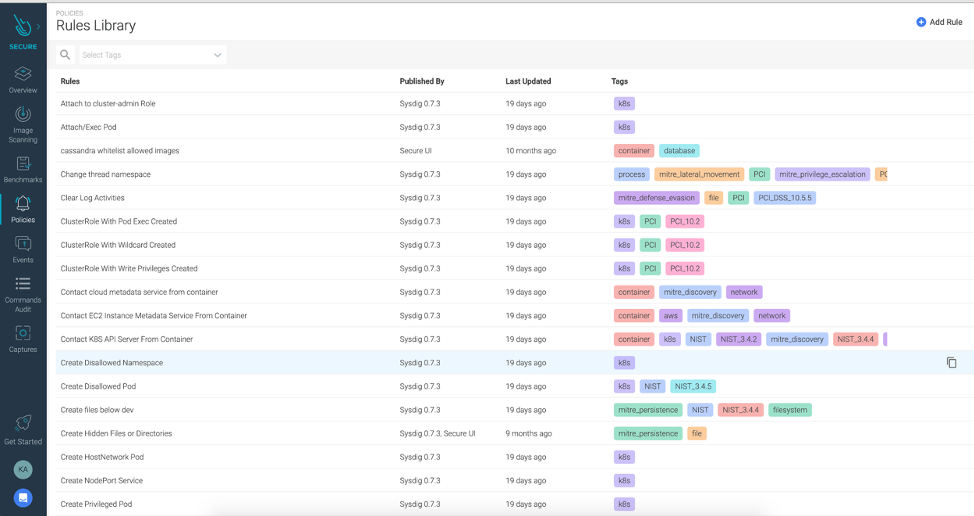 Image Scanning Updates
The image scanning navigation bar has changed.
The side menu is reorganized into Analyze and Configure sections

Analyze: Different areas of scanning that allow users to view scan results

Configure: The areas of scanning that involve the setup of the application

Whitelist terminology with CVEs has been removed.

"CVE whitelist" is now CVE Exceptions.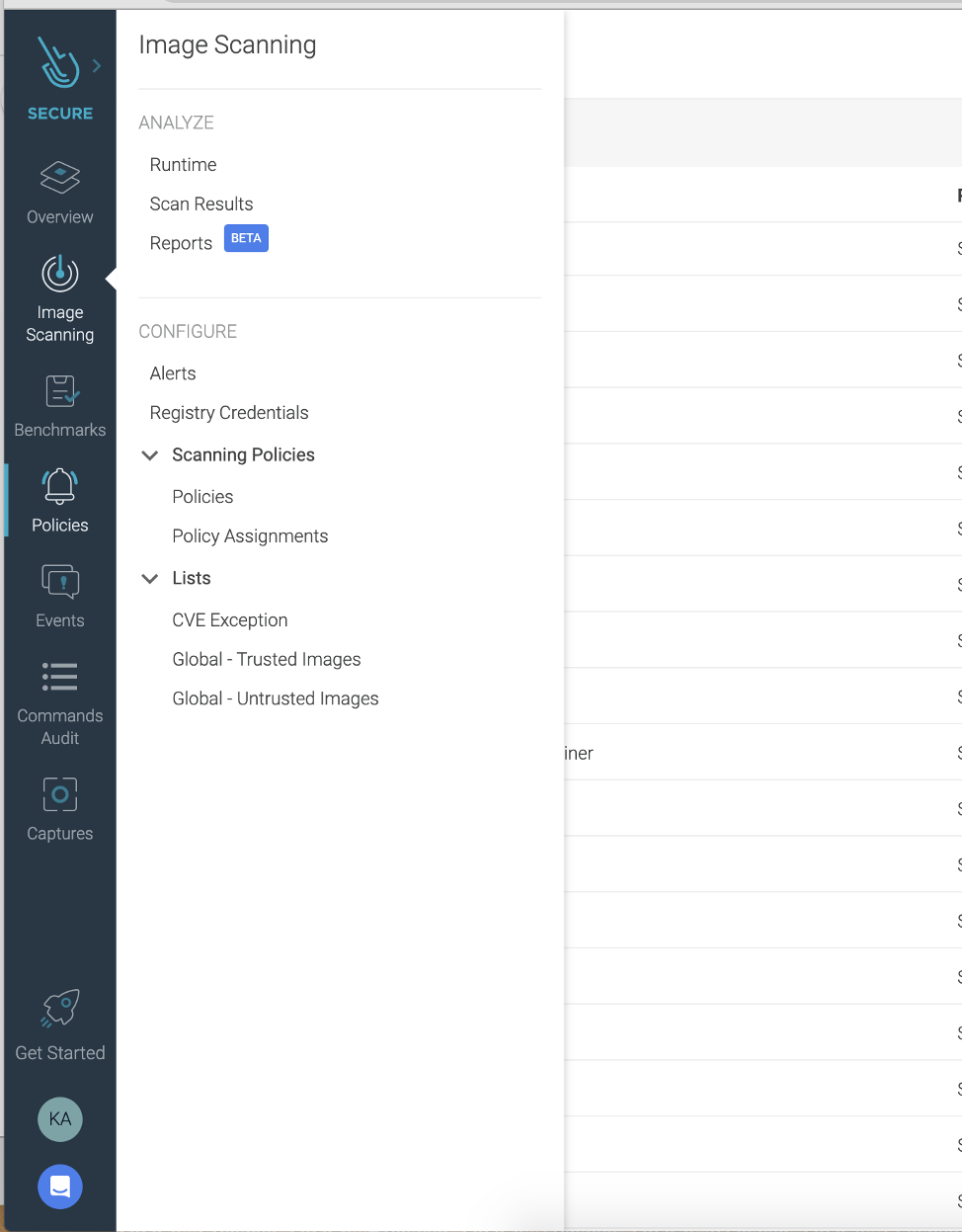 Team, Role, and Channel Updates
A variety of enhancements have been added to the team, role, and notification channel options.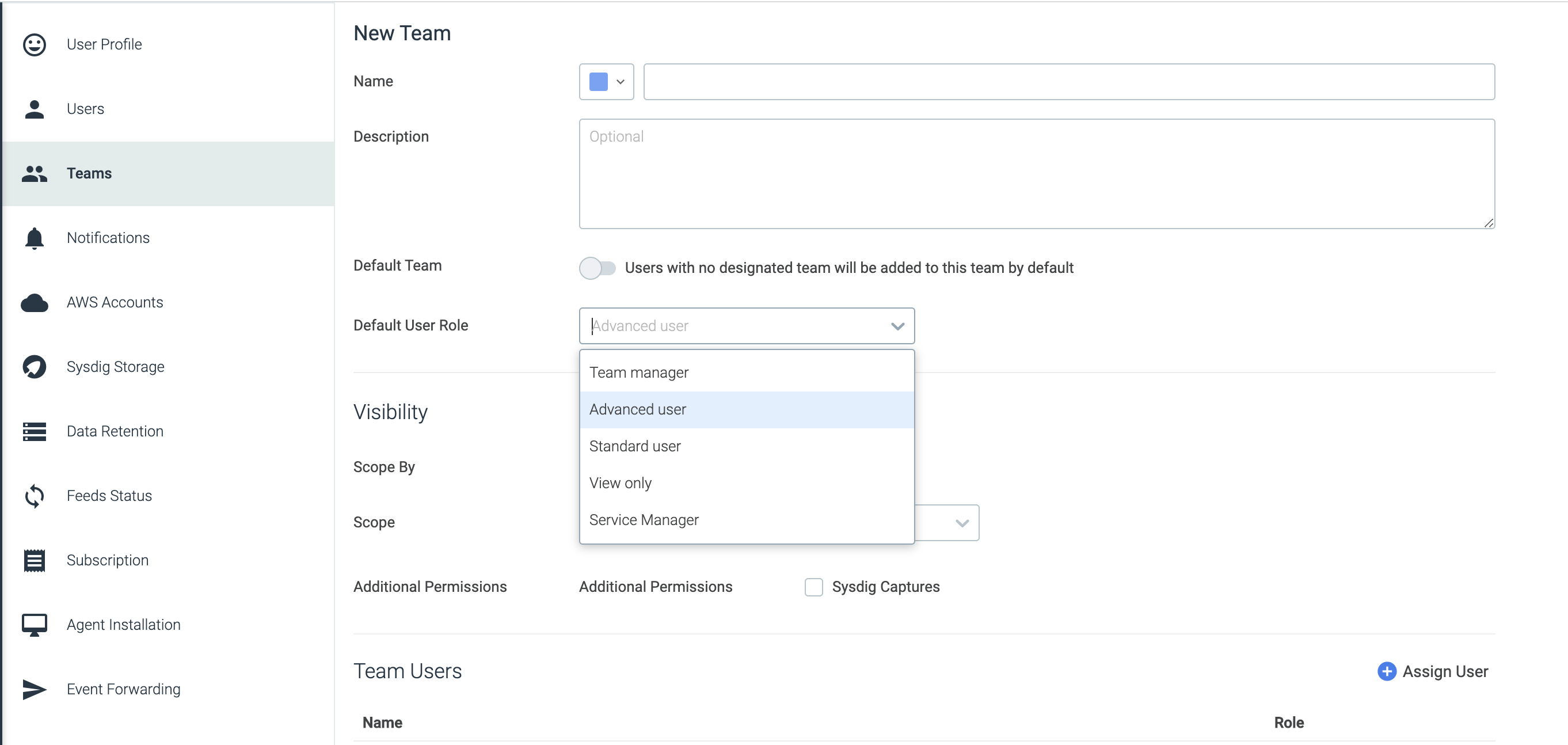 Service Manager Role Added to Sysdig Secure
RBAC capability was previously added to Sysdig Secure. (See also January 27, 2020 and User and Team Administration.)
Now a new role, Service Manager, is also available in Secure. It has the same permissions as the Standard User, plus the ability to invite existing users to the team and manage the notifications channels assigned to the team. See Team-Based Roles and Privileges
Configurable Default Team Role
You can now define the default user role to apply when a new member is added to the team. The Admin can change this default on a per-team basis. See also: Create a Team.
RBAC and Team Assignment for Notification Channels
Previously, notification channels in Sysdig Secure and Monitor were treated as global entities, visible and editable for most users of the platform regardless of team configurations.
We are enhancing the management and RBAC controls in the following ways:
Notification channels can now be "global" or limited to a particular team

Global channels can be managed by admins and can be viewed/used by other roles, while team-limited channels are available only to team members

Team Manager , Advanced User, and Service Manager (Secure) roles can create/update/delete team-scoped notification channels, they can also read and use the global ones

Standard and View Only roles can read team-limited and global notification channels

Admins will be able to create global notification channels and migrate channels from "global" to "team-limited", and also from one team to another.
See also: Set Up Notification Channels and the Share With field in each individual channel setting page.
June 12, 2020
CLI-Based Admission Controller for Image Scanning
An additional tool for evaluating and admitting images is now available.
Sysdig Admission Controller
Sysdig's Admission Controller (UI-based) combines the Sysdig Secure image scanner with a policy language to evaluate scan results and the admission context, providing great flexibility in the admission decision. It also provides the first line of defense against image-based security threats.
By using Kubernetes API extensions to perform image scanning and other security checks on admission, we cover a major threat-prevention and hardening use case: "Only the images that are explicitly approved will be allowed to run on my cluster".
The admission decision relies not only on the image name and tag but also on additional context from the admission review, including namespace, pod metadata, etc.
Features
Registry and repository whitelist / blacklist

Global and per-namespace admission configuration

Configurable pre-scan and post-scan behavior, i.e.:

Accept only the images that pass the scan (default)

Directly reject non-whitelisted registries / repos, without scanning

Accept the image even if it doesn't pass the scan

Do not accept any image that hasn't been scanned already

Pod mutation: image tag is replaced by digest to prevent TOCTOU (Time of Check, Time of Use) issue if the tag is updated between the scan and the pod scheduling
Requirements
Helm 3

Kubernetes 1.15 or higher
For more information, see Admission Controller .
June 4, 2020
New Vulnerability Feed Available: VulnDB
We've added VulnDB as an additional 3rd-party vulnerability source to improve Sysdig's coverage in non-OS package vulnerabilities.
In addition, a new page is available for each VULNDB-linked advisory. It lists the CVEs and details about the Common Vulnerability Scoring System (CVSS) scores and external references.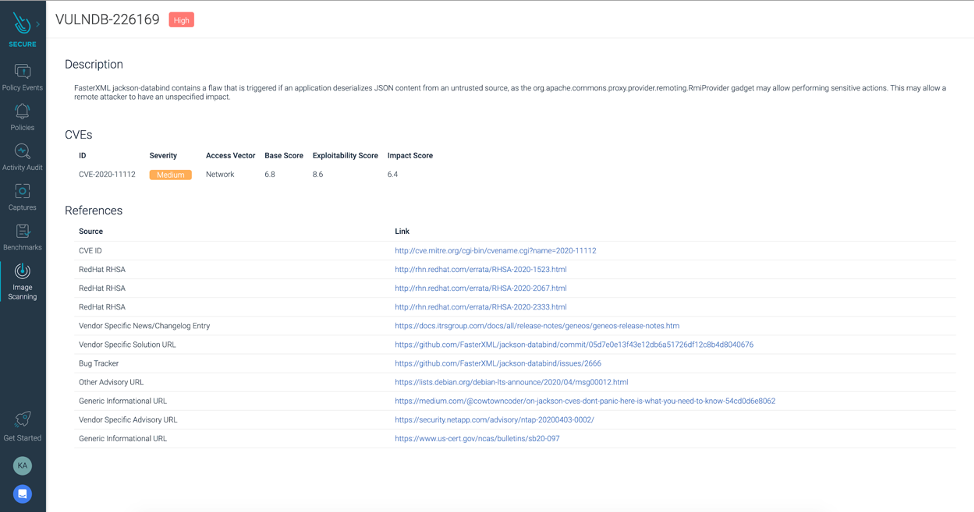 See also: Vulnerability Databases Used.
May 11, 2020
Optimized Runtime Page
We've released a new Runtime page for the Image Scanning module within Sysdig Secure. Improvements include:
Filtering based on pass/fail/unscanned

The ability to search results for a specific image

Optimized queries to improve response times

For more information, see Review Scan Results.
April 20, 2020
Added Automatic Image Scanning using Node Analyzer
The (node) image analyzer (NIA) provides the capability to scan images as soon as they start running on hosts where the analyzer is installed. It is typically installed alongside the Sysdig agent container.
This component was introduced to reduce dependencies on analyzing images within the Sysdig backend (SaaS or On-prem). Some advantages include:
Sharing credentials with the Sysdig backend in order to pull images is not required

Sharing the image content and potentially code with the Sysdig backend is not required; only metadata will be sent out

Opening a network route to allow the Sysdig backend to reach the user's registries is not required
If you have run the single line agent install with the --image-analyzer flag, then this component is already running in your infrastructure.
The feature is available for Kubernetes environments.
For more information, see Scan Running Images.
April 13, 2020
Added Image Scanning Integration Options
Two new scanning integrations are available for CI/CD pipelines. Sysdig provides:
A reference implementation with Tekton Pipelines (prototype)

A fully supported integration with Amazon Elastic Container Registry (ECR) for triggering auto-scans from the registry
Integrating Secure Image Scanning with Tekton Pipelines
Tekton Pipelines allow you to implement CI/CD workflows using a highly modular, cloud-native approach that:
Uses containers as the building blocks for individual tasks

Runs directly on Kubernetes/OpenShift without requiring a dedicated infrastructure

Uses tasks that are purely declarative and described using their own CRD, making them easily composable and reusable
Sysdig's reference implementation details the prototype task to invoke Sysdig Secure image scanning as a pluggable step in your CI/CD pipeline with just a YAML file: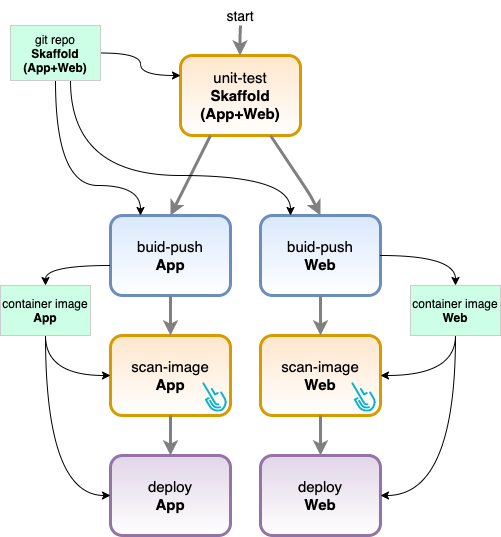 Leveraging Tekton integration with the orchestration layer, you can retrieve the image scanning policy evaluation and state (pass/fail) directly from the logs of the task pod.
Read the "Securing Tekton pipelines in OpenShift with Sysdig" blog post for additional details
Integrating Secure Image Scanning with Amazon ECR
Automatically scan images pushed to your Amazon Elastic Container Registry (ECR) using AWS-native technologies and Sysdig Secure.
Sysdig image scanner integration is deployed as a CloudFormation template that listens to ECR registry events and uses AWS resources to streamline the image scanning process.
ECR itself will trigger the scan, no need for your CI/CD pipelines to actively pull from the registry

Deployed in a few clicks, you just provide basic configuration parameters such as the Sysdig API token or the Sysdig backend URL

No need to configure registry scanning credentials on the Sysdig Secure side
This integration offers two different operation modes
Inline scanning:
Scanning will be performed inside an AWS CodeBuild pipeline allocating ephemeral resources

No need to configure any registry credentials for Sysdig Secure

No need to expose your ECR registry to the Sysdig Secure backend

Sysdig Secure will not retrieve the image contents, only the metadata that is required to perform the policy evaluation
Backend scanning:
Sysdig Secure will retrieve the full image contents in order to perform the scan

Your ECR registry must be reachable by the Sysdig Secure backend

Registry credentials are required, but they are pushed automatically by a lambda function, no need for manual configuration
April 9, 2020
Updates to Default Rules and Policies
The following changes have been made to default Policies in Sysdig Secure, and to default Falco rules:
New rule tags added that map Falco rules to PCI and NIST controls

New default policies added specifically for PIC/NIST compliance

Tuning modifications for:

Write below etc

Write below root

Change thread namespace

Run shell untrusted

Detect outbound connections to common miner pool ports
For more information, see also Falco Rules Changelog.
April 7, 2020
Updated Inline Scan Script
Added header values for import API for better supportability.

Upgraded to Anchore engine v0.6.1.

Use docker:dind instead of ubuntu for the base image. This reduces the image size and speeds up downloading.
The latest version of the inline script will always be available at https://download.sysdig.com/stable/inline_scan.sh
Link to repo for script source code: https://github.com/sysdiglabs/secure-inline-scan
March 12, 2020
New Get Started Page
The Get Started page provides the key steps to ensure users are getting the most value out of Sysdig Secure. We'll update this page with new steps as we add new features to Sysdig Secure. 
The Get Started page also serves as a linking page for:
Documentation

Release Notes

The Sysdig Blog

Self-Paced Training

Support
Users can access the page at any time by clicking the rocketship in the side menu.
See also: Getting Started with Sysdig Secure.
Linux CIS Benchmark Test Added
Sysdig Agents can run the Independent Linux benchmark against the underlying host where the agent is installed. The Linux benchmark can be scheduled to run at a chosen interval in your environment and emits results and metrics about the status of the tests.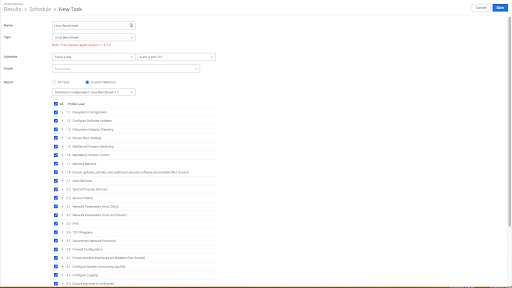 Openshift Hardening Guide
The Openshift hardening guide implements configuration checks run by the agent against Openshift environments.
See https://access.redhat.com/documentation/en-us/openshift_container_platform/3.11/html/container_security_guide/index
Note: This is supported for 3.x versions of Openshift. When Openshift releases a hardening guide for 4.x versions, we will update the configuration checks.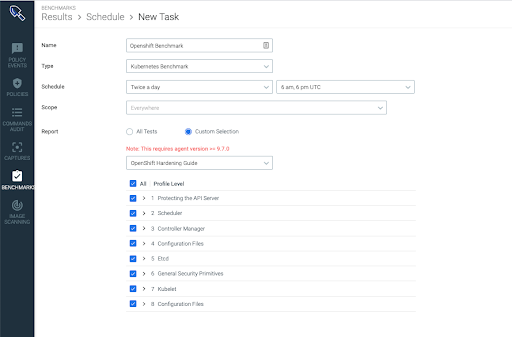 Captures can be Routed to Specific Storage Locations
As a user, you may have different S3 buckets where you'd like to store Sysdig captures, based on the environment where the policy event was triggered. New options are available for deciding what storage option you'd like to use for each policy event.

Feeds Status Page Added
It's useful to understand the last time the feeds were updated, especially in self-hosted environments. The Feeds Status page shows the different vulnerability feeds we integrate with, their feed group (often the distro version), the time of the last sync, and how many CVE records are present in the feed group.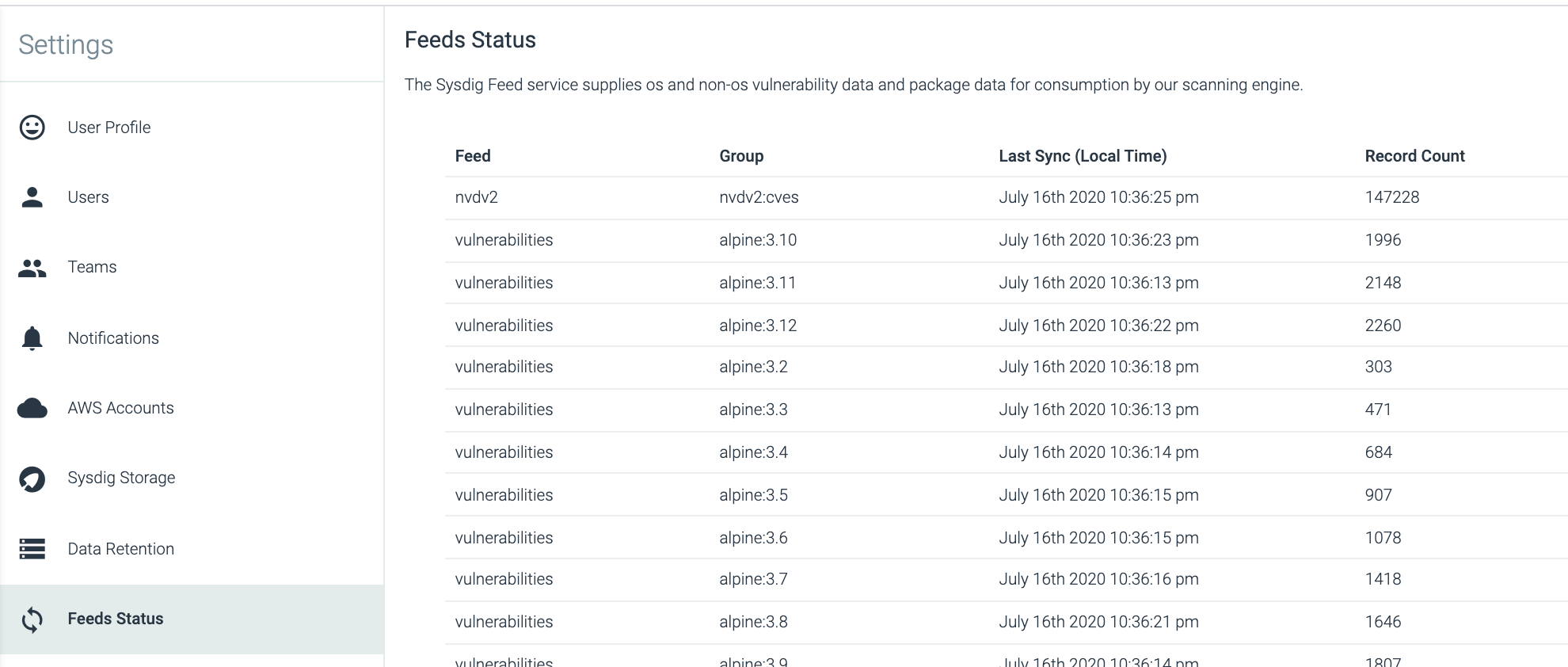 See also: Feeds Status.
March 5, 2020
Inline Scanning Reporting Improvements and Documentation
This script from SysdigLabs is useful for performing image analysis on locally built container images and posts. The only dependency for this script is access to docker-engine, Sysdig Secure endpoint (with the API token) and network connectivity to post image analysis results.
Here are examples of using the inline scanner in different pipelines:
PDF Reports from the Inline Scanner
A new option
-R  [optional] Download scan result pdf report

will generate a PDF artifact that is available for developers to consume in the pipeline.
February 6, 2020
Data Retention Limits for Scan Results
Use this feature to set limits on how long image scan metadata is stored, either by tags or days. This removes stale data and helps keep scan results easy to read.

See Data Retention for details.Data Retention
January 29, 2020
Enhanced Kubernetes Audit Log Integration
We've extended our test and documentation coverage for various Kubernetes audit log integrations. This integration enables Sysdig Secure to use Kubernetes audit log data for Falco rules, activity audit, and to test the impact of Pod Security Policies.
We now have examples for:
OpenShift

Minishift

Kops

GKE

EKS

RKE

IKS

Minikube
Read more here: Kubernetes Audit Logging.
Vulnerability Scan Results Comparison
In image scanning reports, the vulnerability comparison feature allows users to compare two different tags within the same repo to see which vulnerabilities are new or have been fixed in version X compared to version Y.
This allows developers easily to compare the latest image to a previous version to easily report on which vulnerabilities have been addressed and which are new.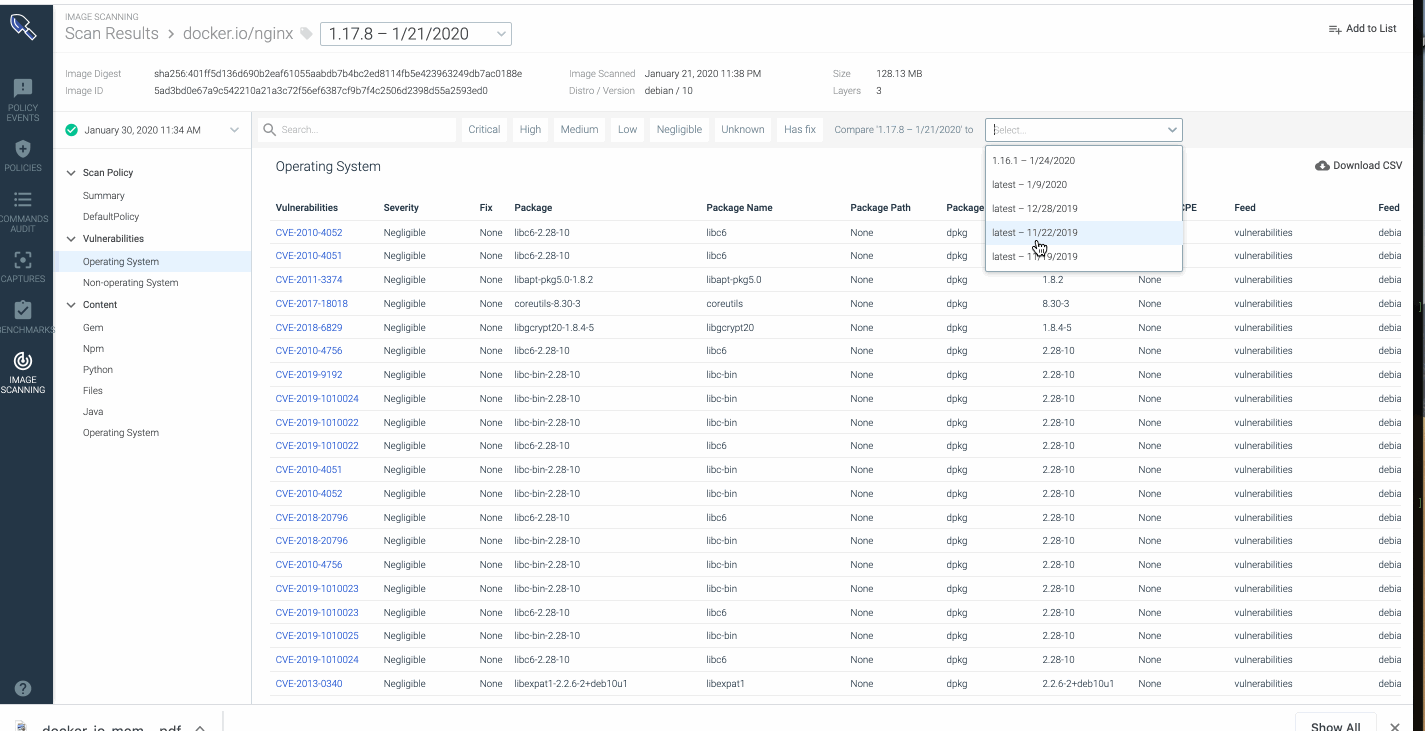 See Review Vulnerability Summaries for details.Review Vulnerability Summaries
January 28, 2020
File Data Source Support for Activity Audit
Sysdig Secure's Activity Audit now supports a new data source element: File activity.
Sysdig agent version 9.5.0+ is required to enable this new data source.
You can now filter the audit trail by file type or specific file attributes:

File name

Directory

Command (used to access the file)

Access mode

File activity is also visible in the time-series graph at the top (pink color):

Activity Audit will capture non-read file operations executed by interactive commands
January 27, 2020
RBAC Capability Available in Sysdig Secure
The new role-based access control (RBAC) model available in Sysdig Secure allows you to define the access privileges granted to each user in a Sysdig Secure team.
Besides the Admin role, which has full access and belongs to every team, there are four roles that can be assigned when adding a user to a team. (Note that the role names are the same in Monitor and Secure, but the privileges differ slightly. Users must be assigned Monitor team roles and Secure team roles separately.)
View Only: Read access to every Secure feature within the team scope. A View Only user cannot modify runtime policies, image scanning policies, or any other content.

Standard User: Can push container images to the scanning queue and view the image scanning reports. Standard Users can also display the runtime security events within the team scope. They cannot access the Benchmarks, Activity Audit. or Policy definition sections of the product.

Advanced User: Can access every Sysdig Secure feature within the team scope in read and write mode. Advanced Users can create, delete, or update runtime policies, image scanning policies or any other content. The Advanced User cannot manage other users.

Team Manager: Same permissions as the Advanced User + ability to add/delete team members or change team member permissions.

Team Managers only have user administration rights within the specific team(s) for which they are designated Managers.

See User and Team Administration for details.
January 16, 2020
Redesigned Captures Page
The Captures function in Sysdig Secure has a new look and the following usability improvements:
Bulk deletion of capture files

Ability to see whether a capture was triggered manually or by a policy

Search across all capture files

November 13, 2019
Activity Audit (Beta)
The Activity Audit in Sysdig Secure allows you to browse a live stream of activity from your Kubernetes containers and nodes. Audit takes the highly detailed data from syscalls and Kubernetes audit logs captured at the agent level, and makes it always-on, searchable, and indexed against your cloud-native assets.
This stream includes executed commands, network activity, and kubectl exec requests to the Kubernetes API. The Activity Audit allows users to view different data sources in-depth for monitoring, troubleshooting, diagnostics, or to meet regulatory controls (SOC2, NIST, PCI, etc).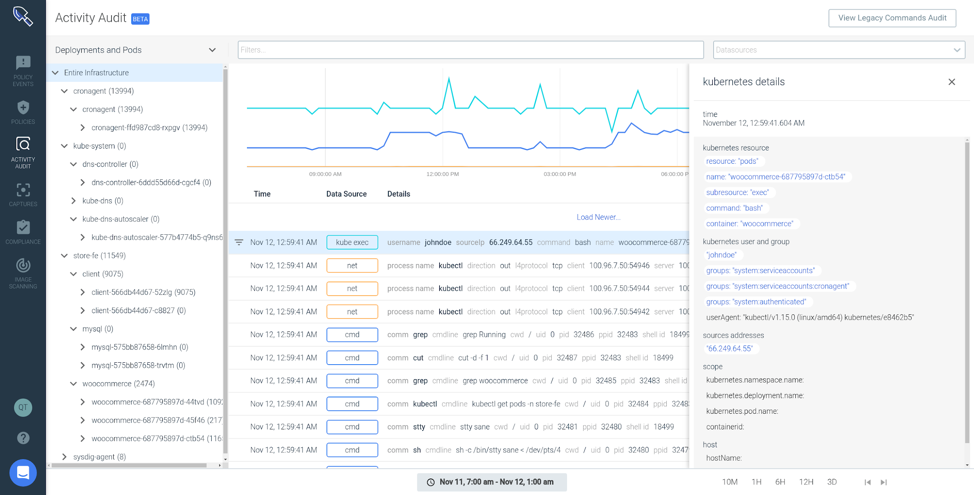 Flexible filtering and scoping to help you focus on what's relevant: Filters allow you to search, sort, and surface meaningful data and connections as they are needed. You can filter by data source type, data source attributes (like command name or Kubernetes user) and dynamic Kubernetes scope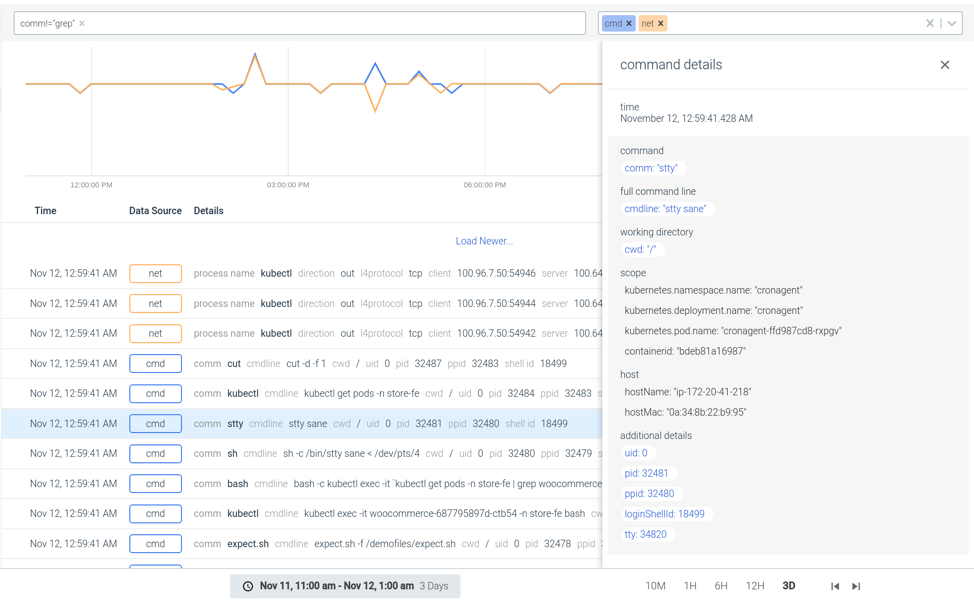 Automatically trace a kubectl exec session : The built-in trace functionality allows you to isolate and trace a kubectl exec access to a pod, automatically correlating the original Kubernetes user and IP that accessed the pod with the activity that was performed during the interactive session, including commands and network connections.

Kubernetes Policy Advisor (Beta)
With the Kubernetes Policy Advisor, Sysdig Secure auto-generates Pod Security Policies (PSPs) to significantly decrease the time spent configuring Kubernetes Policies. Strict security policies reduce risk, but can also break applications. Sysdig tests the impact of pod security policies through simulations, enabling teams to adjust misconfigurations before shifting to production. There are three main features that comprise the Kubernetes Policy Advisor:
Auto generation: Sysdig Secure can parse any Kubernetes yaml file that includes a pod spec to generate a tailor-made PSP based on the configuration.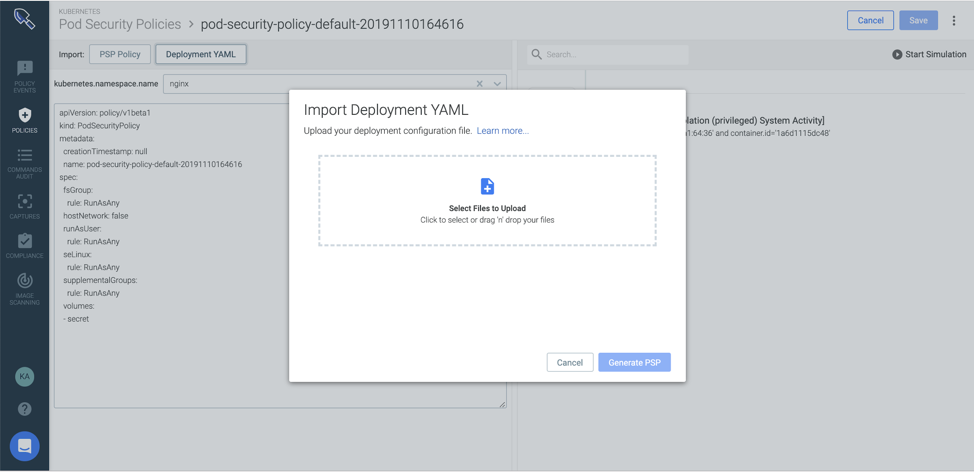 Simulations: Start a simulation of the auto-generated PSP or any user-inputted PSP to see what pods would have been blocked from running if this PSP had been actively applied to the cluster.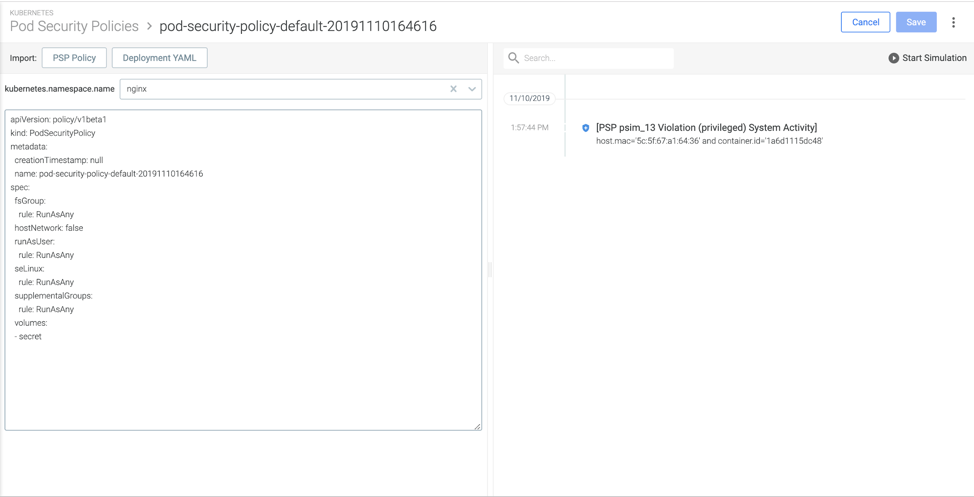 Events and tuning: Each pod/activity that would have violated the PSP will generate an event. Within the event details, users can see information about potential modifications they may need to make to the policy or the pod configuration.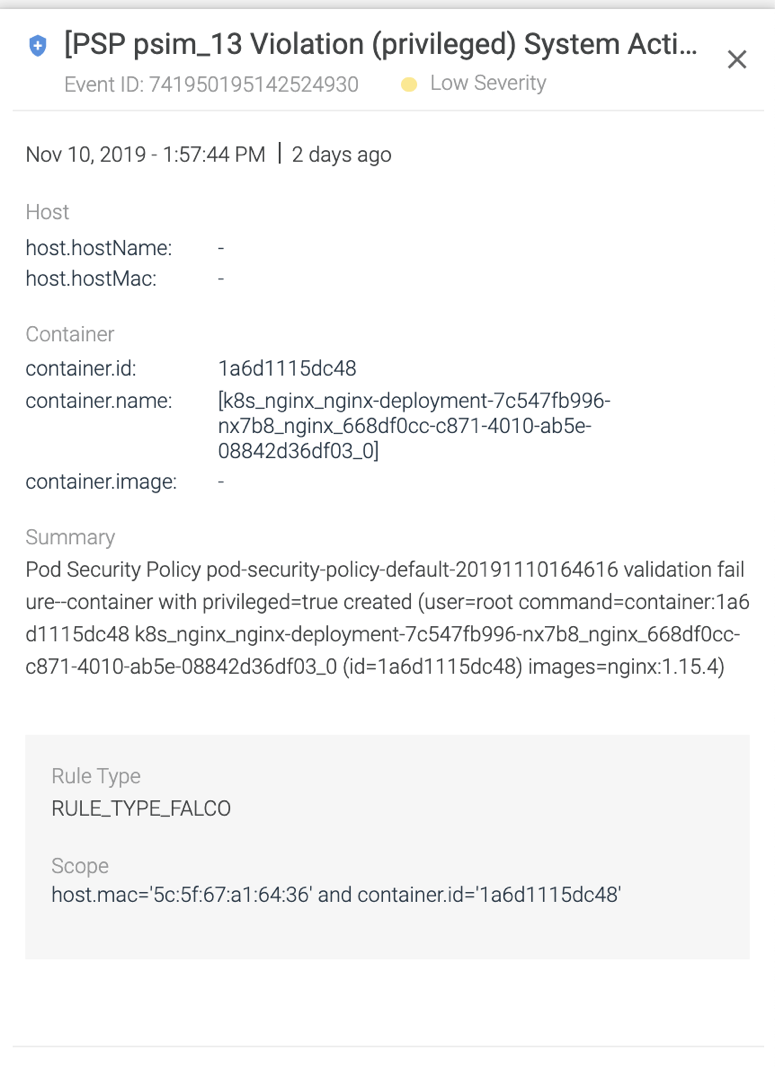 Image Scanning Improvement
Support for images based on Google distro-less OS, including detection of base OS/version and installed OS dpkg packages.
November 4, 2019
Scanning Improvements
New Scanning Rules
File attributes can now be verified as part of the image scan analysis. A specific file can be validated against a node or sha256 hash.

Scale Improvements to Scanning Reporting
No query conditions are required as part of the Package and Policy Queries.
October 10, 2019
In-Line Scanning
Images can now be analyzed locally before they are pushed to a registry. This has a couple key benefits to users.
Images can be analyzed before they're pushed to a registry and reduce registry cost

Customers using the Sysdig Secure SaaS offering don't need to expose their registry to our SaaS for images to be scanned

For openshift customers the in-lince scan option can be integrated into the S2I process to scan images without needing to expose a local cluster registry via a route
Learn more and access the script here: https://github.com/sysdiglabs/secure-inline-scan
Sysdig CLI
The Sysdig CLI provides an easy way to interact with the cli via the command line. Read more here.
Usage
Run it without parameters to get a list of all the commands.
$ sdc-cli
Usage: sdc-cli [OPTIONS] COMMAND [ARGS]...

  You can provide the monitor/secure tokens by the SDC_MONITOR_TOKEN and
  SDC_SECURE_TOKEN environment variables.

Options:
  -c, --config TEXT  Uses the provided file as a config file. If the config
                     file is not provided, it will be searched at
                     ~/.config/sdc-cli/config.yml and /etc/sdc-cli/config.yml.
  -e, --env TEXT     Uses a preconfigured environment in the config file. If
                     it's not provided, it will use the 'main' environment or
                     retrieve it from the env var SDC_ENV.
  --json             Output raw API JSON
  --version          Show the version and exit.
  --help             Show this message and exit.

Commands:
  alert       Sysdig Monitor alert operations
  backup      Backup operations
  capture     Sysdig capture operations
  command     Sysdig Secure commands audit operations
  compliance  Sysdig Secure compliance operations
  dashboard   Sysdig Monitor dashboard operations
  event       Sysdig Monitor events operations
  policy      Sysdig Secure policy operations
  scanning    Scanning operations
  settings    Settings operations
  profile     Profile operations

New Package Reports
Package name/version are now grouped together to provide easy parsing of all CVE's associated with a package and the images using that package.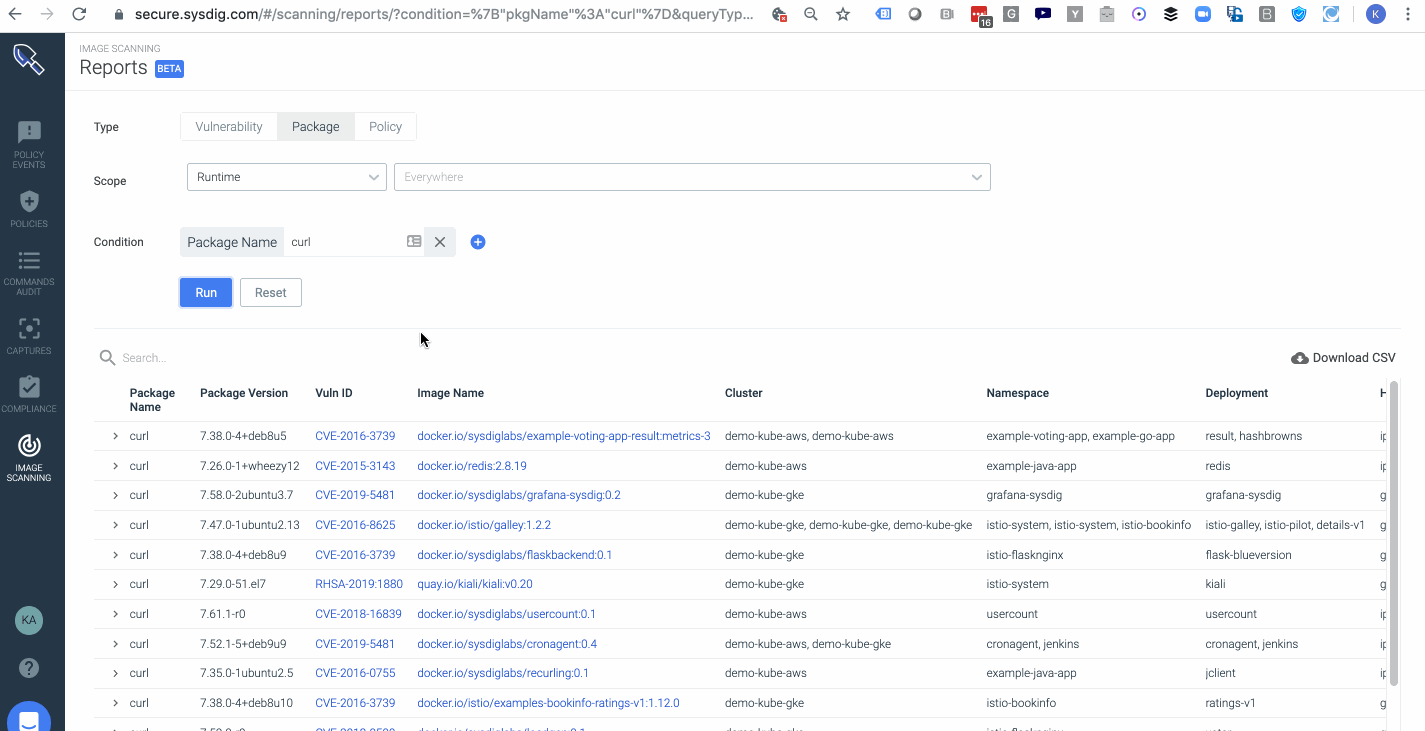 Sept 24, 2019
New Trigger Parameters for CVSS Score
Image Vulnerabilities can now be evaluated against their CVSS (Common Vulnerabilities Scoring System) score. If a vulnerability is =, <;>, <=, or >= to a specific score, then the rule can trigger a warn/stop action.

Sept 18, 2019
Time Ranges Updated
The default time range options have been updated in Sysdig Secure.
The default time ranges are now set to:
10 Minutes 

30 Minutes

1 HR

6 HRs

1 Day

3 Days
To look at a custom window of time, use the manual time window.
Sysdig Secure Summary Dashboard in Sysdig Monitor
Sysdig Monitor includes default dashboards that provide metrics about number of agents installed, active policies, events that have occurred, and the policies that have triggered them. Use these dashboards to identify trends, report on coverage, or facilitate the tuning process.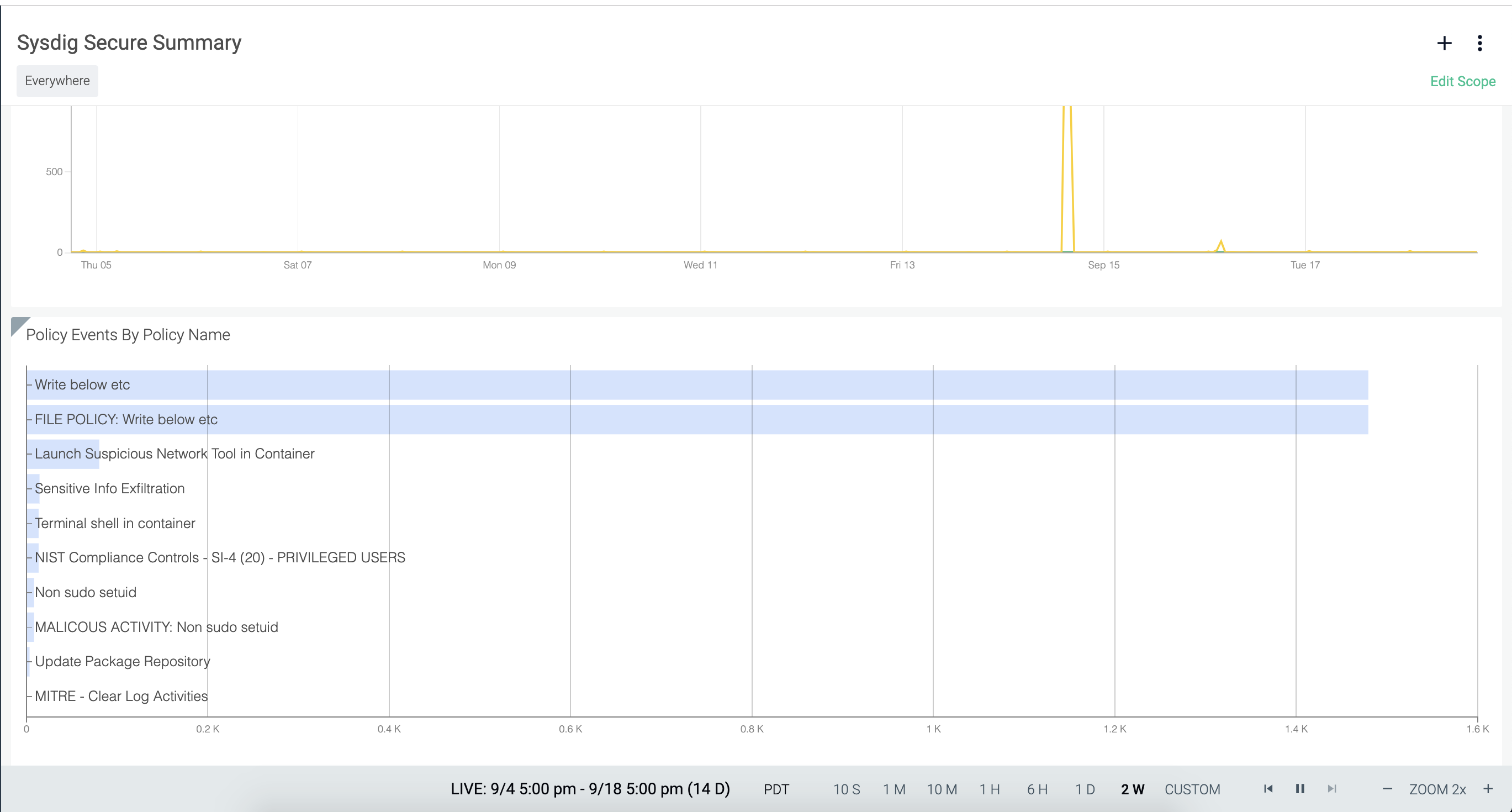 Aug 12, 2019
Policy Editor
*Please upgrade to an agent version 0.92.0 or greater
This UX overhaul brings three major improvements for every Sysdig Secure user:
Runtime policies can import any number of security rules. You can scope the security policy using container, cloud and Kubernetes metadata.

Tighter Falco integration, directly from the web UI. You will be able to define a new trigger condition or append to the list of forbidden external IPs just clicking on the rule.

A more structured way to group, classify and lookup rules, following the standard Cloud native procedure: tags and labels.
Rules Library
Visualize your runtime rules properties in just a glance:
Where this rule comes from (Published By). The security team can instantly recognize whether a rule came from a specific Sysdig update, from a custom rules file created within the organization or from an external rules source (like the Falco community rules).

When was the last time it was updated (Last Updated). You can use this information to audit your rules or if you schedule periodic updates, to confirm when last happened.

Rule tags: An effective method for organizing your rules. You can use these tags to describe the targeted entity (host, k8s, process), the compliance standard it belongs to (MITRE, PCI, CIS Kubernetes) or any other criteria you want to use to annotate your rules.
Falco Lists
Easily browse, append, and re-use lists to create new rules. Lists can also be updated directly via API if users want to add existing feeds of malicious domains, or IPs.

Falco Macros
Easily browse, append, and re-use macros to create new rules.

Image Scanning - View Scan Results
Scan Results Page - The existing repositories page has been renamed "Scan Results" this page also includes new capabilities to filter based on where the images are deployed, and to easily browse/expand the different repositories to see the image:tag's that were evaluated and their results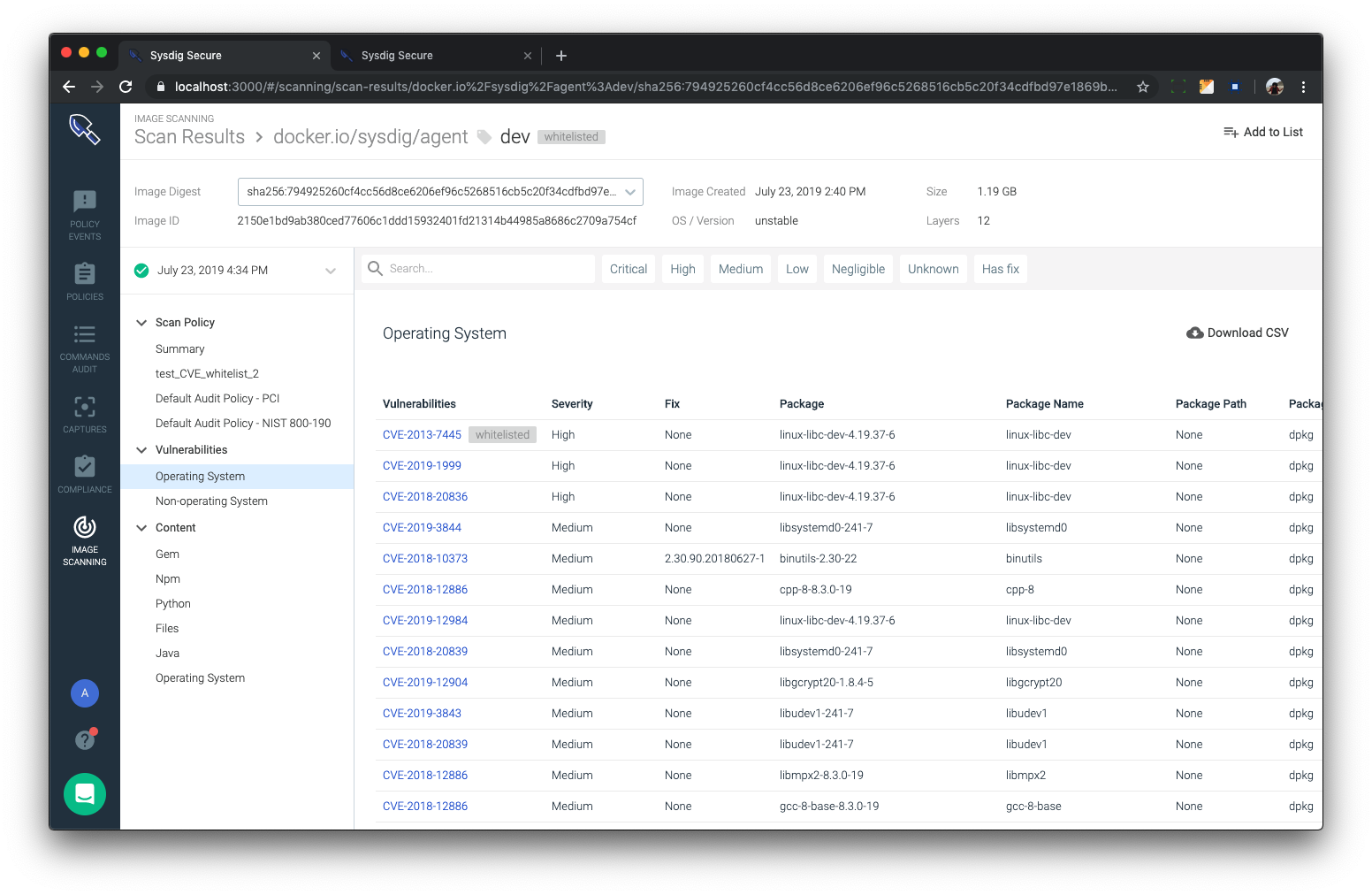 Whitelist labels available in vulnerabilities view - If a vulnerability has been added to a whitelist then that status is reflected in the Vulnerability report within the scan results.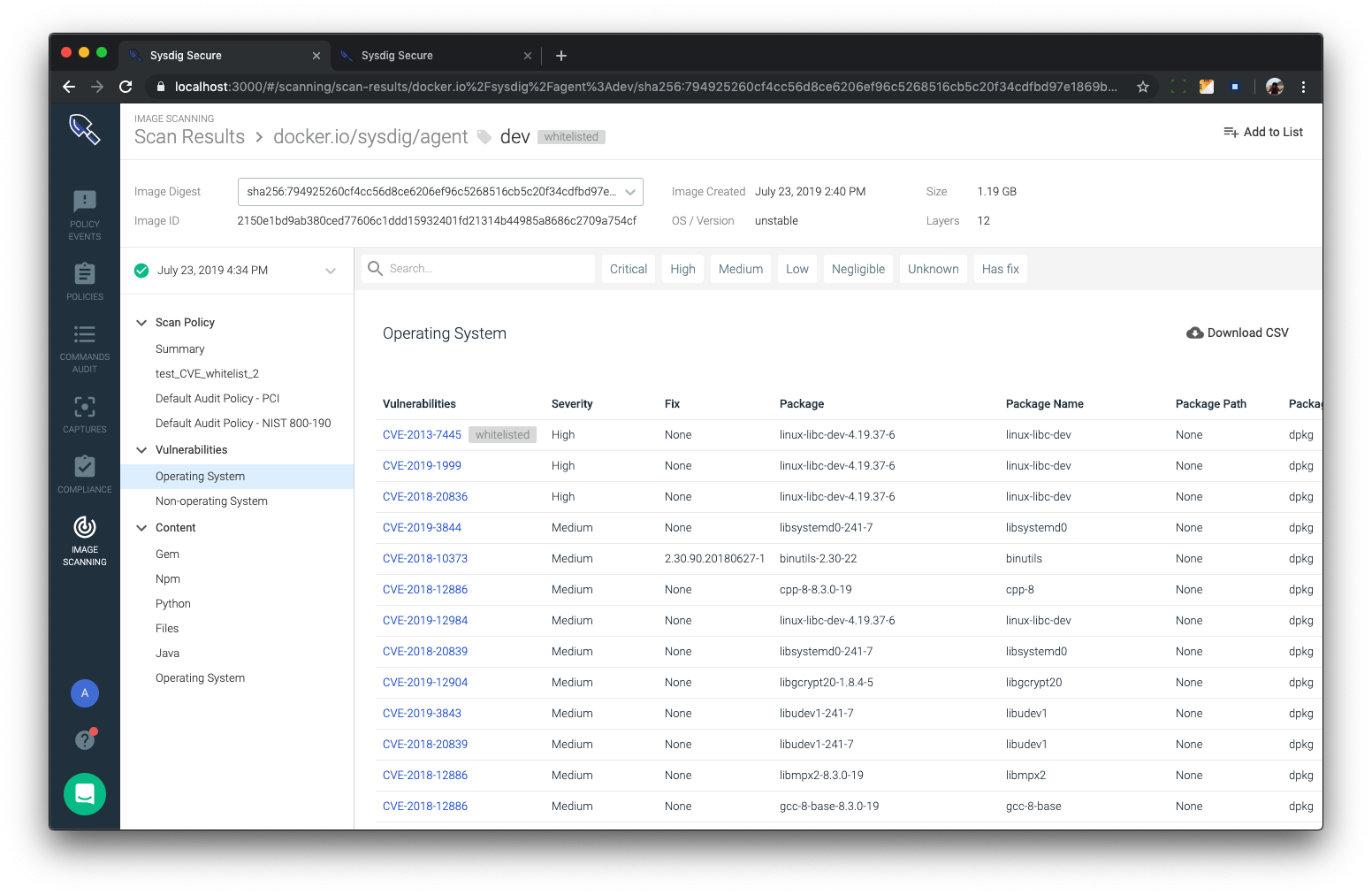 Image Scanning Reports
Please contact Sysdig Support to enable this feature
The reports feature allows users to query the contents of a scan against a static or run-time scope to generate a report that shows the risk, exposure, or components of an image.
Use cases could include:
A new CVE has been announced, let me find all the running images in my US East Cluster that are exposed to that CVE

Show me all images within my Google Container registry that have the tag prod and have a vulnerability with a fix that's more than 30 days old

Show me all images with a high severity vulnerability with a fix that are running in my billing namespace
Types of Scanning Reports
There are three types of queries in the image scanning Reports:
Vulnerability Query Type
This report returns rows of vulnerabilities mapped to packages within images in a static or run-time scope. In the example above we can see the two images that are actively running in my environment now that have the CVE - CVE-2017-8831
Package Query Type
This report shows all images actively running in my environment that have a version of the bash package. It also shows if multiple images are running the same package name & version and if there are any CVE's associated.
Policy Reports
Policy reports show all the policy evaluations that have occured, whether or not they passed or failed, and the reason why an image may have passed or failed. Reasons for passing or failing could be because of, whitelists, blacklists, or just a standard policy evaluation.
July 12, 2019
Minor Improvements
Compliance Dashboards in MonitorLink from Sysdig Secure now defaults to a 90-day view, to give users better visibility into how their posture is changing over time.

Image ScanningNegligible vulnerabilities are now also shown as part of the scan results summary.
June 27, 2019
Image Scanning: New Trigger Options
New Image Analyzed - Send notifications to different channels when images with a particular registry, repo, tag are scanned.

Some users implement these type of alerts for implementing workflows for image promotion, i.e.

"Push an image from staging to prod registry after a webhook is sent that the image was scanned and it passed."

CVE Update - Be notified whenever a vulnerability is added, updated, or removed from an image within a registry.
Repository Alerts
Receive alerts about activity and changes that occur within your registry. See Manage Scanning Alerts.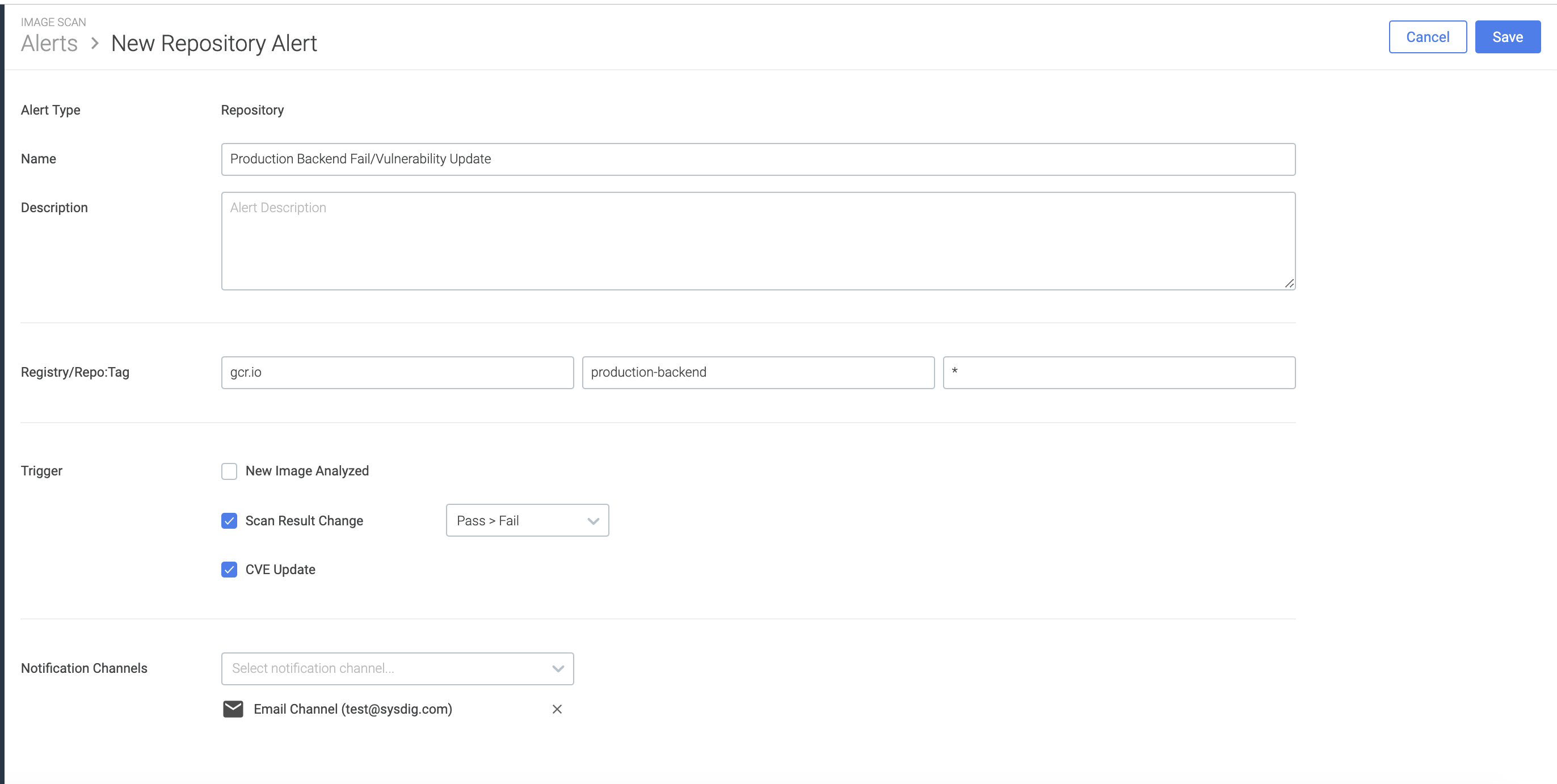 Slack Notifications
Sample output of a CVE alert: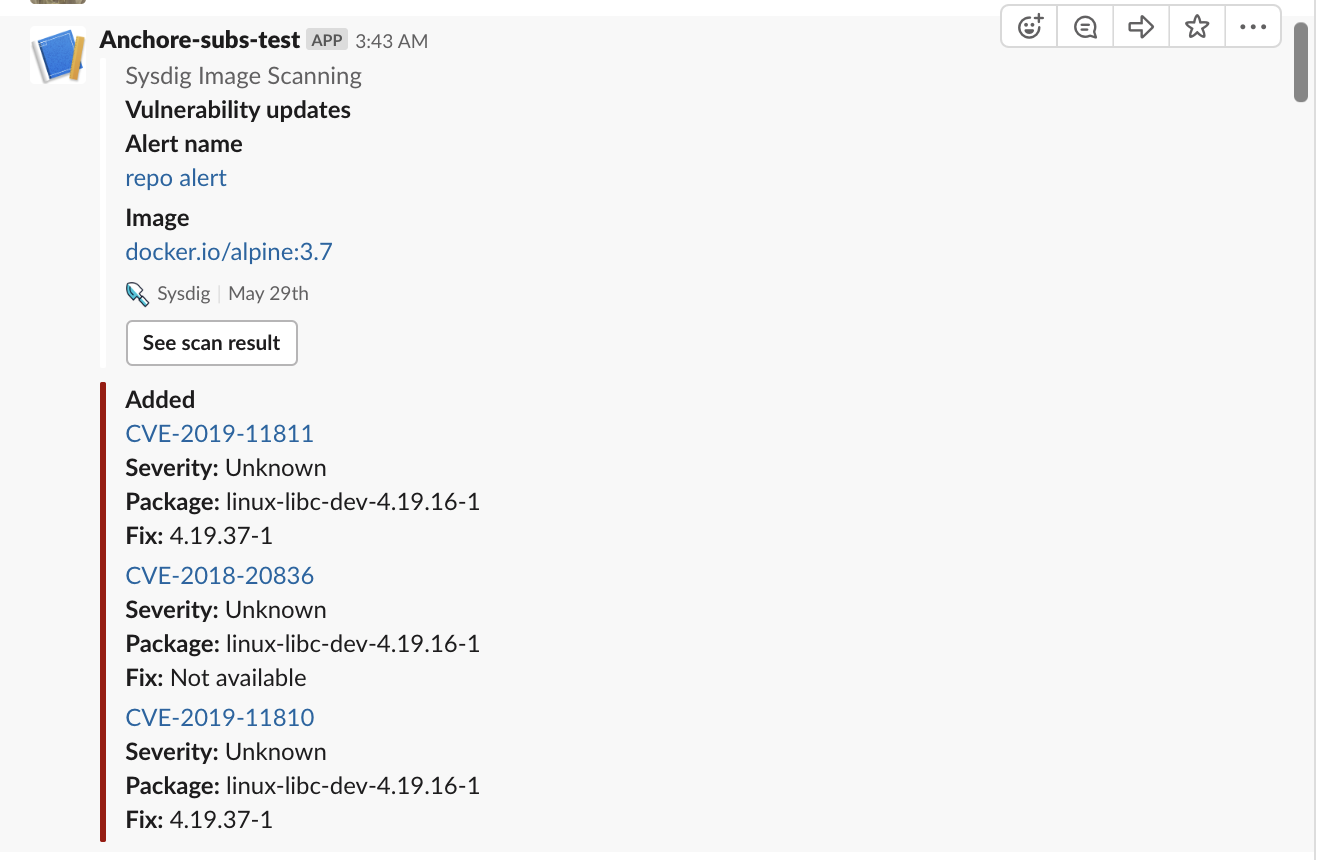 Sample output of an image-analyzed alert:

---
Last modified September 23, 2022