SaaS: Sysdig Monitor Release Notes
The dates shown are for the initial release of a feature.  The feature may not be rolled out to all regions concurrently.  The availability of a feature in a particular region will depend on scheduling.
Supported Web Browsers
Sysdig supports, tests, and verifies the latest versions of Chrome and Firefox.
Other browsers may also work, but are not tested in the same way.
June 7, 2022
Enhanced Metric and Label Selection
The metric and label selectors in Dashboards and Metrics Explorer have been improved to provide easier search and find what you are looking for.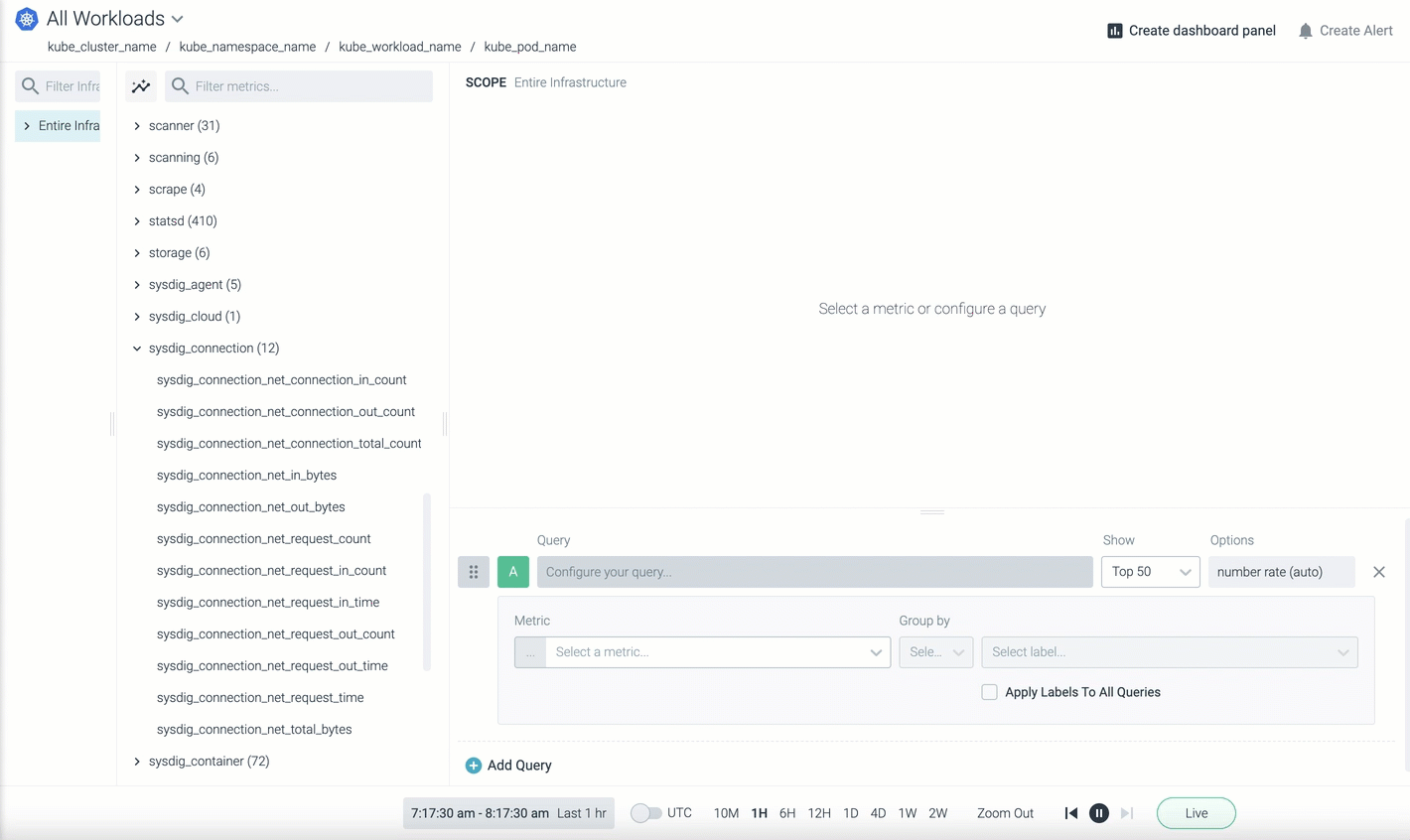 Improvements include:
Suggested labels now show only relevant labels for a selected metric.
Displays 500 labels by default for a selected metric. Previously it was 50.
Supports inline editing of metric and label names.
Provides improved search relevancy.
Dashboard enhancements
Translate Form-Query to PromQL
You no longer require advanced Prometheus knowledge to build complex PromQL queries in Sysdig Monitor. With single click, you can translate form query to PromQL, and build PromQL-based dashboards in no time. For more information, see Build PromQL Panels from Form Query.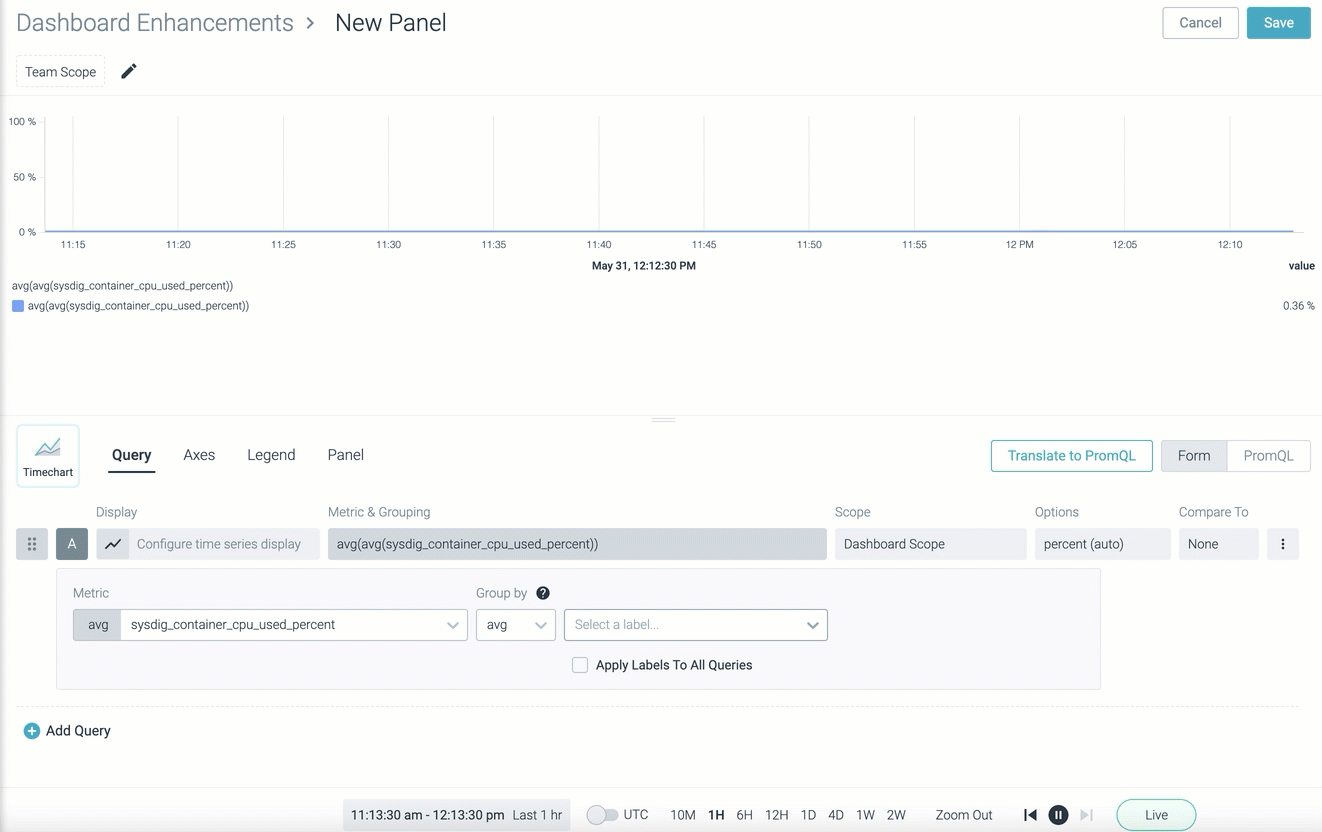 PromQL Support for Toplist
Toplist panels support running PromQL queries.
Multi-Query Support for Stacked Area Charts
Timechart now supports visualizing multiple queries as stacked areas in the same y-axis.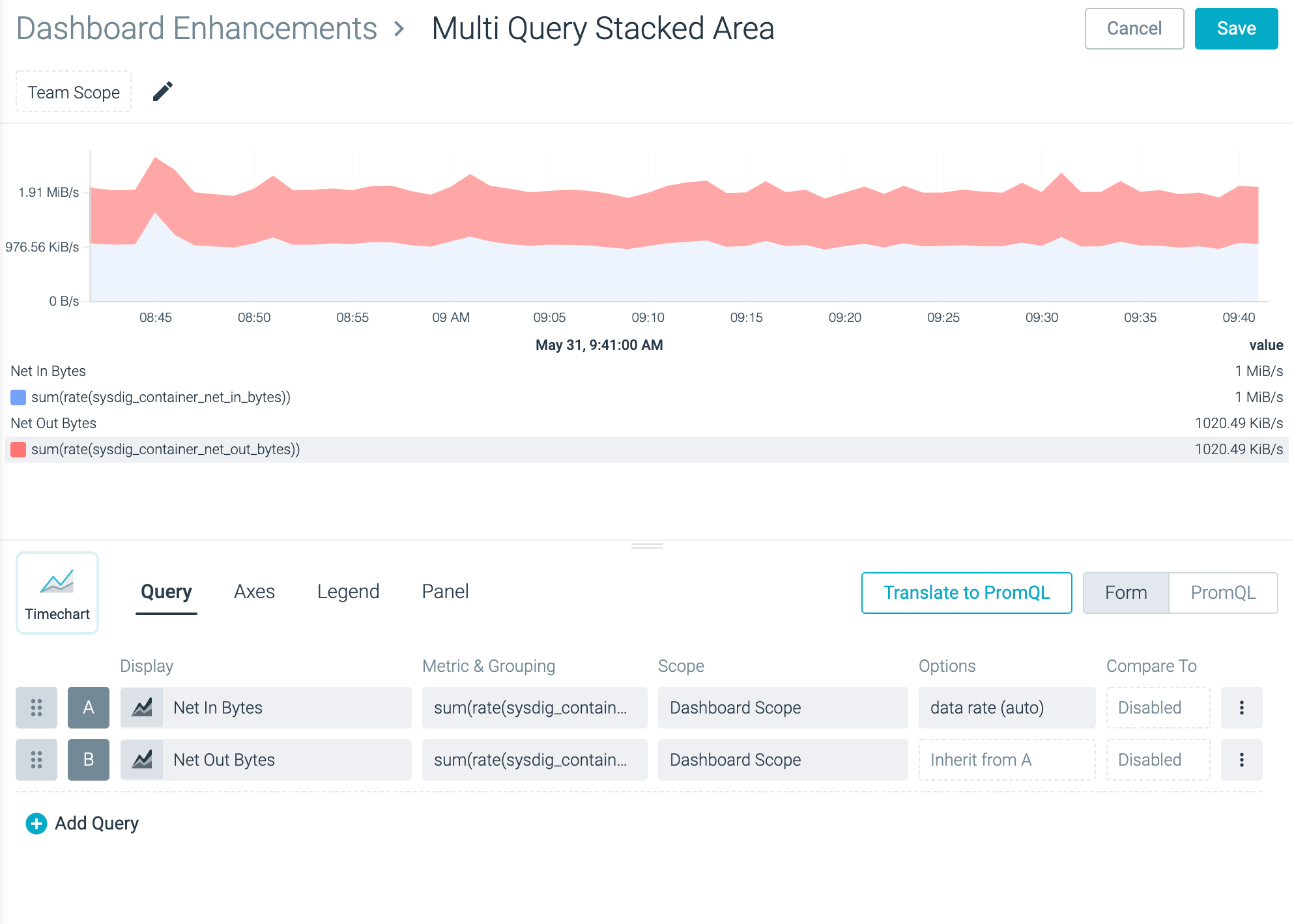 With this feature, it's easier to visualize and compare sparse metrics.
Lazy Loading of Dashboard Panels
Dashboards now supports lazy loading panels. Lazy loading greatly reduces the initial page loading time by only loading panels once they become visible on screen.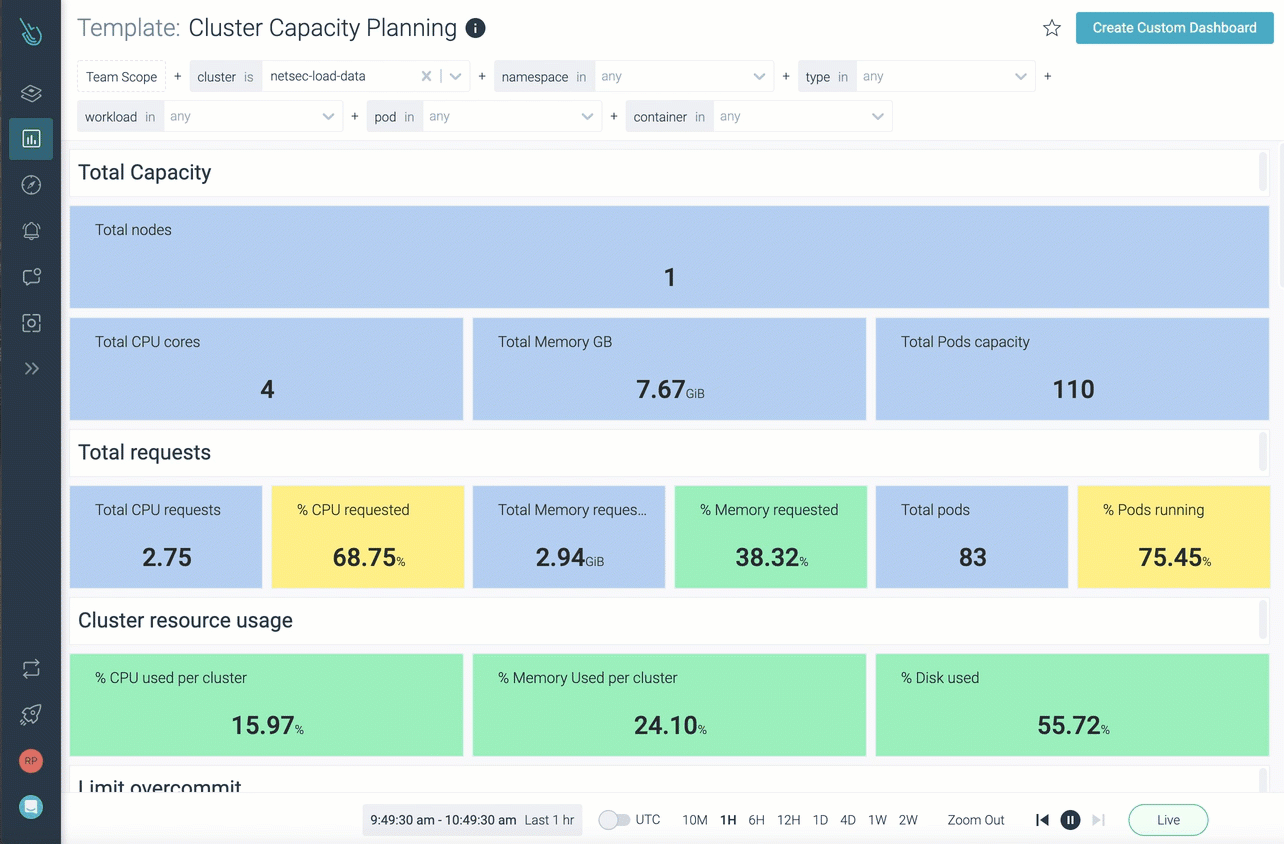 Monitoring Integrations
Integrations
Added the following integrations:

Improved CoreDNS Prometheus job to be detected in IKS clusters

Changed troubleshooting metrics in some integrations for metrics inside the filter of the Prometheus job
Dashboards and Alerts
Added the following templates for dashboard and alert:

Changed OOTB K8s dashboards to use "is" vs "in" scoping to improve performance.

Changed the following dashboards:

Cluster/Namespace Available Resources
Cluster Capacity Planning
Pod Rightsizing & Workload Capacity Optimization
Pod Scheduling Troubleshooting
Kubernetes HPA

Added the containers with limits/requests only in certain panels in the Cluster Capacity Planing dashboard

Limited the use of the label job to some panels in the Kubernetes CoreDNS dashboard
Exporters
Added support for CA files in ElasticSearch exporter Helm chart
Removed duplicated securityContext in ElasticSearch exporter Helm chart
Changed the ElasticSearch wizard and Helm chart to use secrets for URL of the ElasticSearch server
Bumped Helm chart repository version to include NTP exporter and fixes in Elasticsearch
The following Exporter images for NTP exporter have been added:

quay.io/repository/sysdig/ntp-exporter:v2.0.3
quay.io/repository/sysdig/ntp-exporter:v2.0.3-ubi

New version of grok exporter with security updates:

quay.io/sysdig/grok-exporter:v1.0.2
quay.io/sysdig/grok-exporter:v1.0.2-ubi
May 23, 2022
Custom Roles
A custom role is an admin-defined role that allows Sysdig administrators to bundle a set of permissions and assign those permissions to individual users or teams. Custom roles allow for finer-grained definition beyond the standard out-of-the-box Sysdig Roles. Once defined, a custom role can be assigned to any user inside a particular team, and also be configured as the default role for new users in that team. For more information, see Custom Roles.
The addition of custom roles into the platform is transparent, meaning that standard roles and assignments that already exist will not experience any changes.
May 4, 2022
Sysdig Platform Audit
We are glad to announce that Sysdig Platform now supports the capability of tracking, logging, and reporting on all changes in the system.
Track all activities on the API level
Retention period: 90 days
Simple API for retrieving audit information (no UI)
Events Forwarding support to be included in the near future (to be announced)
Enabled by default for all SaaS users
See Sysdig Platform Audit for more information.
Sysdig Platform Login Banner
We would like to announce that Sysdig Monitor and Secure now allow you to define a Login Message that will be presented to all users. Added to boost Sysdig compliance/enterprise readiness, requested originally by the IRS.
Users are not allowed to access the system until they acknowledge the message
One login banner per account
Only Admin users can enable/update the message
Single banner for both Monitor and Secure (for Platform customers)
Available on SaaS for all users
See Configure Login Message for more information.
April 13, 2022
Advisor
Advisor brings your metrics, alerts, and events into a focused and curated view to help you operate and troubleshoot Kubernetes infrastructure. To help you solve problems faster, over time, Advisor will surface your infrastructure issues that you should pay attention to. For more information, see Advisor.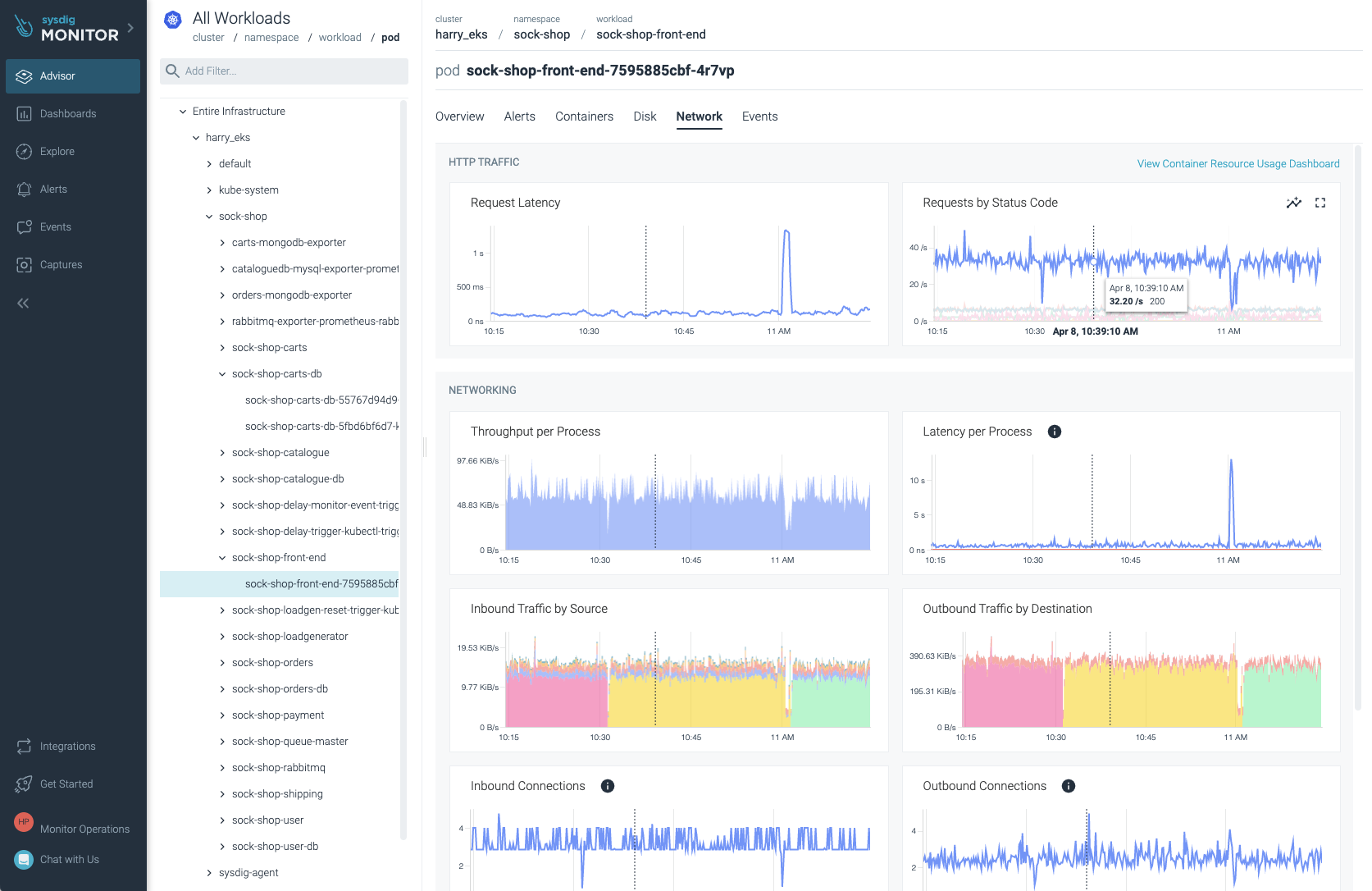 Metrics Explorer
Metrics Explorer has been rebuilt from the ground up to focus on advanced metric exploration and querying.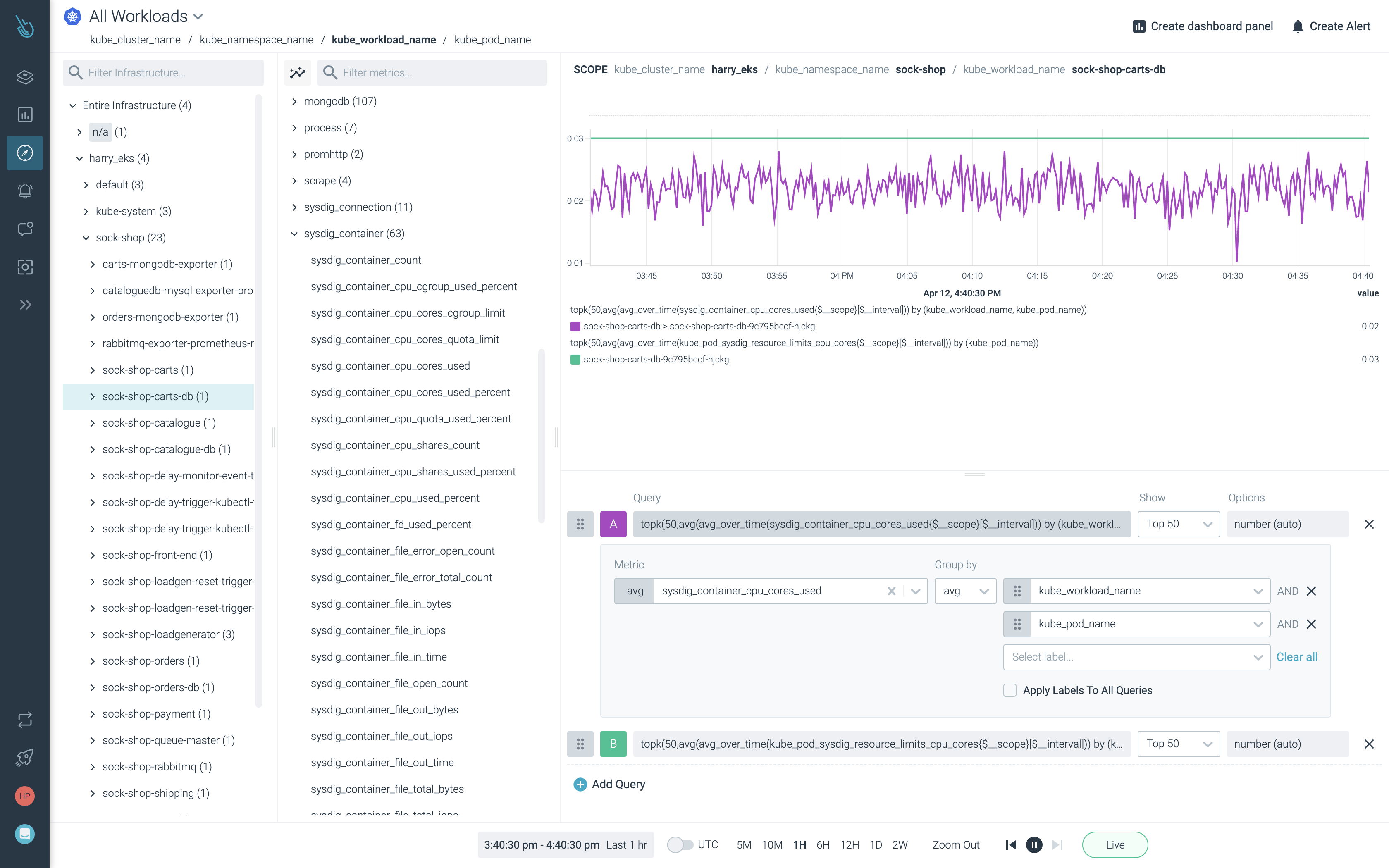 Improvements to Metrics Explorer include:
Simple querying that builds PromQL queries under the hood. Metrics Explorer is the easiest way to build PromQL queries.
Graph multiple metrics at once for correlation. For example, CPU usage vs Kubernetes limits.
Queries are ungrouped by default, showing the individual time series for a metric. This allows you to spot any problems faster. For example, 1 of 50 Cassandra nodes with high pending compactions. Instead of segmenting, you now group by one or more labels, for example, workload, pod, and container.
When selecting a scope in the tree, only those metrics that are applicable to that entity are displayed.
Metrics are now more logically categorized by metric namespace (prefix).
Resolution has been improved. For example a 1-hour view now shows 10-seconds data. Additionally, the concept of time re-alignment has been removed.
For more information, see Explorer.
February 10, 2022
Improved Usability with New Navigation
The Sysdig Monitor UI has been enhanced to provide you with a smoother and smarter left-hand navigation experience.
Check out a video walk-through of the new feature!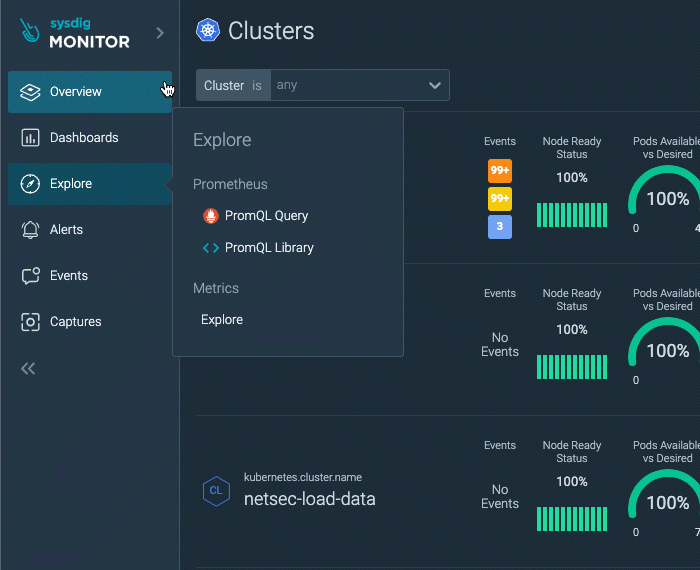 Collapsible main menu: Allows you to toggle the visibility of menu options. The collapsible left-hand navigation prevents long lists from displaying by default and gives you a clear structure that is easy to scan and locate.

Hoverable sub-menu: With each module that has additional menu options, hover over the respective module to quickly navigate.
New Menu Option for Integrations
A dedicated Integrations menu option provides an easy way to access both inbound and outbound integrations with Sysdig.

Inbound: Access Monitoring Integrations quickly and understand which applications and services are running. You can also manage your AWS Account and review the Sysdig agent installation.
Outbound: Manage the Notification Channels and S3 Capture Storage.
Revamped User Menu
The User menu provides the following:
Option to efficiently switch between Sysdig Teams.
Access Management to the Administrator.
Sysdig API Tokens to the authenticated user.
Documentation and What's new links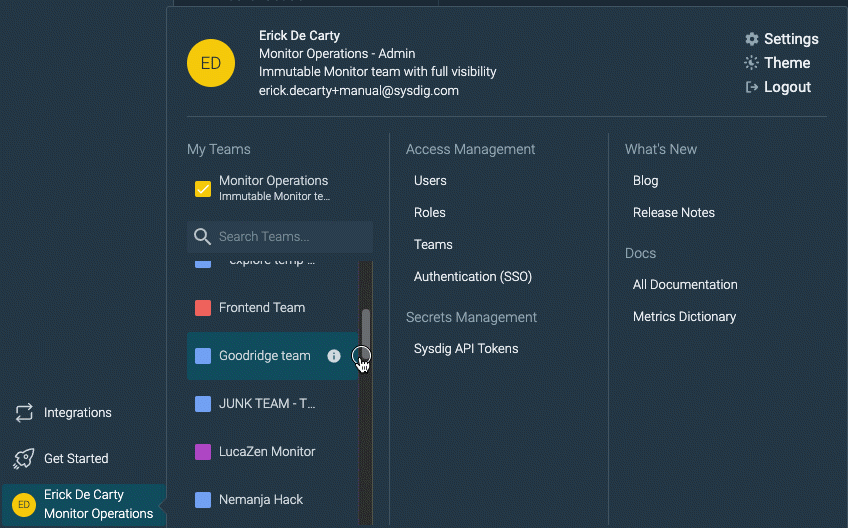 The Settings sub-menu link is provided to review all the available options for the current user.
January 26, 2022
Support for PVC Metrics
Contact your Sysdig representative or Sysdig Support to enable PVC metrics in your environment.
With Sysdig agent v12.2.0 or above installed in your monitoring environment, Sysdig Monitor can help you surveil your Kubernetes PV/PVCs objects. Use the PVC dashboard and alert templates to get an insight into your PV usage, such as disk usage, inodes, storage latency, errors, and so on.
For more information, see Configure PVC Metrics.
New KSM Troubleshooting Metrics
Sysdig provides the following new troubleshooting metrics:
kube_workload_pod_status_phase
kube_workload_pod_status_reason
kube_pod_status_unschedulable
kube_pod_container_status_waiting
kube_pod_container_status_waiting_reason
kube_pod_container_status_terminated
kube_pod_container_status_terminated_reason
These metrics give insights into why pods are stuck or crashing (CrashLoopBackOff, OOMKilled, DeadlineExceeded etc.). To support this:
The Kubernetes Alerts Library has been updated to provide additional alerts for errors such as CrashLoopBackOff.

New panels has been added to the Kubernetes Workload Status & Performance dashboard.
In environments running older versions of Sysdig agent, the Kubernetes Dashboards will display a banner prompting you to upgrade to agent v12.2.0 or above for these metrics to be automatically collected.
origin/main
December 17, 2021
Update on Log4j Vulnerability (CVE-2021-44228)
Sysdig confirms that all services that compose Sysdig's Cloud Platform running Apache's vulnerable Log4j library have been patched to 2.16. We have not detected any successful attempts at exploitation of this attack vector during that time window.
December 15, 2021
Update on Log4j Vulnerability (CVE-2021-44228)
The sysdig agent does not include the Log4j library
Sysdig is using an alternative framework for logging, called Logback. The logback framework isn't vulnerable to this issue.
Sysdig components include a log4j library in our standard distribution that was vulnerable. This library is included for compatibility reasons only, is not used for primary logging, and our security team has determined we are not vulnerable based on our application architecture and existing mitigating controls.
Sysdig can confirm that all services that compose Sysdig's Cloud Platform running Apache's vulnerable Log4j library have been patched to the latest version or adds additional mitigating controls suggested by vendors. We have not detected any successful attempts at exploitation of this attack vector during that time window.
Details regarding upgrades
We:
explicitly set commonsLog4jVersion = 2.15.0
update all of log4j-to-slf4j, log4j-api, and log4j-core to version 2.15.0
December 12, 2021
A Statement on Log4j Vulnerability (CVE-2021-44228)
Security researchers recently disclosed the vulnerability CVE-2021-44228 in Apache's log4j, which is a common Java-based library used for logging purposes
Sysdig is using an alternative framework for logging called Logback. The logback framework isn't vulnerable to this issue.
Sysdig components include a log4j library in our standard distribution that appears to be vulnerable. It has been confirmed that this library is included for compatibility reasons only and is not used for primary logging. As a result this should not pose any risks.
Patches will be provided to upgrade the log4j libraries that are included for compatibility reasons.
If you have any questions or concerns, please reach out to your Sysdig contact.
October 12, 2021
Expose Custom Data on Webhook Notification
Sysdig gives you the ability to specify custom data and attach it to the alert notification. For more information, see Configure a Webhook Channel.
Prometheus Recording Rules
Sysdig now supports Prometheus recording rules for metric aggregation and querying. To enable this feature in your environment, contact Sysdig Support.
For more information, see Recording Rules.
Team Scope for Prometheus Remote Write
Sysdig gives you the ability to determine the granularity of data collected by Prometheus Remote Write to which team members will have the visibility. You can specify what data team members can see by specifying tag/value expressions for the metrics. The drop-down defaults to "is", but can be changed to "is not", "in", "contains", and so on. Complex policies can be created by clicking drop-down to create AND chains of several expressions.

You can view the saved team scope by hovering on the corresponding team from the User menu.

Enhanced User Experience for Monitor Integrations
The UI for Monitoring Integrations has been enhanced to include guided configuration for exporters.
For each integration, you can use the wizard to specify the required information and you will be provided with a single-line command to install the exporter in your cluster. You no longer have to see the documentation or the given exporter source code to guess the name of the variable to configure the credentials of your database or the SSL certificate in the connection string.

If you want to deploy it through your CI/CD pipeline and you cannot run commands directly in production, you also have the option to generate the manifests to upload to your repository. If you prefer a package management approach, you also have the option to use Helm charts for the Monitoring Integrations.

After deploying an exporter, you can see whether it is working on the wizard. Sysdig Monitor automatically detects the metrics arriving in your account and associates them to the workload. This way, it is easy to visually detect the applications that are correctly reporting metrics and those that need some attention.
For more information, see Configure Monitoring Integrations.
Dashboard Enhancements
Ability to edit dashboard and panel name inline in the Panel Editor.
Ability to add dashboard template to favorites.
Moved the legacy dashboard templates to Deprecated section
Supports RabbitMQ Integration. Configure it using the Monitoring Integrations.
Added new dashboard templates for the following:

Fargate Usage
Go applications
Sysdig Admission Controller
RabbitMQ Integrations
Kubernetes Controller Manager
Kubernetes Scheduler
CoreDNS
Alert Enhancements
Added new alerts for RabbitMQ and CoreDNS integrations and for Go applications.
August 10, 2021
Monitoring Integrations
Sysdig discovers the services running in your environment and gives you visibility into deeper application performance and health telemetry by configuring a managed Monitoring Integration through PromCat. You can easily view which services you can configure an integration for, check the status of existing integrations, and leverage curated content in the alerts library and out-of-the-box dashboards.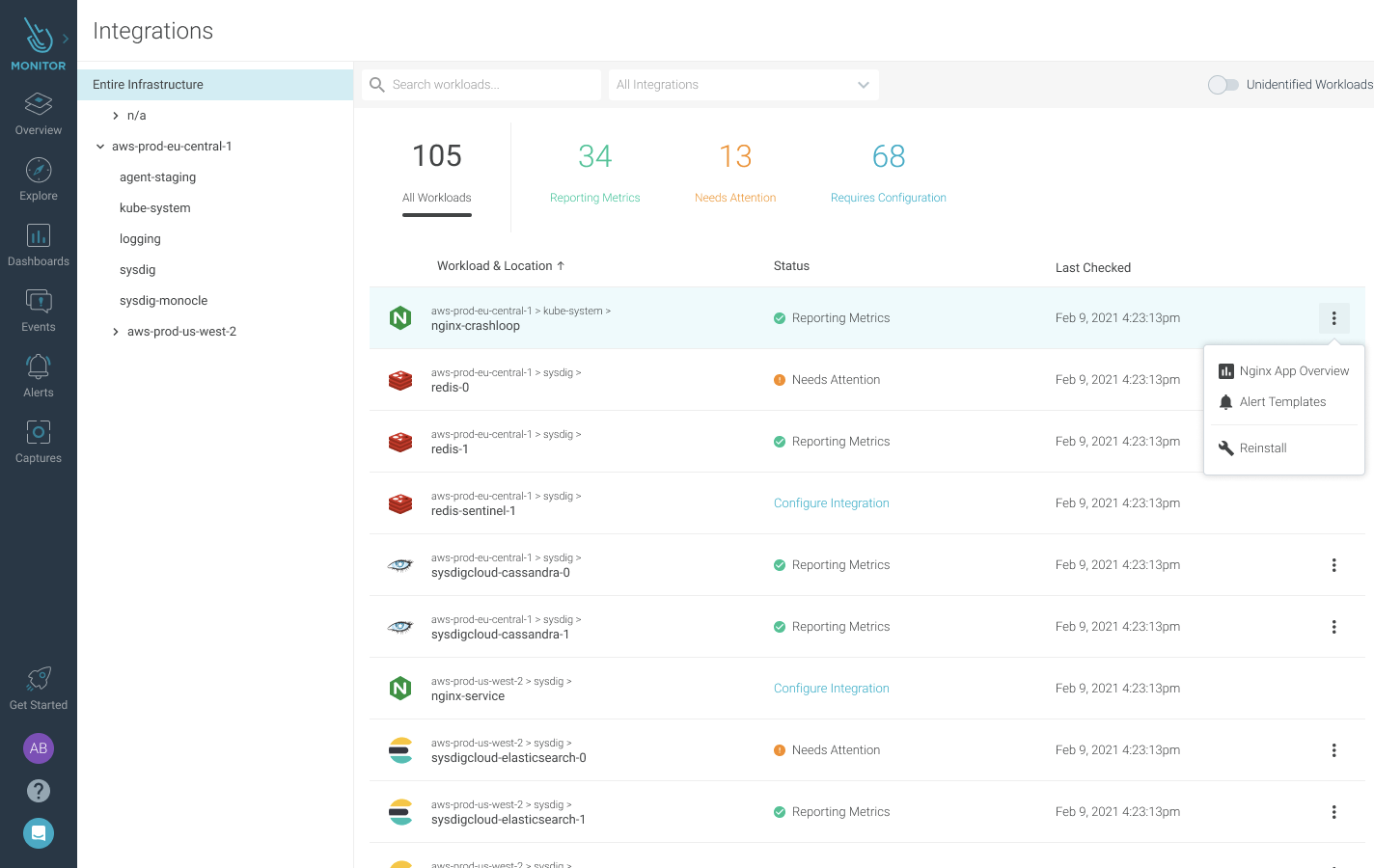 See (Limited Availability) Configure Monitoring Integrations for more details.
Alerts Library
The Alerts Library in Sysdig Monitor gives you a recommended list of alerts to configure based on the services running in your infrastructure. The curated content from the Sysdig removes the need for guessing which alerts to configure and takes you from zero to full monitoring coverage faster.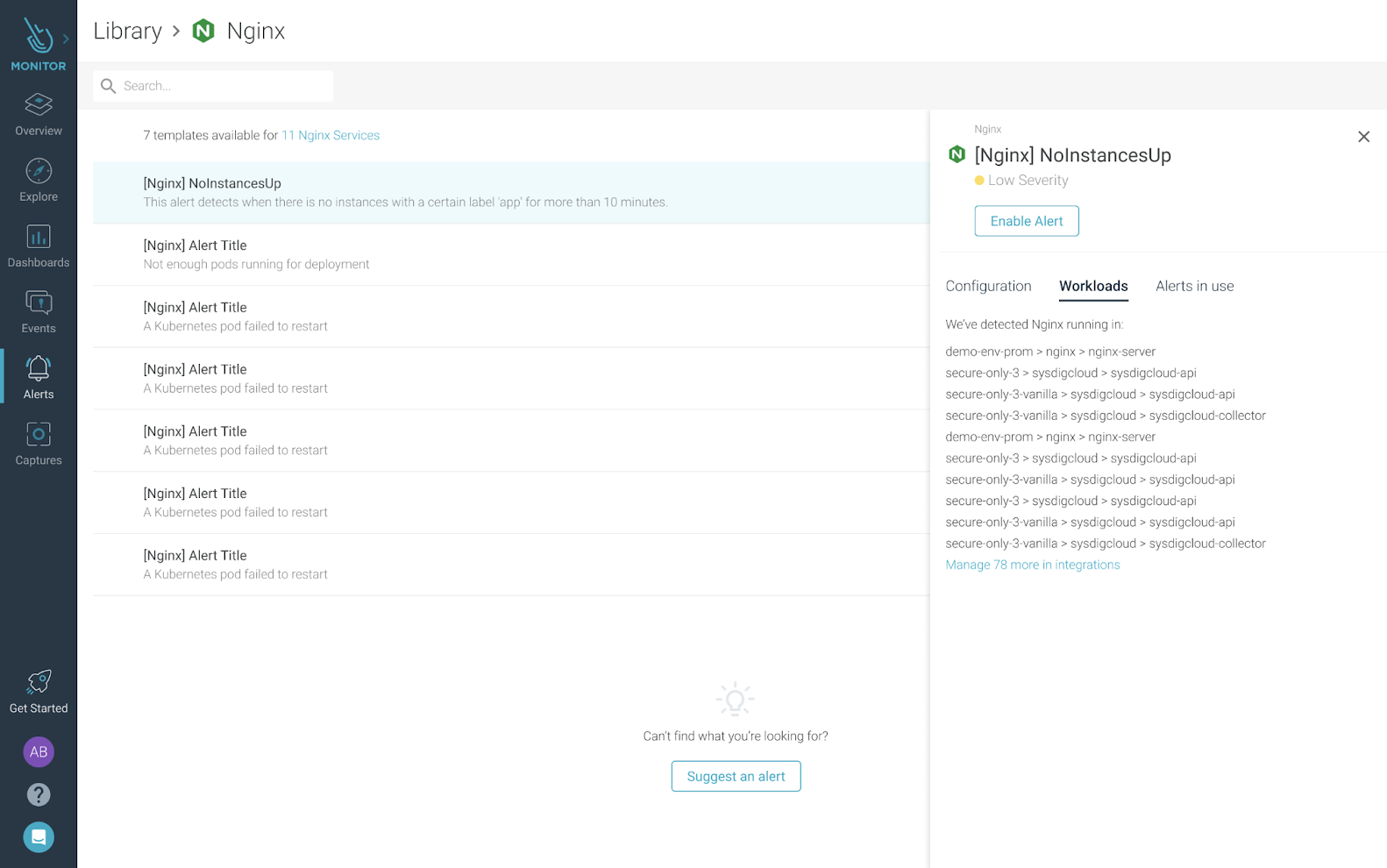 For more information, see Alerts Library.
Alert Enhancements
The usability of the Alert page has been enhanced to include:
Ability to create and edit alert groups based on the service that they are representing. The alerts created from alert templates will have groups automatically assigned to them.

Efficient visual cues to see alert activities and identity the alerts that are not resolved. A bell icon next to an alert indicates that it has not been resolved. Alerts that are active over the past two weeks will have an event chart under the Activities Over Last Two Weeks column and an event feed on the alert details slider.
For more information, see Manage Alerts.
Enhanced Kubernetes Dashboards
We have introduced several improvements to the out-of-the-box Kubernetes dashboards: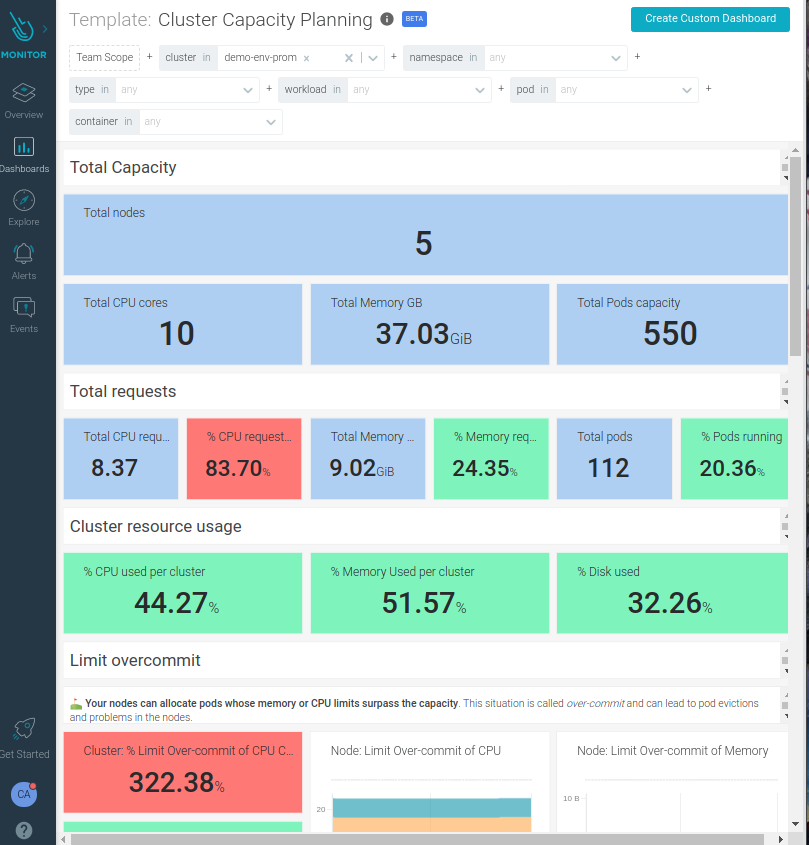 Workload dashboards are refreshed with relevant status and golden signals.

Improved UX with panel location and color code.

Some workflows are simplified to make it easier for beginners in Kubernetes

Improved capacity planning capabilities.

Text boxes are easier to read and locate near the relevant panels.
July 19, 2021
Customized Session Expiration
Session expiration is the amount of time a user can remain idle before the session is automatically ended or expired. After the session expires, the user must log in to the Sysdig application again.
Sysdig now gives you the ability to make a shorter or longer idle session expiration for Sysdig applications. When a user browser is idle for a certain period of time, they will get automatically logged out. For more information, see Configure Customized Session Expiration.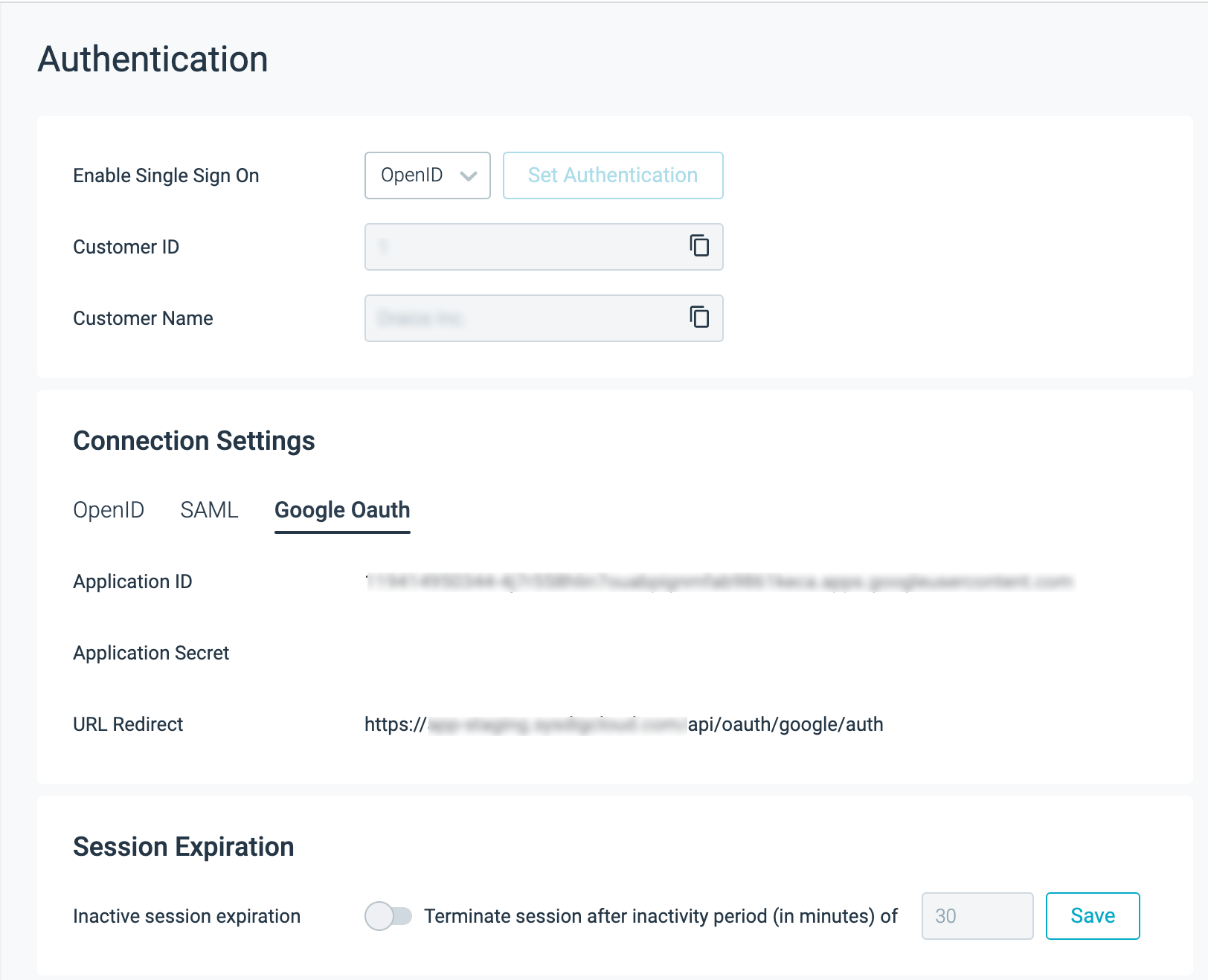 Enhanced Session Logout
To offer superior user security, the logout procedure has been enhanced. When the users log out of a Sysdig application, they will be automatically be logged out of both Monitor and Secure applications.
June 01, 2021
PromQL Library
We have compiled a list of PromQL queries to give you one-click insights into the health and performance of your infrastructure. The library also includes a PromQL 101 category to give you hands-on exposure to PromQL. For more information, see PromQL Library.
Prometheus Remote Write
Sysdig supports ingesting metrics from Prometheus servers by using remote_write capabilities. In Sysdig terminology, the remote endpoints that can read Prometheus metrics are known as Prometheus Remote Write. Prometheus Remote Write does not require the Sysdig agent to be installed in the Prometheus environment. This facility expands Sysdig monitoring capability beyond Kubernetes and regular Linux kernels to environments where the Sysdig agent cannot be installed.
For more information, see Prometheus Remote Write.
Dark Mode
The dark appearance, known as Dark Mode, is available in Sysdig applications.
Sysdig can now automatically match your OS preferences. Available in Sysdig platform on-premises, or in SaaS in the US East and rolling out globally. For more information, see Configure Theme Preference.
Improved Dashboard Templates
The following Dashboard templates have been enhanced to display the data better, return improved results, and add golden signals.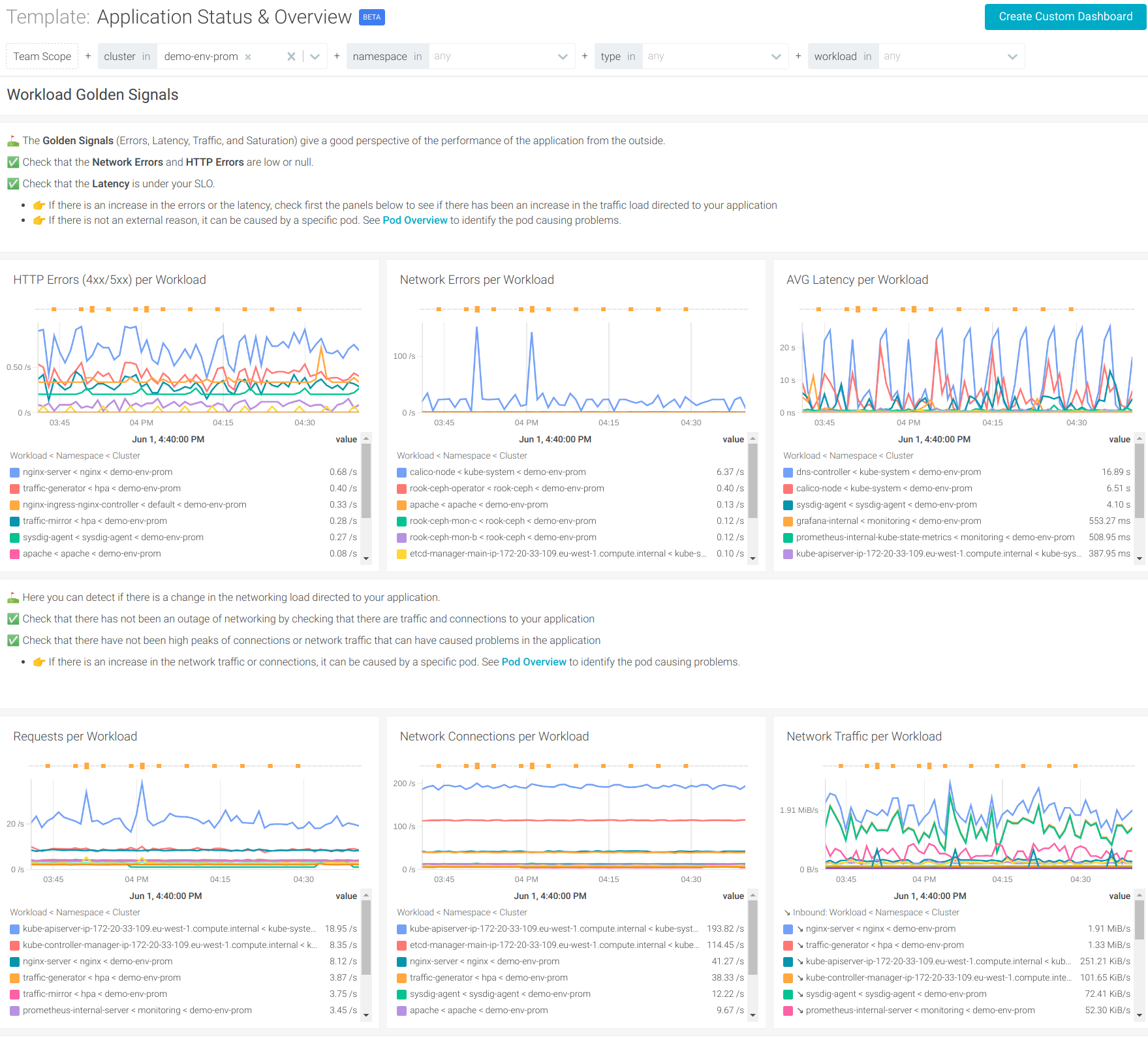 Kubernetes

Application

Ngnix

Ceph

Ngnix Ingress

ElasticSearch

Redis
May 10, 2021
Silencing Alert Notifications
Sysdig Monitor allows you to silence alert notifications for a given scope for a predefined amount of time, and schedule silence in advance. When silenced, the alert will still be triggered and posted on the Events feed and in the graph overlays but will indicate it has been silenced. The types of notification channels you can use are Email, Slack, and Amazon SNS.
You will be notified 30 minutes before the start time and 30 minutes before the end time of a silence window. You will also be able to easily extend or end an active silence. To access the feature, navigate to Alerts > Silence on the Monitor UI.
For more information, see Silence Alert Notifications.
Workload Label
Sysdig Monitor now supports two new labels, kubernetes.workload.name and kubernetes.workload.type which can be used for scoping Dashboards and configuring Gropings.

Earlier, each type of object (deployment, replicaset, statefulset, etc.) was unique, and in turn, you needed to use different types of Kubernetes Dashboards and a different Grouping resulting in n/a , where distinct types of Kubernetes objects are listed.
For more information, see Unified Workload Labels.
New Kubernetes Dashboards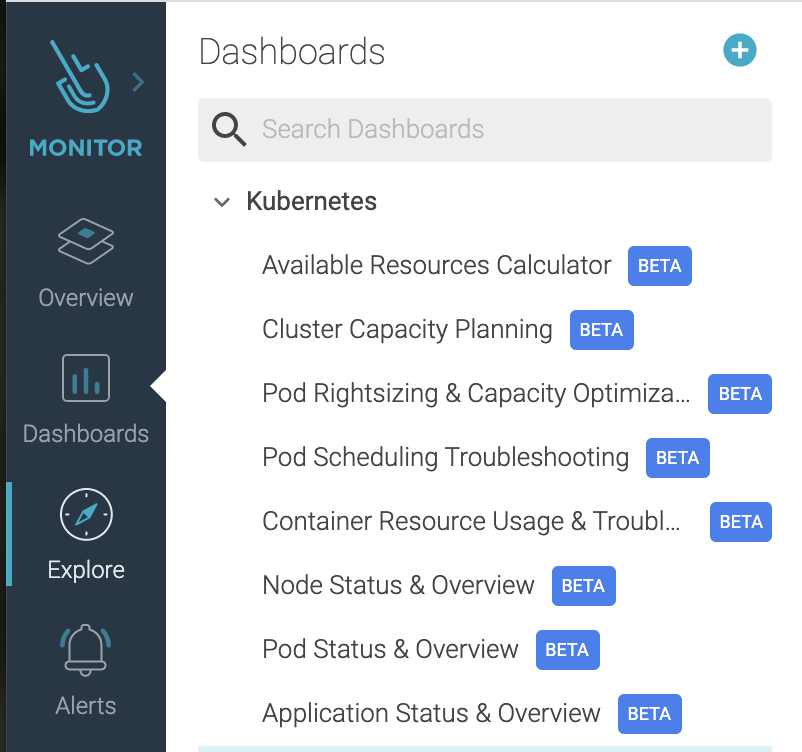 Available Resources Calculator
Ensure there is sufficient capacity in a cluster to deploy a new application.
Application Status&Overview
Understand the status of applications (workloads) running in a cluster by monitoring performance, pod health, and resource usage
Cluster Capacity Planning
Monitor the capacity of Kubernetes clusters ensuring they're correctly sized to support new applications when they're deployed.
Container Resource Usage&Troubleshooting
Understand the performance of the different containers running in pods across your infrastructure and identify any that are behaving anomalously.
Monitor the health, resource usage, and network statistics for nodes running in clusters
Pod Rightsizing&Capacity Optimization
Optimize your infrastructure and better control cluster spend by ensuring pods are sized correctly. Understand if you can free up resources by reducing memory and/or CPU requests.
Pod Scheduling Troubleshooting
If a pod cannot be scheduled due to insufficient resources, use this dashboard to identify where the resource bottleneck is.
Monitor the health, resource usage, and network statistics for pods running as part of workloads.
April 26, 2021
Extended Label Set
Running PromQL queries is now smoother and faster with the extended label set. The extended label set is created by augmenting the incoming data with the rich metadata associated with your infrastructure and making it available in PromQL. You now no longer have to write complex queries in order to troubleshooting infrastructure issues or building dashboards and alerts. For more information, see Run PromQL Queries Faster with Extended Label Set.
Microsoft Team Channel
You can now use Microsoft Team s as a notification channel in Sysdig Monitor. See Configure a Microsoft Teams Channel for more details.
S3-Compatible Storage for Capture Files
Configuring S3-compatible storage, such as Minio or IBM Cloud Object Storage, for your Sysdig captures is now supported on Sysdig Monitor. The capability can be turned on by configuring the system appropriately, as given in (SaaS) Configure Custom S3 Storage Endpoint.
Webhook Channel Enhancements
Sysdig supports the following on a Webhook channel integration: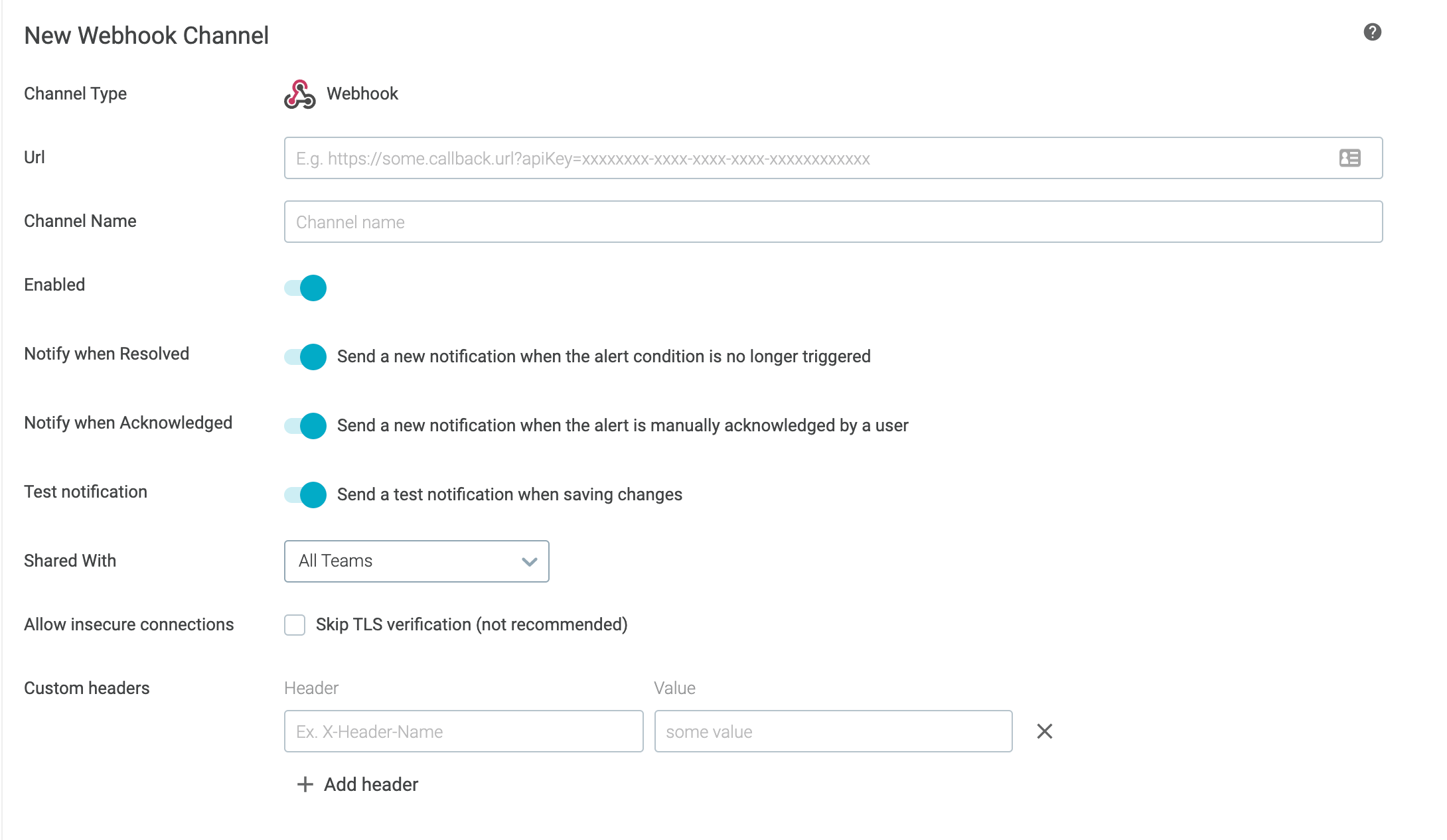 Insecure connections: You now have the ability to skip the TLS verification.

Custom headers: If your Webhook integrations require additional headers or data you can append to the alert format by using a custom header on the UI. This option is in addition to the existing API facility to add custom headers programmatically.
For more information, see ???.
View LogDNA Alerts as Sysdig Events
If your environment has both LogDNA and Sysdig, you can view relevant LogDNA Alerts as Events in Sysdig. These Sysdig Events behave like any other type of Events in Sysdig They will be overlaid on Sysdig graphs, listed in the Event Feed, and can be used to create an Alert in the Sysdig Platform. The link provided in the Event Details redirects you to the LogDNA Platform, in case further investigation is needed. For more information, see LogDNA Events.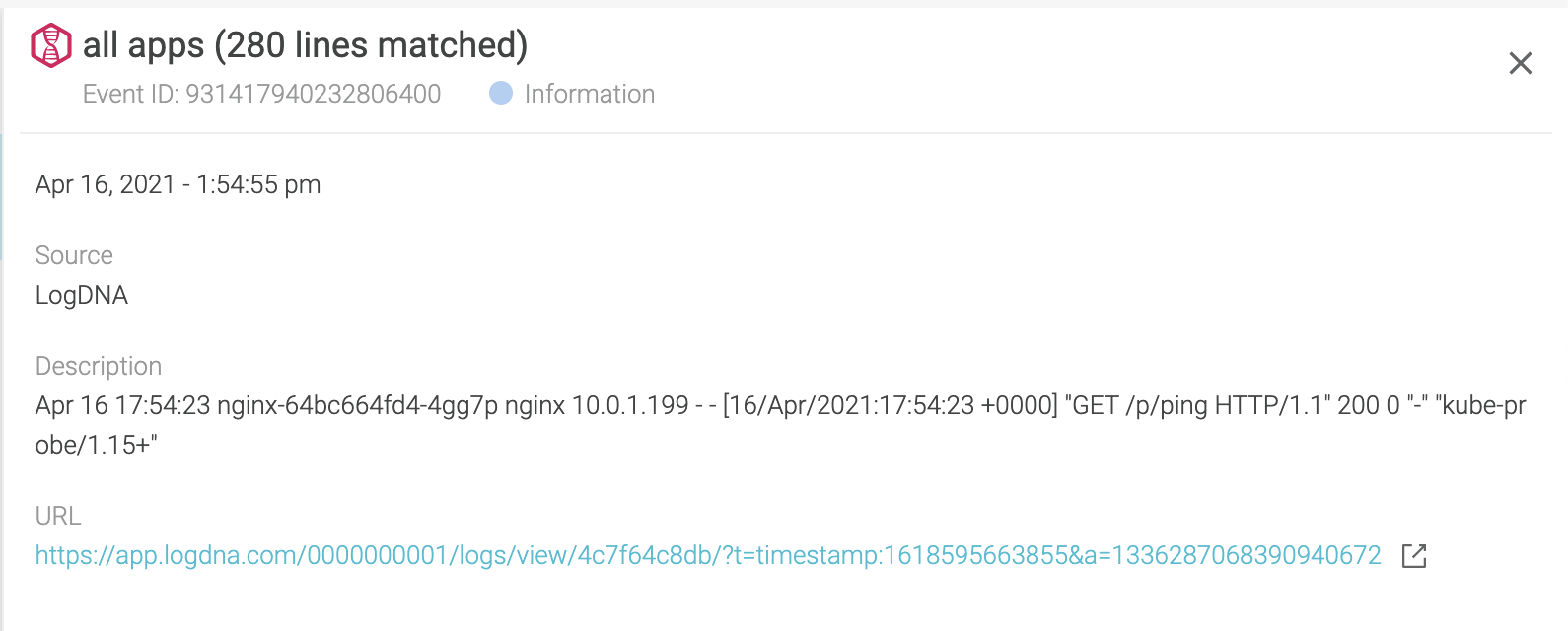 March 03, 2021
PromQL Query Explorer
PromQL Explorer helps you understand metrics and their labels and values, and create queries faster before using them in Dashboards and Alerts.
PromQL can be used not only with metrics collected from Prometheus endpoints but also with Sysdig native metrics collected by the agent. For more information, see PromQL Query Explorer.
IBM Cloud Functions
You can now use IBM Cloud Functions as a notification channel in Sysdig Monitor. See Configure IBM Cloud Functions Channel for more details.
SAML Single Logout
Sysdig supports SAML Single Logout. This feature enables you to configure automatic logout from the Identity Provider when users log out of Sysdig. This feature is currently available for SaaS regions US-West and EU-Central. For more information, see Configure SAML Single Logout.
Enhanced Dashboard Scope Session
When returning to a previously visited Dashboard the UI retains your last used scope.
February 05, 2021
Import Prometheus Alert Rules
You have now the ability to import Prometheus alert rules into Sysdig Monitor. The ease of YAML import makes it significantly convenient to tap into Prometheus ecosystem resources, such as promcat.io.
For more information, see Import Prometheus Alert Rules.
UX Improvements
Sysdig Monitor interface has been enhanced to provide the following capabilities:
Edit dashboard scopes in a panel editor.

Set a dashboard template as the team entry point.
January 05, 2021
Improved Alerts
The Alert interface has been improved to allow faster browsing and easier management. For more information, see Alerts.
December 16, 2020
Statement RE: Solarwinds and Sysdig's Security
We have seen requests for statements regarding tooling in the wake of the Solarwinds and related compromises. Sysdig does not use these tools internally. To maintain a secure SDLC process for own product we use Sysdig Secure as well as source code analysis tools. We also maintain our own branch of key OSS components to ensure software is fully vetted before it's delivered to customers.
November 19, 2020
Explore Workflow Enhancements
The Explore interface has been improved to allow faster troubleshooting.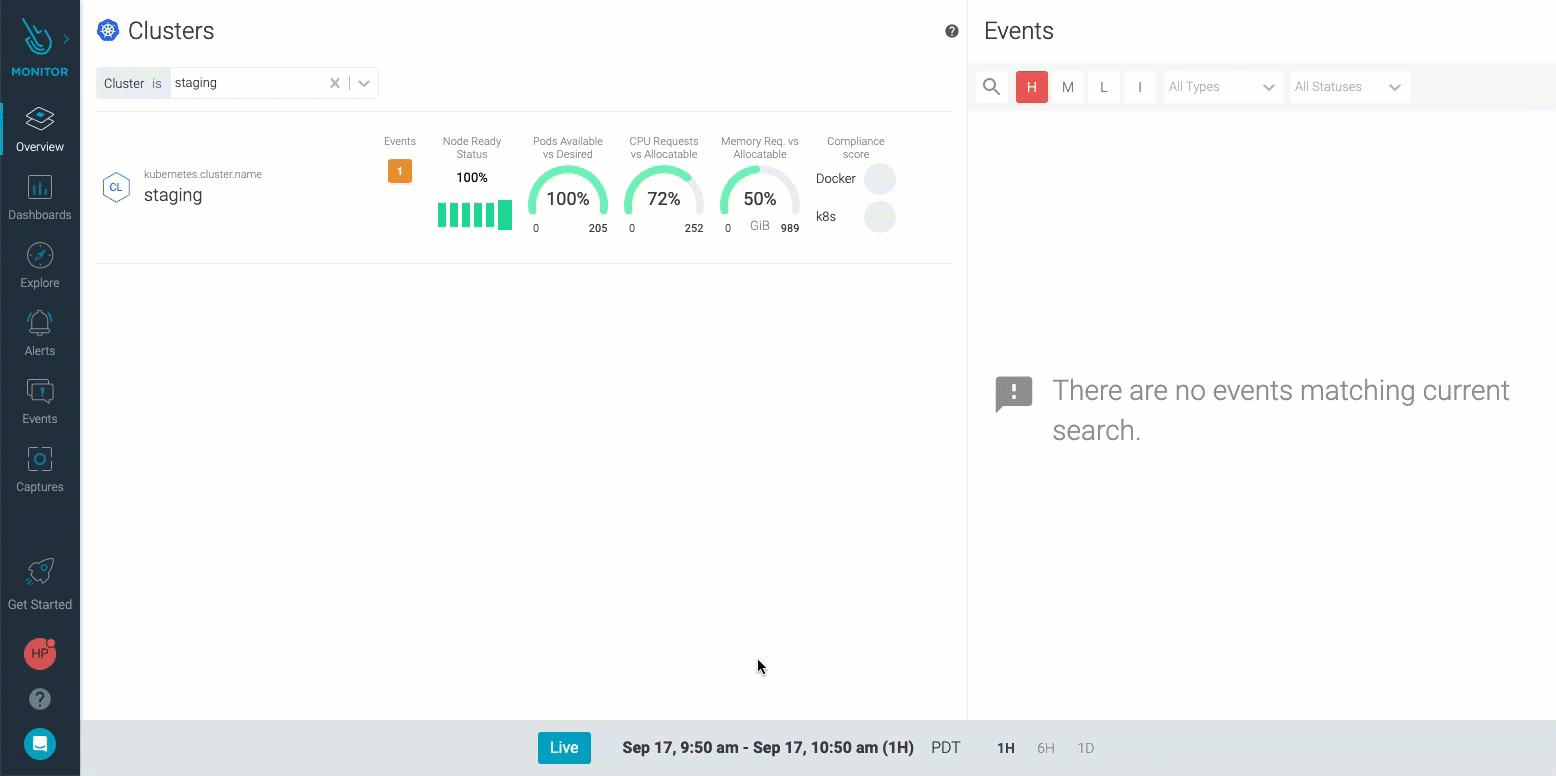 You are now launched directly into the drill-down view when you navigate to Explore. You will still be able to group and navigate your infrastructure by using the hierarchical scope tree.
The new Grouping editor helps you create and manage your infrastructure groupings.
For more information, see Explore.
Transfer Dashboard Ownership
Administrators have now the ability to transfer dashboard ownership to another user. For more information, see Transfer Dashboard Ownership.
Enhancements for Navigating Dashboards
You can now pin the dashboard menu to the sidebar in the Sysdig Monitor UI. Pinning makes it easier to navigate and browse different Dashboards. In addition, the Dashboard interface has been enhanced to retain your preference for open or closed categories to help you locate the desired items faster.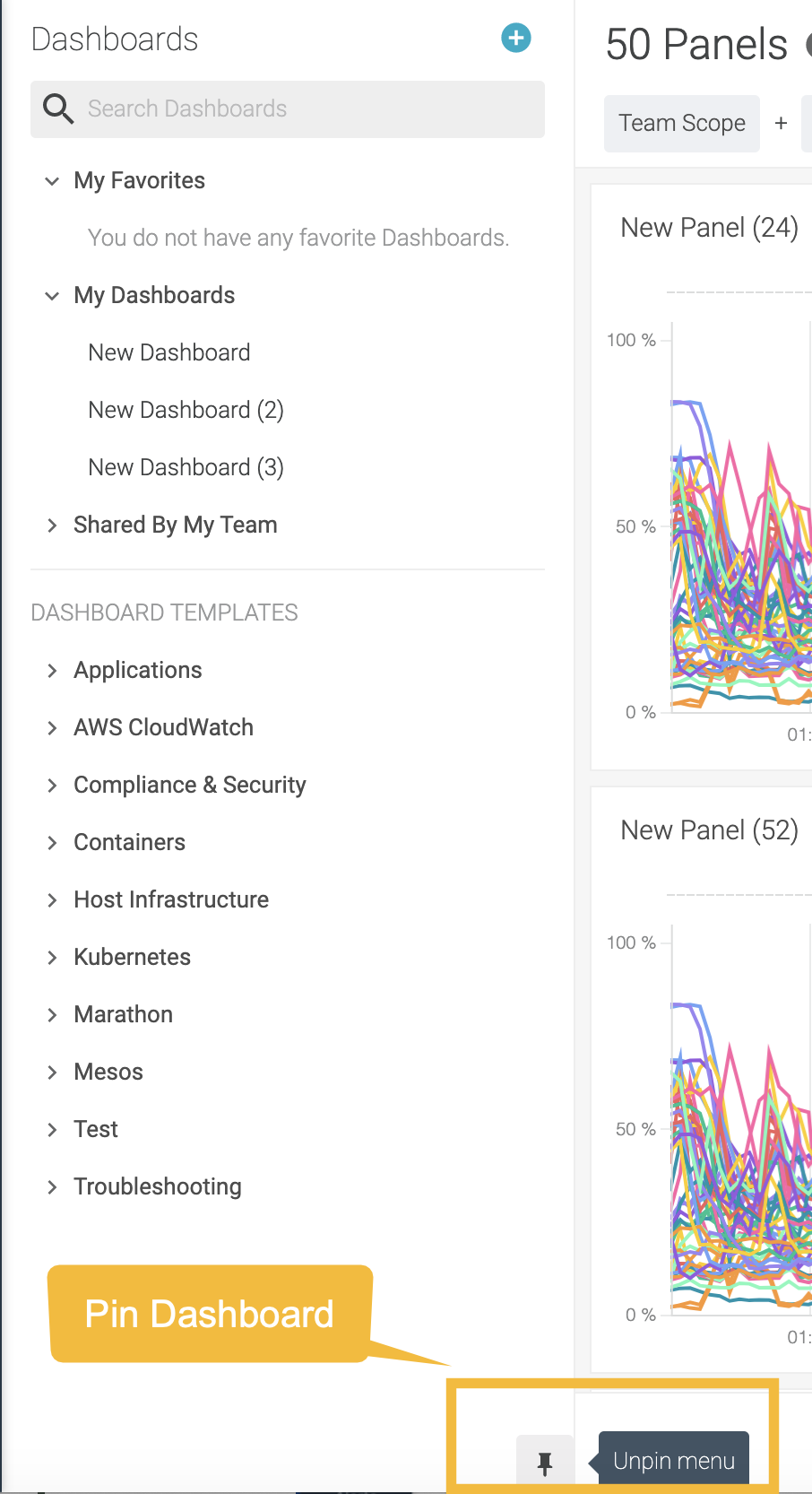 October 22, 2020
Visualizing Missing Data on Dashboards
Dashboards now show null or missing data values as gaps instead of zero. Optionally, missing data can be displayed as a dotted or solid line in both Form-based and PromQL panels. StatsD metrics will continue to show null values as zero unless overridden by the settings. For more information, see Display Missing Data.
Time Navigation in Events Feed
You can now browse and find historic events easily by using time navigation.
Zooming Out Dashboards
You now have the ability to zoom out Dashboards. This feature doubles the selected timeframe by 2x for a better context surrounding a problem when troubleshooting an incident.
July 27, 2020
Sysdig Essentials
We have introduced a new product tier, Sysdig Essentials. This tier includes everything required to achieve the five essential requirements for practicing Secure DevOps:
Image Scanning

Runtime Security

Compliance

Kubernetes and container monitoring

Application and cloud service monitoring
To learn more about Essentials, register for our webinar, Deploy Faster by Automating Container Security, Monitoring and Compliance.
With the introduction of Essentials, It's also easier to get started with a trial program and manage your Sysdig subscription.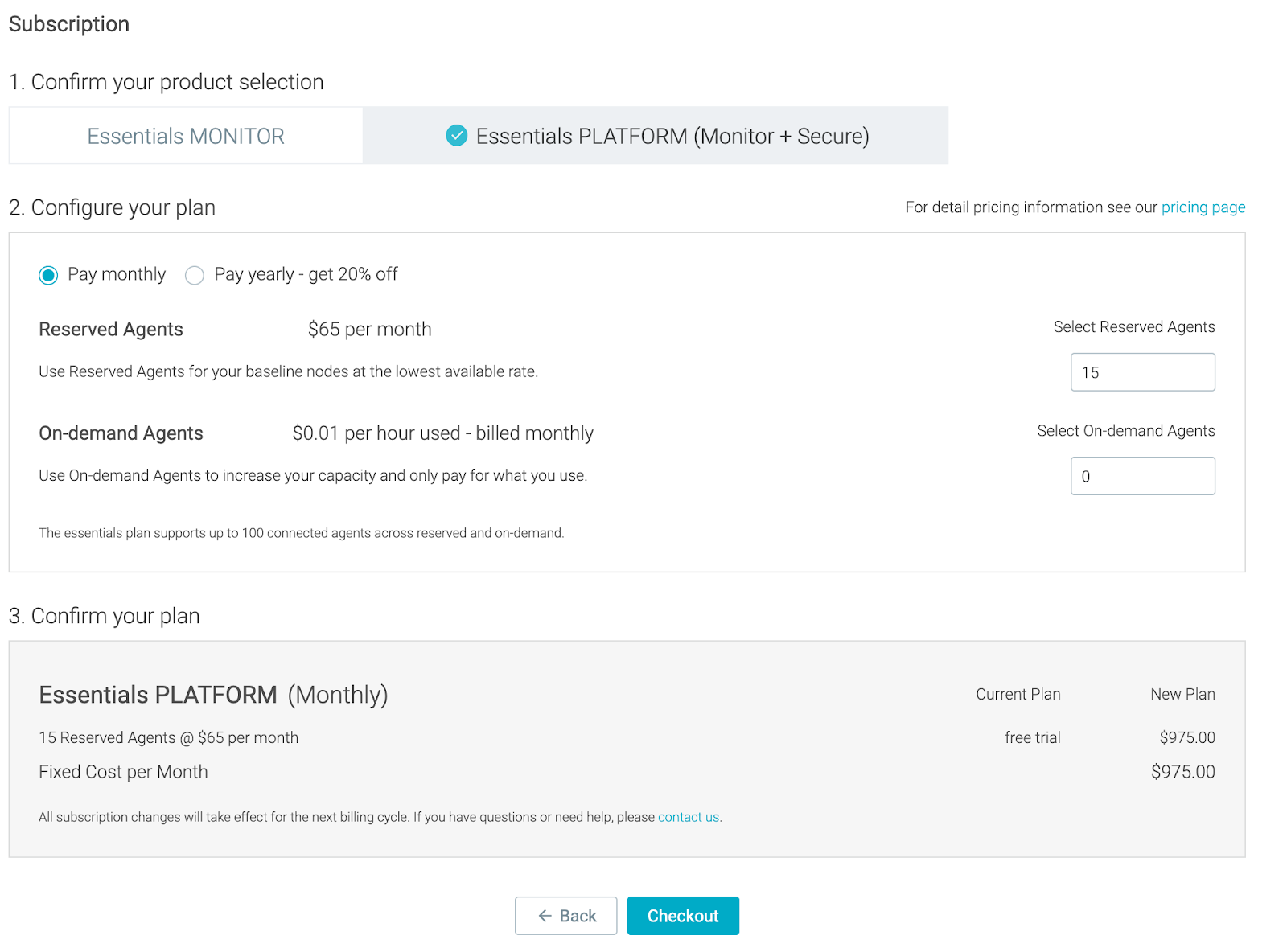 Learn the difference between Essentials and Enterprise, including pricing and features, at Pricing.
Rebranded Login Page
The login page has been updated with the Sysdig Kraken and the new logo.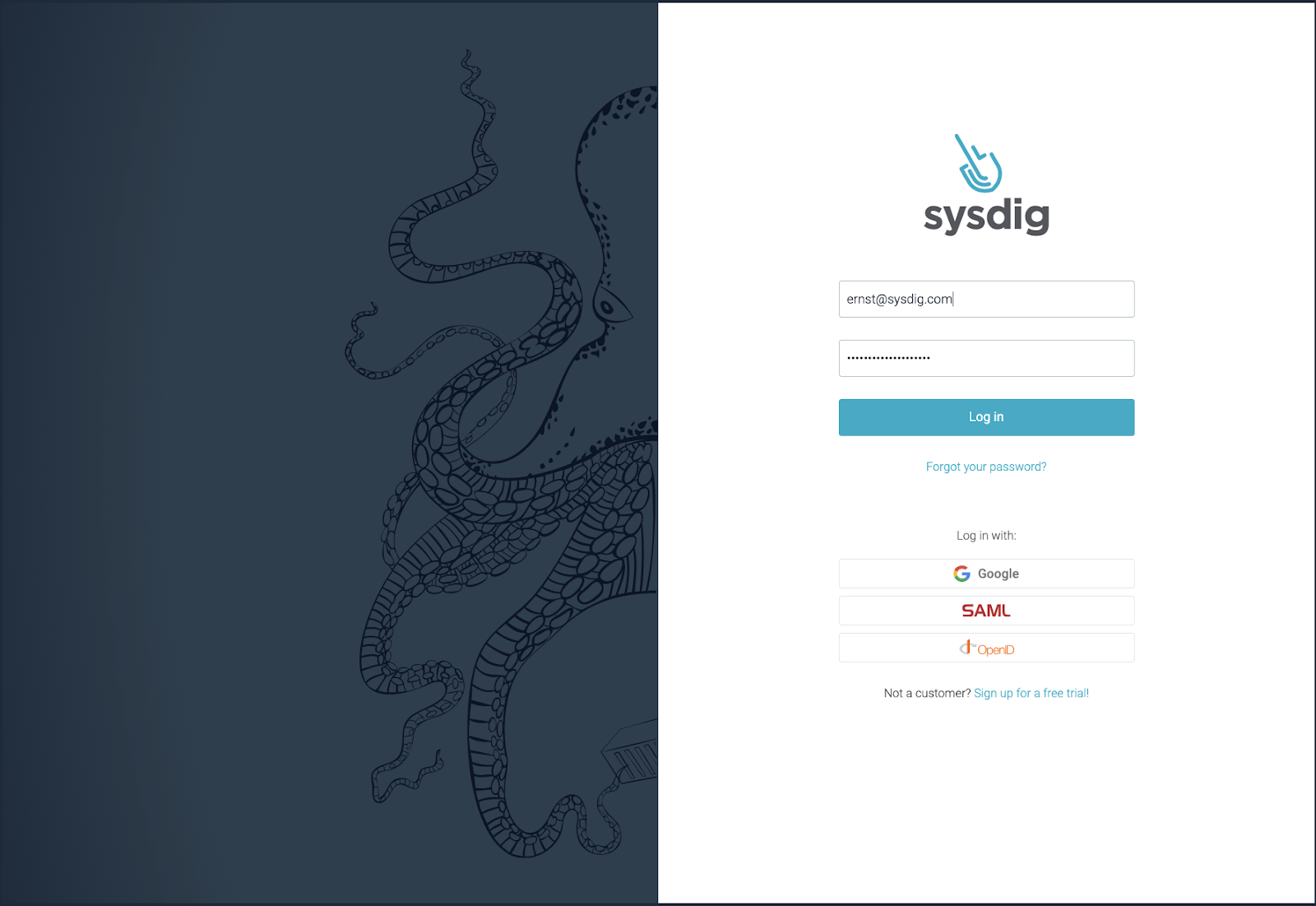 Sysdig Monitor Enhancements
Hosts Overview
To complement Sysdig Kubernetes Overviews, Hosts Overview has been released. Host Overview provides a unified view of the performance and health of physical hosts in your infrastructure.
New and Improved Empty States
A number of different splash screens have been introduced to guide you through getting up and running with features across the application.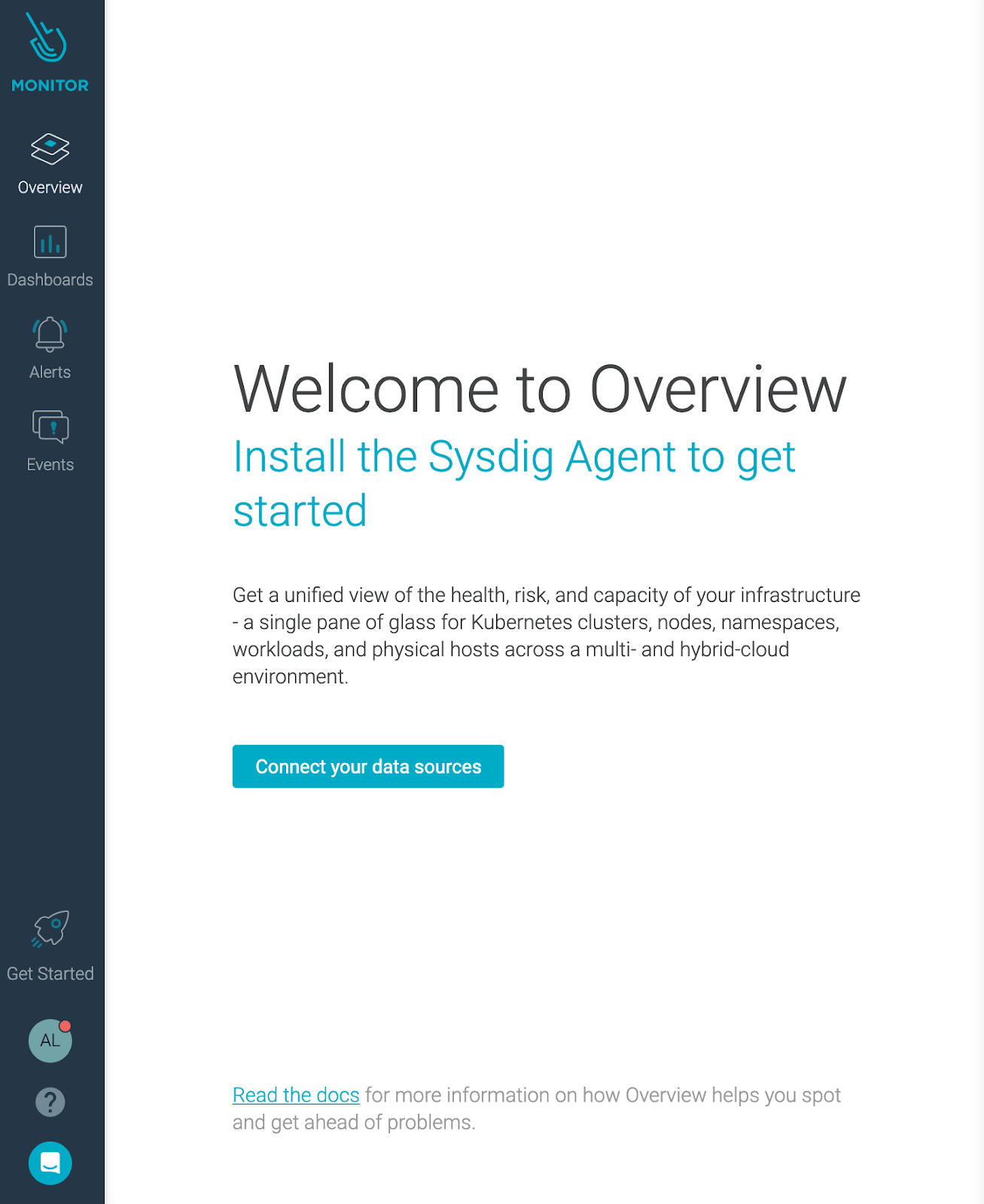 Sysdig Platform Enhancements
SAML Single Sign-On
The initial email to the following types of users will take them directly to the Single-Sign-On URL, and not the registration page.
SAML SSO Users

The users that are invited to the platform (as opposed to having them automatically created via Sysdig on-demand provisioning for SSO)
Earlier, landing on the registration page was confusing to users because they had to set up their initial password.
June 17, 2020
This 3.2.6 release focuses on the general availability of New Dashboard with a rich set of features and enhancements. Learn more about the release from the blog post, New and improved dashboards .
New Dashboards is GA
Sysdig Monitor offers a new version of dashboards. Its improved editing experience provides you with more flexibility and the new set of functionalities offers additional ways to visualize and consume your Sysdig data.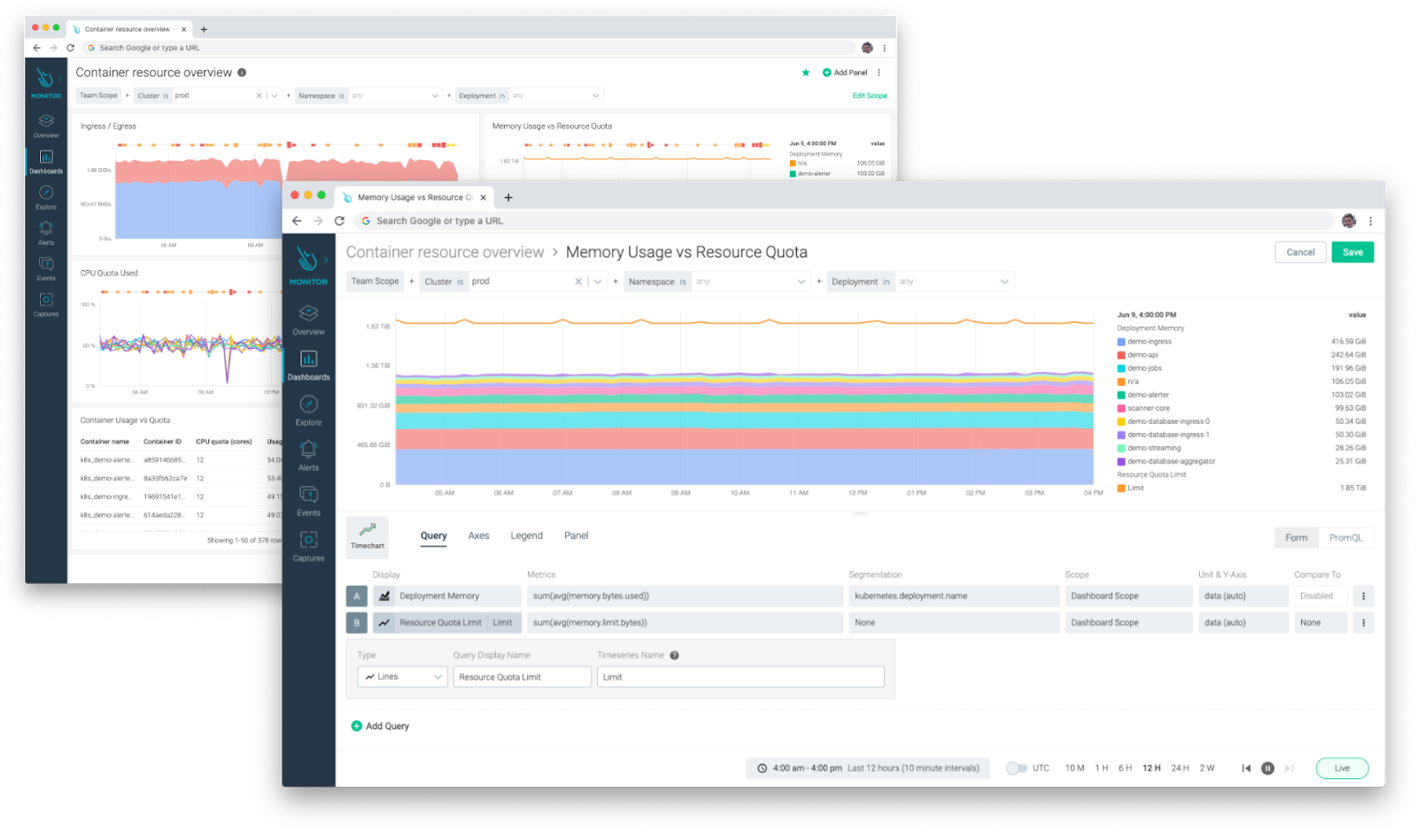 Features and Enhancements
Improved User Experience
The New Dashboard offers a more fluid, natural dashboard building experience. The UI has been redesigned to introduce two types of panels—form-based and PromQL-based— to make visualizing your metrics effortless. Use a PromQL-based panel to build dashboards for Prometheus raw metrics and custom metrics. The form-based panel for legacy queries. For more information, see About the Dashboard UI.
Dashboard Sharing
You can now share your dashboard with members within your Sysdig team or share it across teams with fine-grained access controls. Define who should be able to see the dashboards and what level of access they should be granted: view only or collaborator with edit privileges. For more information, see Sharing New Dashboards
Time Series Name Templating
Customize the time series names on the legend on the panel editor by using the labels associated with Prometheus metrics and segments to gain context faster. For more information, see Create a New Panel.
Multi-Metric, Multi-Segmentation Options
Configure multiple queries within a single panel, and configure each query with multiple segmentation and scoping options. Individual queries can be customized to render as a line or stacked area. For more information, see Using PromQL.
Event Overlay
Contextualize metrics and understand the "why" faster with a unified view of both metrics and events. Configure event overlay to display events from Kubernetes environments as well as alert events, and any other events ingested using Sysdig's open REST API. For more information, see Display Dashboard Specific Events.
Dashboard Templates
You can quickly view your infrastructure through the lens of one of Sysdig's curated dashboards, or use it as a base to start building your own. You can find dashboard templates for managing Kubernetes capacity and health, hosts and server performance, applications and services telemetry, and the security posture of your infrastructure with data fed from Sysdig Secure. See Dashboard Templates to learn more.
Mapping Values to Text
Instantly understand what's going on by mapping number panel values to text. If you have a metric that returns 1 for up, and 0 for down, map those values to "UP" and "DOWN" respectively. By defining thresholds and mapping to text, you don't need to be concerned about the values. This is critically valuable when dashboards are shared between team members. For more information, see Text.
Granular Axes and Legend Controls
You have more flexibility when customizing the axes, as well as better support for time series with long names. You can now configure the legend by toggling its visibility and moving it to the bottom of the panel. See About the Dashboard UI.
Major Changes
Significant changes have been introduced to enhance the usability of the existing functionalities. Review the changes before you explore the functionalities.
Topology Maps
Topology maps are no longer available in Dashboard. Access Topology maps through Explore, as you explore your microservices and Kubernetes applications.
Dashboard Wizard
My Dashboards are no longer accessible in Explore. Additionally, Dashboard Wizard has been removed. Instead, the concept of Templates has been introduced in Dashboards to help you get started with a library of templates addressing key use cases.
Histogram and Summary Metric Type
Histogram and summary metrics are no longer supported in the Histogram panel type. You can continue to use them within Explore. If you have enabled PromQL, we encourage you to use Prometheus functions for visualizing histograms.
Use the new Prometheus histograms with the histogram_quantile metrics on a time-series graph.
APIs and Integrations
API endpoints for the legacy dashboards (v2) will soon be deprecated. If you are directly integrating into the API, please contact Sysdig for guidance. Additionally, our Python SDK and CLI have been updated to support the new dashboards APIs.
PromQL Support
PromQL support for querying Prometheus metrics has been rolled out to a subset of Sysdig Monitor users. See Using PromQL.
Intelligent $__interval
Use $__interval within a PromQL query and Sysdig will intelligently use the most appropriate sampling depending on the time range you have selected. This configuration ensures that we balance providing access to the most granular data available while downsampling when you select a long time range to panels load as fast as possible.
Scope variables
Configure scope variables at the dashboard level to quickly filter metrics based on cluster, namespace, workload, and more. When using PromQL queries, the scope can be injected by using dynamic variables. This configuration is significant when troubleshooting as it allows you to switch context quickly without reconfiguring queries.
Smart Autocompletion and Syntax Highlighting
Autocomplete suggests metrics, operators, and functions, while syntax highlighting helps keep you on the right path and helps highlight problems within a PromQL query. This is invaluable in dynamic environments and allows you to craft the right queries faster.
Configurable Default Team Role
You can now define the default user role to apply when a new member is added to the team. The Admin can change this default on a per-team basis. See also: Create a Team.
RBAC and Team Assignment for Notification Channels
Previously, notification channels in Sysdig Secure and Monitor were treated as global entities, visible and editable for most users of the platform regardless of team configurations.
We are enhancing the management and RBAC controls in the following ways:
Notification channels can now be "global" or limited to a particular team

Global channels can be managed by admins and can be viewed/used by other roles, while team-limited channels are available only to team members

Team Manager , Advanced User, and Service Manager (Secure) roles can create/update/delete team-scoped notification channels, they can also read and use the global ones

Standard and View Only roles can read team-limited and global notification channels

Admins will be able to create global notification channels and migrate channels from "global" to "team-limited", and also from one team to another.
See also: Set Up Notification Channels and the Share With field in each individual channel setting page.
May 15, 2020
The New Get Started Page
The Get Started page provides the key steps to ensure that you are getting the most value out of Sysdig Monitor. We'll update this page with new steps as we add new features to Sysdig Monitor.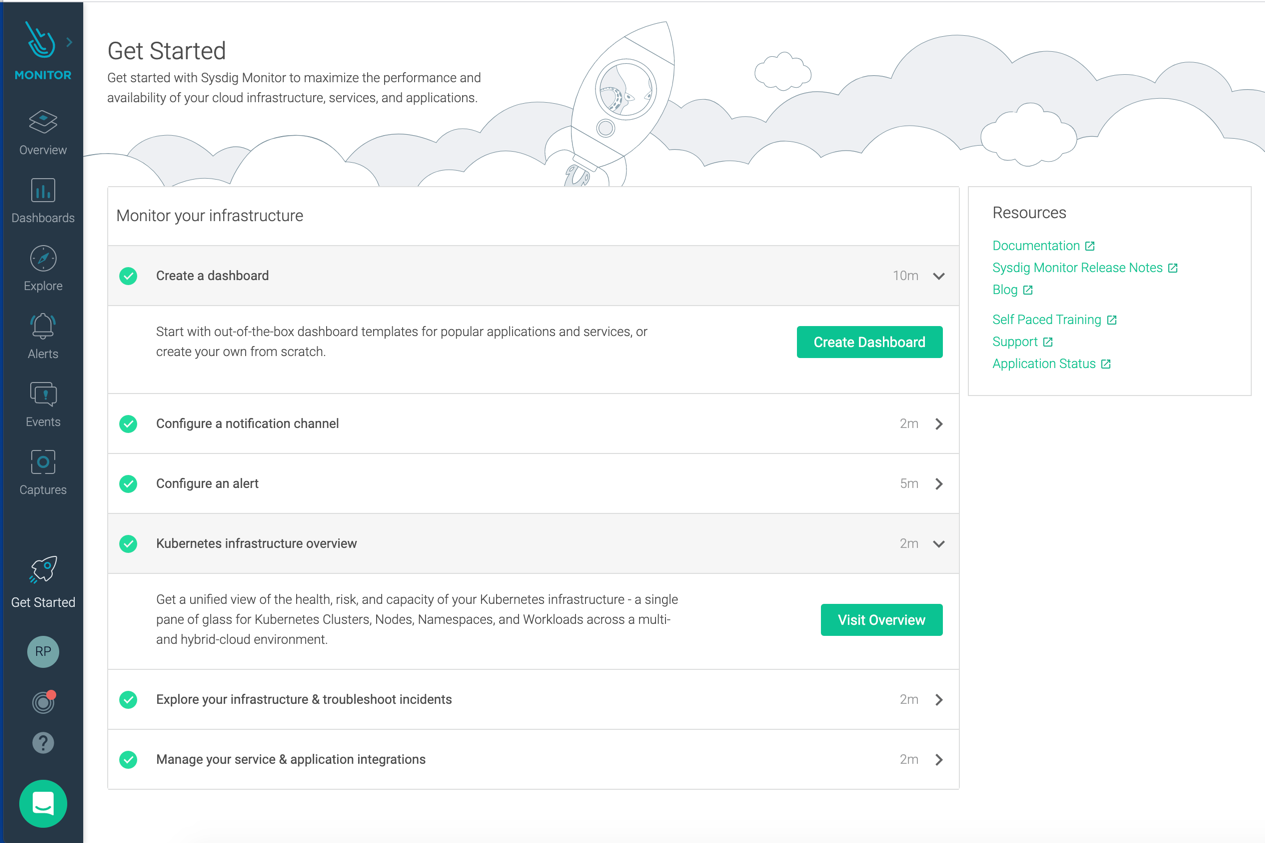 The Get Started page also serves as a linking page for:
Documentation

Release Notes

The Sysdig Blog

Self-Paced Training

Support
You can access the page at any time by clicking the rocketship icon in the left navigation bar. See Getting Started with Sysdig Monitor.Getting Started with Sysdig Monitor
AWS Role Delegation
Sysdig Monitor can now utilize the Amazon Web Service (AWS) AssumeRole functionality and discover cloud assets, grab CloudWatch metrics from your AWS account, and use custom S3 bucket for storing captures. Upon integrating with an AWS role, you can delegate access to AWS resources that are not associated with your Sysdig AWS account.
Role delegation is an alternative to the existing integration method using the access keys. This method is considered secure as sharing developer access keys with third-parties is not recommended by Amazon.
For more information, see Integrate with AWS Role Delegation.
April 16, 2020
Default Dashboards for Istio 1.5
Default dashboards (Overview and Services dashboards) are now available for Istio v1.5 in addition to the existing ones for Istio v1.0.
November 21, 2019
Overview Is GA
Overview is now generally available. Overview leverages Sysdig's unified Kubernetes data platform to monitor, secure, and troubleshoot your Kubernetes clusters and workloads.
Major highlights of Overview GA include but are not limited to:
Multi-cloud view of the health, risk, and capacity of your Kubernetes infrastructure— a single pane of glass for Kubernetes Clusters, Nodes, Namespaces, and Workloads across a multi- and hybrid-cloud environment. You can easily filter by any of these entities and view associated events and health data. View the infrastructure organized by Clusters, Nodes, Workloads

Shows metrics prioritized by event count and severity, allowing you to get to the root cause of the problem faster.

Drill down to Dashboards for instant insights.
To learn about the capabilities of the Overview feature, see Overview.
Beta Features: Prometheus and New Dashboards
Introducing Prometheus and New Dashboards available in Beta. Contact sales@sysdig.com to join the Beta Program.
[BETA] Prometheus Capabilities
Sysdig now supports native Prometheus time series ingestion. Run Prometheus queries inside Sysdig Monitor and create visualization by using the new Beta Dashboards that support it. This enables you to use Sysdig Monitor as a standard Prometheus data source for other visualization tools, such as Grafana. For more information, see Using PromQL.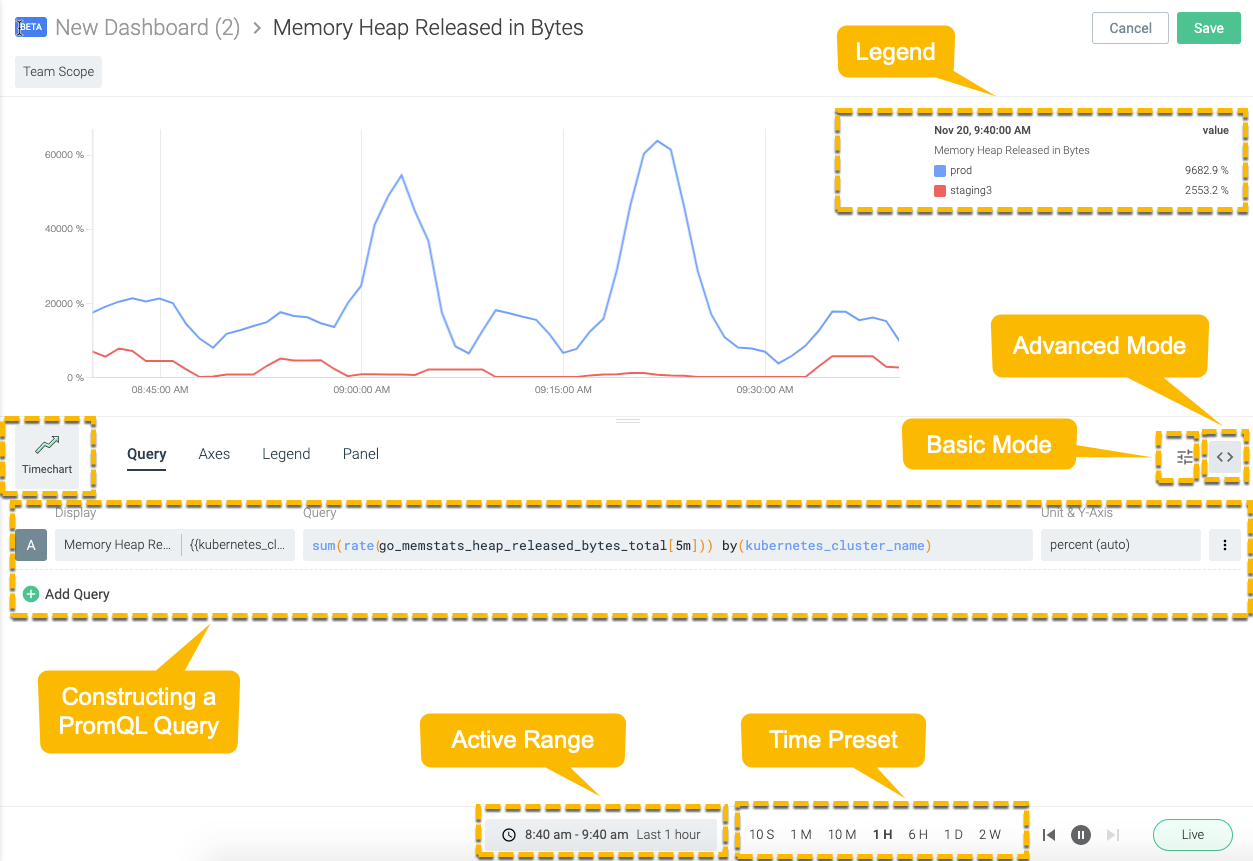 With this support, Prometheus and Sysdig metrics can now be supported in regular Prometheus expressions.
[BETA] New Dashboards
Sysdig Monitor provides an enhanced New Dashboard to use with Prometheus. For more information, see Dashboards.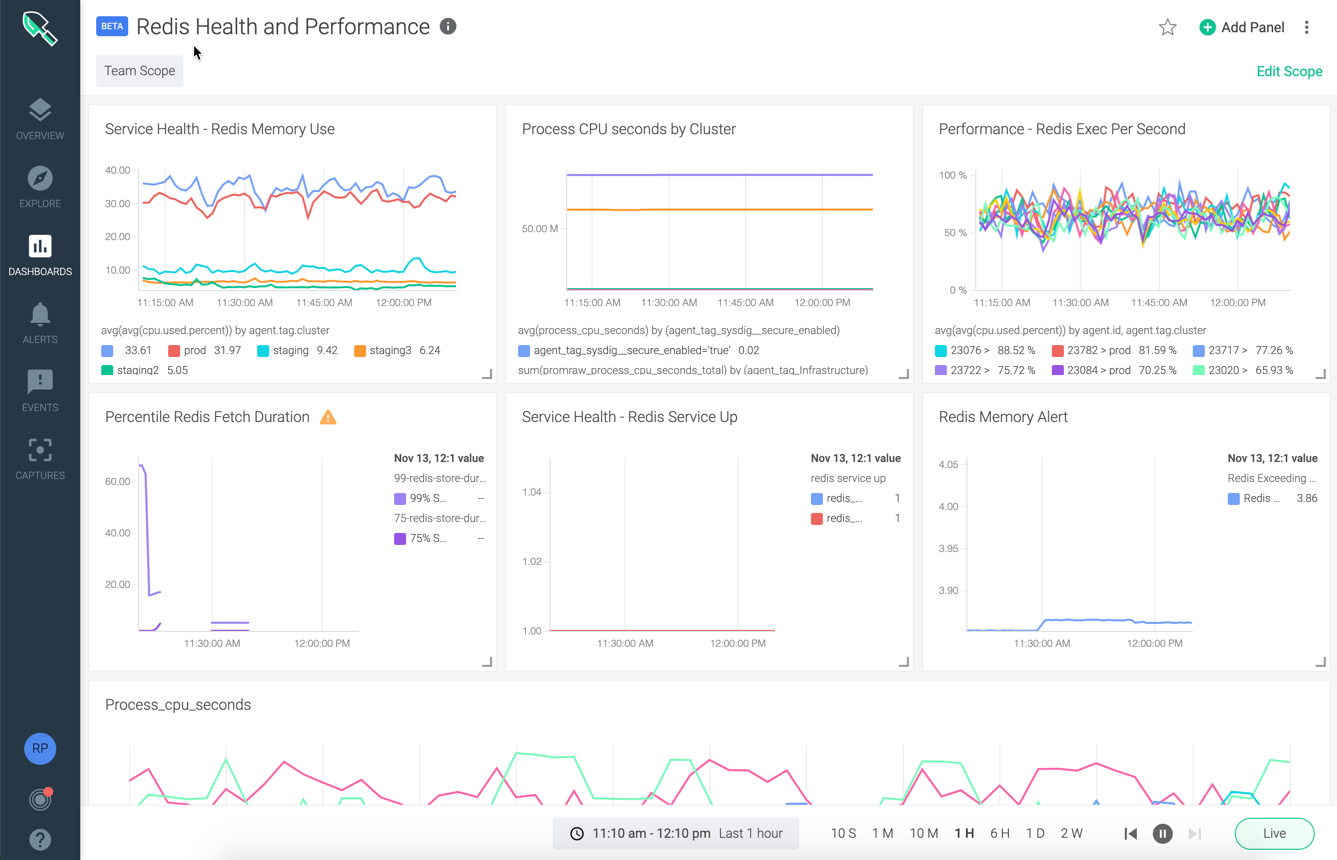 The New Dashboards offer:
Flexibility to position the Legend.

Ability to run multiple queries.

Inherit the Dashboard scope to individual panels.

Multi-select items in the Legend to narrow down the lines you want to focus on. Use command-click on Mac and Control-click on non-Mac machines.

Features new query types: Form-based and PromQL expressions with the easy toggling facility.

Enhanced auto-layout with the ability to re-position panels.
To access the New Dashboards:
Click the Dashboards tab on the left navigation panel.

Click Add Dashboard (+)

Click Beta Dashboards.
Enhanced Out-of-the-box Dashboards
In an attempt to improve the Dashboards experience, the following changes have been introduced:
The following Dashboards are added:
Kubernetes Cluster Overview: Provides nodes and workloads availability and highlights the high-level health of your Clusters. It also summarizes resources consumption (CPU, memory) across Nodes and Namespaces to pinpoint possible anomalies and node disk utilization

Kubernetes Node Overview: Provides availability of the Nodes, indicating potential issues reported by Kubernetes; a summary of resource (CPU and Memory) allocation and utilization, as well as Network and Disk utilization.

Kubernetes Namespace Overview: Provides a high-level summary of availability, and resource allocation and utilization across all the Workloads in the selected Namespace.

Kubernetes Deployment Overview: Provides a detailed summary of pod status, pod restarts, as well as resource allocation and utilization across pods for each Workload.

Kubernetes StatefulSet Overview: Provides a detailed summary of pod status, pod restarts, as well as resource allocation and utilization across pods for each StatefulSet.

Kubernetes DaemonSet Overview: Provides a detailed summary of pod status, pod restarts, as well as resource allocation and utilization across pods.

Kubernetes Job Overview: Provides a detailed summary of job status, completion trend, pod restarts, as well as resource allocation and utilization across pods.

Kubernetes ReplicaSet Overview: Provides a detailed summary of pod status, pod restarts, as well as resource allocation and utilization across pods for each ReplicaSet.

Kubernetes Pod Overview: Provides a detailed summary of pod status, pod restarts, and resource allocation and utilization in a selected pod.

Kubernetes Workloads CPU Usage and Allocation: Helps you verify that CPU requests are properly configured and actual utilization is expected.

Kubernetes Workloads Memory Usage and Allocation: Helps you verify that memory requests are properly configured and actual utilization is expected.

Kubernetes CPU Allocation Optimization: Helps you verify that infrastructure resources are available for future needs and are not wasted.

Kubernetes Memory Allocation Optimization: Helps you verify that infrastructure resources are available for future needs and are not wasted.
The following Dashboards are retained:
Health Overview (applicable to all the objects in the environment)

Horizontal Pod Autoscaler (the default Dashboard when selecting an HPA)

Resource Quota

Service Health (the default dashboard when selecting a service)

Cluster and Node Capacity
The following Dashboards are removed:
State Overview

Daemonset State

Namespace State

Stateful State

Nodes State

Deployment State

Deployment Health

Nodes Health

Namespace Health

Pod State

Pod Health

Replica Set Health
For more information, see Dashboard Templates.
What's n/a?
The Sysdig Monitor UI displays n/a in several scenarios associated with labeling. The Explore UI has now been enhanced to add a tooltip for n/a to help you understand the scenario. See The Meaning of n/a for more information.
Filtering Events by Scope
Events are now filtered by Scope to show the most relevant Events in Explore and Dashboards. This is an extension of the existing Event Scope functionality. You can toggle between showing Event feed from the entire infrastructure and only from the particular scope you are interested in within the infrastructure. Event scoping for Dashboards and Explore is enabled by default.
By default, Events are filtered to show only the relevant ones. However, you can turn the filtering off and see Events from the complete scope. To do so:
Click the Dashboard Settings (three dots) icon and select Events.

Use the toggle button to turn off Filter events by dashboard Scope.

Click Save.
Similarly, you can filter Events by Scope in Explore.
Known Issues
Time Chart may encounter some response time delays

Not all the functionality from the existing dashboards will be available in the new dashboards. The following functionalities are not yet fully functional or not yet available:

Gauge chart

Text Panel

Top Chart

Table
October 11, 2019
Ability to "Favorite" a Dashboard
Users can click the star icon to mark a "Favorite" dashboard, which will then be listed under "My Favorites" in the Dashboard view.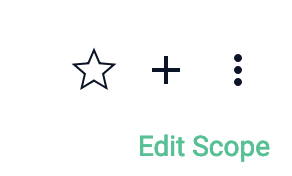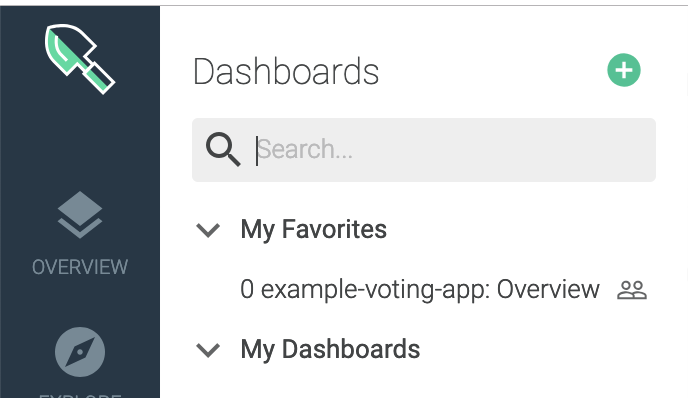 Enhancement: Additional Metrics Segmentation
This change enables Sysdig Monitor to segment metrics file.bytes.in and file.bytes.out by file.mount and file.name.
Enhancement: New Documentation Site at docs.sysdig.com
Sysdig's documentation platform has been upgraded and moved to docs.sysdig.com.
Improvements include:
Look and feel: Updated to match the rest of the Sysdig branding

Search: Enhanced search speed, accuracy, and ease

Structure and content: Enhancements to content have been added and are being continuously updated

Feedback: Buttons on each page enable users to communicate directly with the documentation team.
August 14, 2019
New Default Kubernetes Grouping
Groupings for Kubernetes have been modified. This updated Grouping is available to new teams. Default groupings are immutable–-they cannot be modified or deleted other than by copying. Modifying a copy is allowed.
New Groupings:
Clusters and Nodes (cluster.name > node.name > pod.name > container.name)

Deployments (cluster.name > namespace.name > deployment.name > pod.name > container.name)

Services ( cluster.name > namespace.name > service.name > pod.name > container.name)

Statefulsets (cluster.name > namespace.name > statefulset.name > pod.name > container.name)

Daemonsets (cluster.name > namespace.name > daemonset.name > pod.name > container.name)

ReplicaSets (cluster.name > namespace.name > deployment.name > replicaset.name > pod.name)

HPAs (cluster.name > namespace.name > hpa.name > pod.name > container.name)
For more information, see Grouping, Scoping, and Segmenting Metrics.
Enhanced Event Notification
The ability to customize the subject and body of alert notifications with variables has been extended to Event notifications. Event titles and notification messages are in sync in the following cases:
Event feed on the Events page

Event overlay on Dashboards page
For more information, see Events.
Units for Metrics
The format of metric units are the same for the following:
The CPU and Memory metrics for Host and Container.

Kube-state CPU and Memory metrics.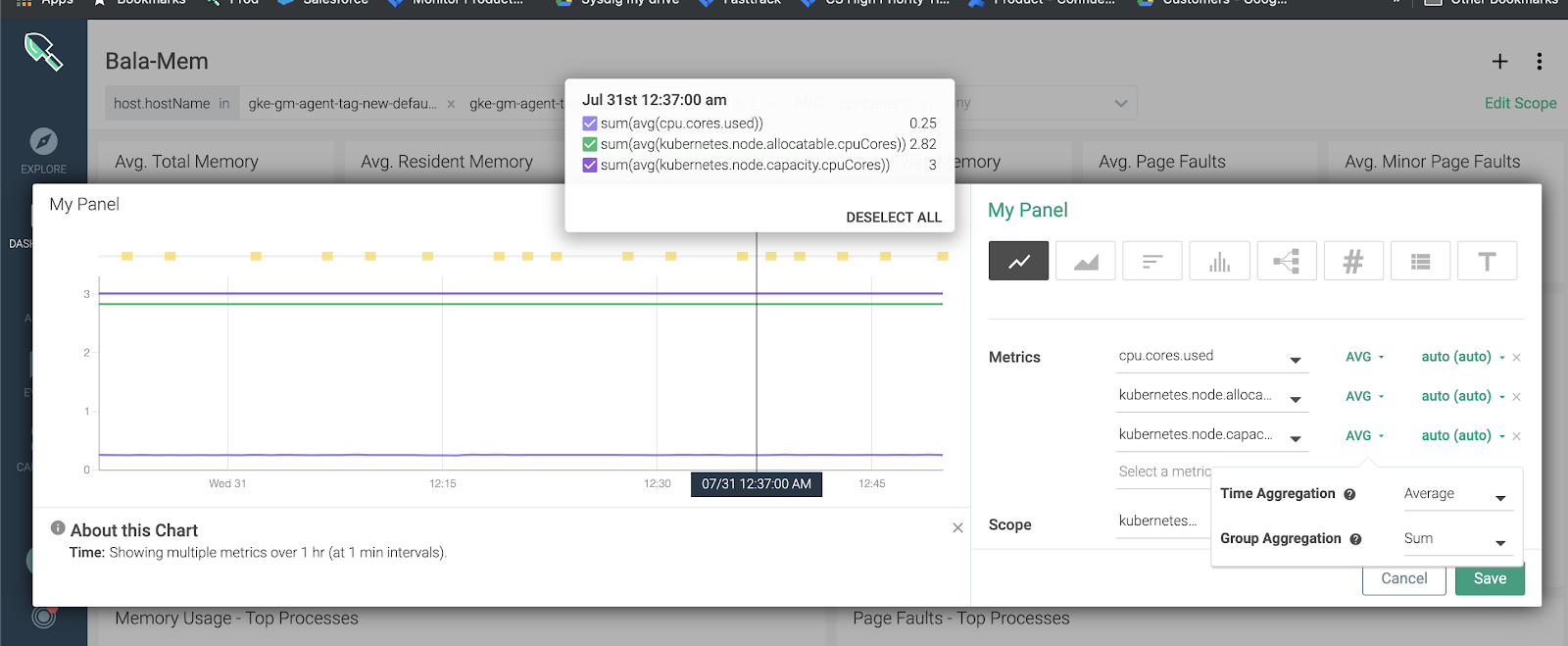 Introducing the same format now makes the comparison of those metrics easier on a chart.
Container Segmentation
Sysdig now supports segmenting all net.* metrics at container or pod level by low level net.* dimensions, such as net.http.url or net.http.status.code. Container-based teams now display segmentations for net.http.* metrics as expected. The net.http.url and net.http.status.codes are displayed if you select a container-based team as it does for a host-based team for the same cluster.
Display Instance Name
Instance name in the Sysdig Monitor UI is now visible during creating and editing it. Instance names are displayed right below the username in the user dialog for switching teams.
Default Dashboard for Cluster and Node Capacity
Kubernetes Cluster and Node Capacity Dashboard has been refreshed to add actual usage of CPU and Memory compared to Requests, Limits and Allocatable capacity.
Aggregation for Kubernetes Nodes Health
Aggregation method has been refreshed for Kubernetes Node metrics. The Kubernetes Node Health dashboard has been updated with metric aggregations that are 'summed' across all containers running on the node to reflect accurate node level data.
July 11, 2019
Enhanced Dashboard Menu
The Dashboard menu features a drawer-style popover that displays a list of Dashboards you own and those shared by your team. With the popover menu, you can add new Dashboards and search for existing ones. Click a Dashboard name to access the relevant Dashboard page where you can continue with the regular Dashboard settings.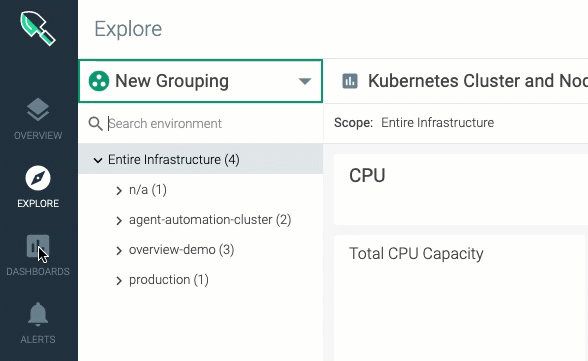 Customize Alert Notification Template
Sysdig Monitor alerts now provide an option to customize the messages that are sent with alert notifications in email and other channels, such as Pagerduty and Webhook.
Use the Alert Editor to input dynamic variables, such as hostname, or a hyperlink, and to add custom messages in plain text to the notifications for intended recipients. You can modify both the subject and the body of the alert notification with a hyperlink or a variable. For example, you can add an agent id or a link to a Dashboard to the message. This can help provide context for troubleshooting the errors that triggered the alert.
For more information, see Customizing Alert Notification.
Prometheus Remote Scraping
Sysdig Monitor can now collect Prometheus metrics from remote endpoints with minimal configuration.
Remote endpoints (remote hosts) refer to hosts where the Sysdig agent cannot be deployed, e.g., a Kubernetes master node on managed Kubernetes services such as GKE and EKS, where user workload cannot be deployed. To enable remote scraping on such hosts, simply identify an agent to perform the scraping and declare the endpoint configurations in the agent configuration file.
The collected Prometheus metrics are reported under and associated with the agent that performed the scraping, rather than with a process. For more information, see Collecting Prometheus Metrics from Remote Hosts .
Enhancements to Kafka AppCheck
Kafka integrations can now support authentication and SSL/TLS. If authentication or SSL/TLS are enabled in Kafka, see Apache Kafka Example 5 for how to enable configuration details on the Sysdig side.
Two New Metrics for Accurate Pod Counts
Two new Kubernetes metrics, kubernetes.namespace.pod.desired.count and kubernetes.namespace.pod.available.count, have been added at the Namespace level to track desired and available pod counts.
---
Last modified June 23, 2022